Army Leaders Say Network Modernization Could Take Years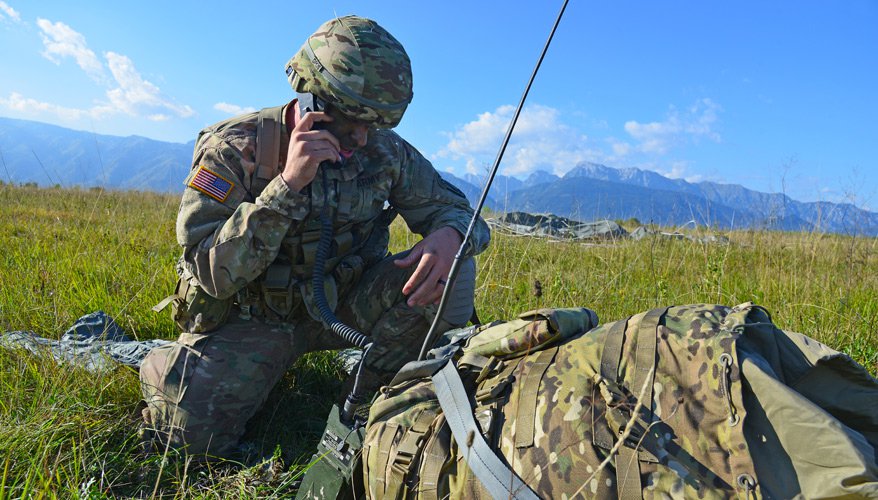 A U.S. Army paratrooper conducts a radio check during an airborne operation.
Photo: Army
The Army is looking to move as quickly as possible to revamp its tactical communications network and information technology systems, but it could be a few years before any fundamental changes are implemented, service leaders said Nov. 15.
The service is working "extremely hard" to determine how best to modernize a sprawling network of systems that is often too fragile or vulnerable, or not interoperable enough to operate in a highly dynamic and contested environment, Army Chief of Staff Gen. Mark Milley said at a breakfast meeting with reporters in Washington, D.C.
But the service is working "against the clock" as near-peer adversaries adopt new capabilities to try and counter the U.S. military, he acknowledged.
"Will we be fast enough? Time will tell," he said. "But we're working very hard to ensure that our forces have a system that is capable in the near term [of operating] in an unforeseen contingency."
In October, Milley and Army Acting Secretary Ryan McCarthy announced a new effort to help the service streamline its acquisition priorities, and network mobility was marked as a top priority. Army leadership has tasked several cross-functional teams with exploring how the service can best deliver crucial capabilities. The teams' recommendations are expected to be reviewed in the February 2018 timeframe, Milley said.
One of the ways the Army could speed up the modernization process is by identifying potential areas for commercial options, McCarthy said.
"We're changing the architecture of our network," he said. "It's incredibly complex and the scale is massive, but what can expedite or speed up the process is the way we're going at it, coupled with the fact [that] we're looking at commercial applications to strengthen the network and expand its capability."
McCarthy is encouraging each cross-functional team to look for opportunities to buy products off the shelf, he said, noting, "We can't afford to keep going into deep development cycles."
In the last 30 years, the service has expended billions of dollars on complex weapon systems development, he noted. "Speed is essential in this case … and I think that over time you'll see us embrace a lot of what's available in the market," he said.
In the past, the Army has written "excruciatingly detailed requirements" for its network programs, and the end product was often obsolete by the time it was delivered to the service, Milley said. "By the time that any kind of product is in the military or in the Army … the commercial industry and the technology has already superseded that capability by two or three cycles," he added.
But as much as the service would like to work quickly to develop a new system of systems for its network capabilities, it must wait for Congress to allocate much-needed funding, Milley and McCarthy noted.
The House of Representatives on Nov. 14 passed the fiscal year 2018 National Defense Authorization Act compromise bill, and the Senate is expected to approve the defense policy bill later this month. But the appropriations committees have yet to pass spending bills for the current fiscal year.
The Defense Department is currently operating under a continuing resolution set to expire Dec. 8. Continuing resolutions generally freeze program funding at the previous year's level, while making it difficult to start new programs.
McCarthy said multiple discussions with members of Congress have led him to believe that the CR will be extended until Christmas. "Whether or not we go beyond that, we'll see," he said. "But I'm hopeful, I'm engaged."
He warned that more continuing resolutions would jeopardize the Army's ability to invest in science and technology efforts, and undermine the service's ambitious modernization plans for its network and other priorities.
"It inhibits us to do anything," he added. "Clearly, we want sufficient [funding], but it's got to be predictable."