Future Fast Transport Vessel Passes Builder's Trials (UPDATED)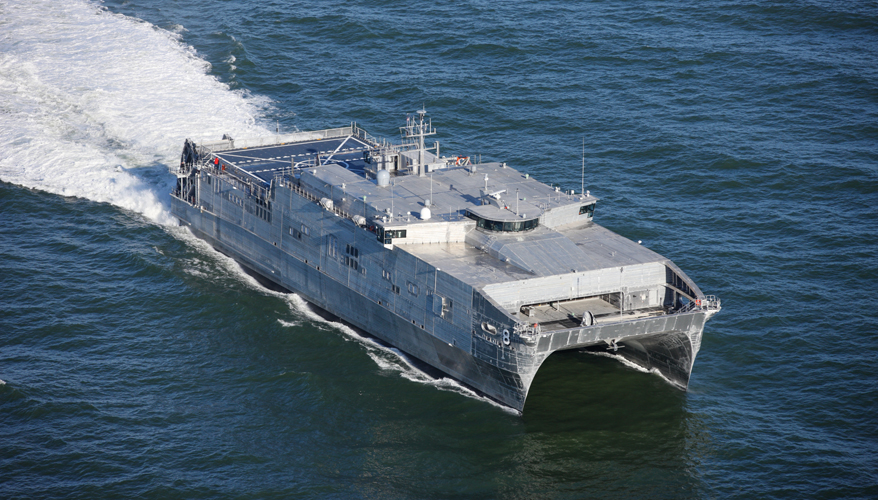 USNS City of Bismarck (EPF-9)
Photo: Austal
The Navy's latest expeditionary fast transport vessel is moving closer to delivery.
The USNS City of Bismarck (EPF-9) successfully completed builder's trials in September, the sea service recently announced. It underwent tests demonstrating the vessel's readiness, including calibration of communication and navigational systems, ship propulsion, ride control and pollution control.
The ship, an aluminum catamaran, is the ninth of 12 Spearhead-class expeditionary fast transport vessels being built by Austal USA to provide high-speed, high-transport capability to the Navy, said Craig Perciavalle, company president.
"It is a pick-up truck [for] the fleet," he said. It can sail at 35 knots at full load, and carry 600 tons of cargo including tanks, amphibious assault vehicles, troops and more, he said.
The ships are civilian-operated and are not considered combatant vessels, he noted. They are designed to operate in shallow-draft ports and waterways, and can provide flexibility for disaster relief operations.
The City of Bismarck will now prepare for acceptance trials, when the Navy's board of inspection and survey will evaluate the ship to certify its readiness to enter service, according to the Navy. Perciavalle said if it passes, the vessel will travel to Naval Station Norfolk, Virginia, for training and certification before being forward-deployed around the world.
Capt. Scot Searles, strategic and theater sealift program manager for program executive office ships, called the trials "a major step towards delivering City of Bismarck to the Navy."
"The Navy will benefit from EPF-9's delivery later this year as the need for versatile ships continues to grow," he said in a news release.
The Navy's 10th EPF vessel is currently in the assembly bay and should be launched "in the next few months," Perciavalle said. EPF-11 is in the early stages of construction at Austal's facility in Mobile, Alabama, with about a year until completion. Construction began on EPF-12 in September, he added.
The company continues to perform upgrades to the expeditionary fast transport fleet, including intelligence, surveillance and reconnaissance capabilities for operating unmanned aerial vehicles, Perciavalle noted. The Boeing Insitu ScanEagle long-endurance unmanned aerial vehicle was installed beginning with the USNS Trenton, the fifth Spearhead-class ship to enter service, he noted.
Discussions are ongoing to potentially add capabilities to conduct counter-narcotics missions, assist with special operations forces efforts and provide submarine surveillance, he added.
The Navy awarded a contract in fiscal year 2010 for Austal to build 10 Spearhead-class EPF ships for $1.6 billion, Perciavalle said. Two more ships were added in 2016, bringing the overall award amount up to $1.9 billion for 12 ships.
Correction: A previous version of this article misstated the top speed of the ship at full load.
Topics: Shipbuilding, Maritime Security, Global Defense Market