TACTICAL WHEELED VEHICLES
JLTV Program Could Serve as Acquisition Model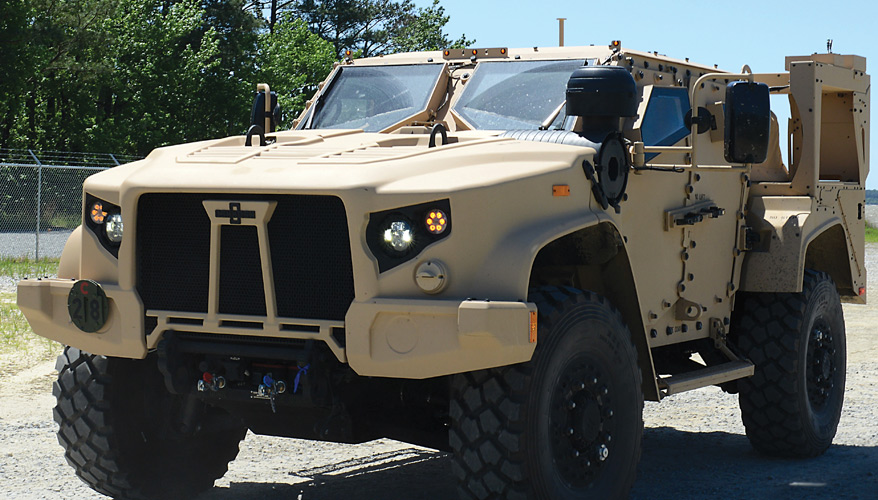 A production model joint light tactical vehicle at Joint Base Langley-Eustis, Virginia
Photo: Defense Dept.
The Pentagon's joint light tactical vehicle program is viewed as a potential model for future acquisition efforts, as interest in the truck grows at home and abroad.
The platform, known as the JLTV, is an Army-Marine Corps effort to replace a major portion of the services' Humvee fleets. It was designed to offer troops greater protection than legacy trucks while providing more mobility than the up-armored Humvees and mine resistant, ambush-protected vehicles that were widely used in Iraq and Afghanistan.
"JLTV better balances those requirements so that the joint force commander can make decisions based on where he needs to maneuver people — not based on the limitations of his wheeled vehicle fleet," Army Col. Shane Fullmer, joint project manager for JLTV, said in June during a media day at Marine Corps Base Quantico, Virginia.
Affordability has been a key driver, he said. "You can achieve a lot of good performance at a very high cost. But the cost has to be affordable so that both the Marine Corps and the Army can afford a sufficient number of vehicles." The services plan to buy about 55,000 of them.
The trucks, which are being built by Oshkosh Defense, will not exceed the original cost target of $250,000 per unit in fiscal year 2011 dollars, Fullmer said.
More than 200 trucks have already been delivered. The president's fiscal year 2018 budget requested $1.14 billion to procure 2,777 more.
A full-rate production decision is slated for early fiscal year 2019, and initial operating capability is expected in the first quarter of fiscal year 2020, according to the JLTV joint program office.
The previously planned IOC date was pushed back several months. But this was primarily due to program disruption resulting from a contract award protest, according to a Congressional Research Service report published in May titled, "Joint Light Tactical Vehicle: Background and Issues for Congress."
The JLTV program is widely seen as a major acquisition success story.
"There's actually no reason to dislike the program today," said James Hasik, senior fellow at the Atlantic Council, a Washington, D.C.-based think tank.
"I haven't noticed yet any meaningful cost overruns on JLTV. I think with fixed-price contracts — as they have — you're not going to get them. From what I can tell it is a great deal. … It does basically exactly what it's supposed to do and it's a pretty reasonable price," he added.
The Army has been under pressure to get JLTV acquisition right, he said. From the mid-1990s to 2010, the Defense Department spent more than $32 billion on Army programs that were eventually canceled. High-profile examples include the Future Combat Systems network of vehicles, the Comanche helicopter and the Crusader artillery system.
"The Army in particular has had quite a few fiascos frankly," Hasik said.
The most notable was the FCS project, which was canceled in 2009 after the service spent $19 billion on systems design. Shifting requirements and spiraling costs contributed to the cancelation decision.
"We don't ever, ever want to have another Future Combat Systems," Hasik said. "That was a disaster."
The JLTV doesn't appear to be headed toward the same fate. In fact, Scott Davis, Army program executive officer for combat support and combat service support, said the program could serve as a model for other major acquisition programs. "Not only because of what it accomplished in capability and value, but in how it achieved success," he said in an email.
It emphasized competition early on to help shape requirements, and later to maximize production value, he said.
"They essentially had three competitions" to get to where they are now, Hasik said.
In October 2008, contracts were awarded to three industry teams for the technology development phase: BAE Systems, Lockheed Martin and General Tactical Vehicles (AM General-General Dynamics Land Systems).
"We were really the first program to implement competitive prototyping," Fullmer said. "What we really kind of were going after in that phase was more the art of the possible — what could we achieve? And what we decided was that it really wasn't affordable.
"So we did a bunch of cost-informed trades, worked with our user community in both the Marine Corps and the Army to decide on … what requirements do we really need," he added.
In August 2012, the Army announced fixed-price contract awards to three vendors for the engineering and manufacturing development phase: AM General, Lockheed Martin and Oshkosh. The vendors' trucks went through about two years of performance and reliability testing, Fullmer noted. That was to make sure that they were optimizing performance without exceeding the cost target.
In June 2014, the Army issued a draft request for proposals for full-rate production. Oshkosh, Lockheed and AM General submitted bids. In August 2015, the Defense Department announced that it had awarded Oshkosh a $6.7 billion low-rate initial production contract with eight options to procure the first 16,901 vehicles.
The projected total cost of the program is approximately $23 billion.
"According to DoD's 2016 Selected Acquisition Report, the JLTV program cost estimate decreased by over 19 percent, or about $5.9 billion, due to revised estimates of vehicle unit costs and installation kits," the CRS report said.
Hasik said the joint program office took a prudent amount of time to develop the platform. "If you need to do something that's eminently achievable in its engineering … [and] you spend six years tooling around with it … you get a great solution."
Another key to success: there was little, if any, concurrency between manufacturing and development, Hasik said.
"This was not a Future Combat Systems project. This was not an F-35," he said. "Nobody was trying to finish the design work for parts that were going to get retrofitted later while they were running down the assembly line. They had a fully baked concept before they said, 'Go.'"
Hasik also noted that Oshkosh wasn't one of the participants in the technology development phase, but was later chosen for the EMD phase.
Program officials decided "we're not going to do this like we used to do decades ago where if we're not paying you we're not interested" in what you're making, Hasik said. "Instead the program office said, … 'If you want to spend your own money and present us prototypes … that's great.' That's what Oshkosh did which turned out very, very well for the government."
In a recent report by the Center for Strategic and International Studies, a Washington, D.C.-based think tank, analysts highlighted the JLTV program as a potential model for the Army's new design procurement programs.
"The joint light tactical vehicle program is an example of a competition that encouraged companies to innovate. All three competitors … brought proposals featuring significant truck technological breakthroughs," they said in the report titled, "The Army Modernization Imperative: A New Big Five for the Twenty-First Century."
Oshkosh eventually won the LRIP contract after its prototype greatly outperformed the nearest competitor's mean miles between operational mission failures, the report noted.
Prototyping can help officials understand the costs and risks of the requirements and determine which could be traded to deliver a more affordable and timely solution, the Government Accountability Office said in a report to Congress published in June titled, "Weapon Systems: Prototyping Has Benefited Acquisition Programs, but More Can Be Done to Support Innovation Initiatives."
For example, JLTV program officials decided against pursuing a six-seat variant that was deemed too heavy, and they made the transport requirements for the remaining vehicles less stringent. The changes resulted in savings of $35,000 per truck, the report said.
Competitive prototyping wouldn't be feasible for every Defense Department acquisition project, Hasik said. "You really can't build super carriers that way … because that's a $10 billion prototype."
But for programs where the cost would be more modest, it's important to have a "fly-before-you-buy approach," he added.
The GAO recommended that the Pentagon develop a department-wide innovation strategy with a focus on prototyping. Defense officials concurred with the recommendation and are currently working on the strategy, the report said.
Davis said the JLTV program's success was also enabled by a process that set a lower threshold for required performance but included other desired capabilities in a prioritized framework.
"We designed a strategy that put our requirements into tiers, communicated the value of our priorities, and incentivized vendors to deliver us as much capability as possible within our affordability cap," he said.
The program office defined and maintained stable requirements, focused on mature technology and emphasized affordability in a consistent way, he said. "These are all ideas that can improve outcomes across Army programs."
Meanwhile, there is growing interest in the JLTV at home and abroad. In recent months, Marine Corps leaders have said they want to increase their planned procurement by 65 percent.
"The [approved acquisition objective] remains at 5,500. But the commandant and the Marine Corps would like to increase their quantities over the next couple years. We're working our way up to 9,092 vehicles," said Andrew Rodgers, program manager for light tactical vehicles at PEO Land Systems Marine Corps.
Fullmer said the Army's planned purchase of 49,099 trucks remains unchanged. But he suggested it could potentially increase in the not too distant future.
"We anticipate a decision point in FY 18 to inform the overall size and composition of the Army's enduring light tactical vehicle fleet — currently balancing both JLTVs and" Humvees, he said in an email.
"Following a decision on the size and composition of the fleet, the Army will be able to make informed choices about potential changes to production and modernization activities," he added.
Although the vehicles were designed for the Army and Marine Corps, the Air Force is also looking to purchase them. The service requested $52.5 million in the president's 2018 budget for JLTV procurement to replace up-armored Humvees. If sufficient funding is provided, the Air Force plans to buy 140 during the course of the future years defense program, according to Laura McAndrews, an Air Force spokeswoman.
The vehicles are to be used by a variety of Air Force units including security forces, explosive ordnance disposal, pararescue, tactical air-control party and special tactics forces, she said in an email.
The service plans to start fielding the truck in fiscal year 2019. It has not identified any requirements to modify the vehicle, she said.
"The JLTV provides a balance of protection, performance and payload in order to afford airmen the greatest opportunity to accomplish their mission in a variety of terrains," McAndrews said.
Although the Air Force only plans to buy 140 JLTVs over the next few years, "we would like to eventually phase out the entire HMMWV fleet with the newer vehicles," she said, using the acronym for the Humvee.
The Air Force currently has 3,270 Humvees. They are experiencing problems, especially in the U.S. Central Command area of responsibility, which covers most of the Middle East and Central Asia, she noted.
Injector pumps require more frequent replacement due to the environment and operating them in high temperatures for long periods. The added weight from the up-armored Humvees puts increased strain on the brake pads, which also necessitates more frequent maintenance, McAndrews said.
"Operators over the years have commented on the relative lack of power from the engine along with a desire for more agility," she said. "Both of these issues are also compounded when the operating environment requires the HMWWV to be up-armored. The … JLTV offers improvements in power and agility, while also offering operators the protection they need in all battlespaces."
There is also growing interest in the JLTV overseas.
The State Department in July approved a possible foreign military sale of JLTVs to the United Kingdom. The nation has requested a sale of up to 2,747 vehicles and accessories with an estimated total cost of $1.04 billion, according to a Defense Security Cooperation Agency announcement.
Additional countries could end up buying the truck, Hasik said.
"There's actually a huge market worldwide for armored wheeled vehicles," he said. The JLTV "is probably the classiest thing you can get in the 4X4 segment."
George Mansfield, vice president and general manager of international programs at Oshkosh Defense, said fulfilling international orders while meeting production requirements for the U.S. military wouldn't be a problem.
"Oshkosh has the capacity to support U.S. JLTV production volumes and serve any anticipated international demands without missing a beat," he said in an email.
The company is optimistic that more nations will buy their product.
"We see solid potential for international sales," Mansfield said. Oshkosh has showcased the JLTV at multiple defense trade shows and demonstrated the vehicle to multiple allied nations, he noted. "We continue to be pleased with the level of interest."
He declined to disclose details related to other potential international sales.
Topics: Army News, Land Forces