Army Prepares for Complex, Lethal Battlefields of the Future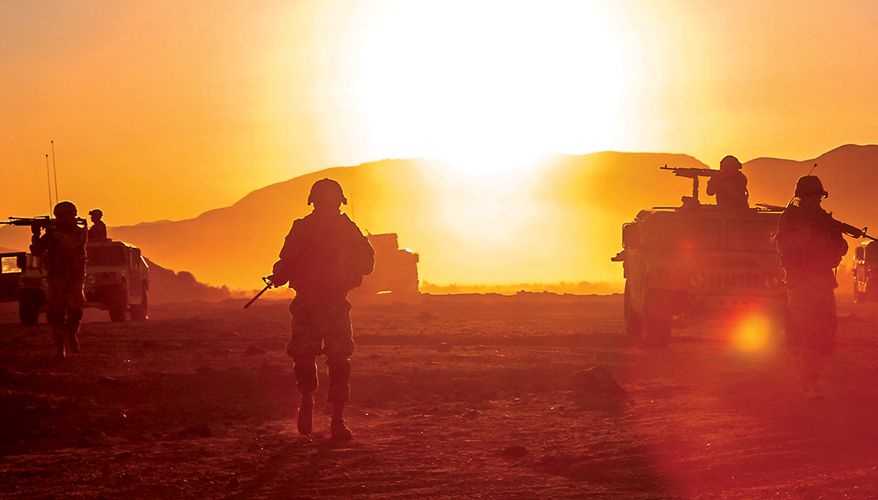 Photo: Defense Dept.
Tomorrow's battlefields will be wrought with new adversaries, challenges and technologies, military leaders and experts have said.
In a recently released report, "The Operational Environment and the Changing Character of Future Warfare," U.S. Army Training and Doctrine Command officials outlined what warfare over the next few decades may look like.
Between now and 2035, TRADOC expects that there will be an era of accelerated innovation. It will be a time where "adversaries can take advantage of new technologies, new doctrine and revised strategic concepts to effectively challenge U.S. military forces across multiple domains," the report said.
Between 2030 and 2050, TRADOC anticipates significant breakthroughs in technology, which will alter the character of warfare.
"During this period, traditional aspects of warfare undergo dramatic, almost revolutionary changes which at the end of this timeframe may even challenge the very nature of warfare itself," the report said.
TRADOC is watching trends in 12 areas as it looks toward the future including: big data; power generation and storage; cyber and space; collective intelligence; technology, engineering and manufacturing; climate change and resource competition; artificial intelligence; human computer interaction; demographics and urbanization; increased levels of human performance; economic rebalancing; and robotics.
Crises and conflicts will likely be in regions the U.S. military is accustomed to, but there may be some unfamiliar areas, the report said. Potential locations include the Baltics, the Arctic, the Balkans, the greater Middle East, the South China Sea, the Korean Peninsula, the Horn of Africa, Mexico and Venezuela-Colombia, it noted.
Through 2035, Russia is expected to be the United States' "pacing threat" and will likely be the most sophisticated adversary for some time, the report said.
The nation has "been investing for more than a decade in new capabilities to 'overmatch' U.S. airpower, precision targeting and the U.S. ability to deploy into a decisive theater," the report said. "In addition to a whole array of new weapons systems it has developed, Moscow has been studying and investing [in] technologies such as robotics, advanced computing, hypersonics, space systems and biological enhancements to human performance."
Eventually, however, China could overtake Russia as the United States' greatest rival as it continues to modernize its armed forces and develops new ways to approach warfare, the report said.
By 2035, it is likely "that the United States could face a true peer or near-peer adversary, who will have an ability to operate in multi-domains, a capability to deny domains to U.S. forces, and who will be able to operate with certain technological advantages over a U.S. force," the report said.
Mark Cancian, a senior adviser at the Center for Strategic and International Studies' international security program, said the Army has recently begun thinking about what high-end warfare with a peer competitor would look like.
"That is certainly something that we haven't thought about in 20 years, really a generation," he said. "We've fought regional competitors, but they've never been able to provide the kind of threat that would really cause us concerns about defeat."
A future high-end fight against an advanced adversary like Russia or China will force the United States to use capabilities that it hasn't employed in decades, he said. Additionally, "we would be facing levels of violence and threat that we have not faced in a long time," he noted.
During such a conflict, the United States could lose much of its high-tech weaponry, Cancian said. In a long lasting war "we quickly run out of modern weapons, because they just get attrited too fast." The U.S. industrial base would not have the capacity to replace them fast enough, he added.
For example, after nine months of battles with a peer competitor, the Army would go from about 15 armored brigades to two, he said. However, the service wouldn't be able to sustain the remaining brigades because the surge capability for the Abrams tank is insufficient, he added. Industry could manufacture 28 platforms per month, but during the same amount of time the Army could be expected to lose 300 tanks.
"There's a strong tendency … to assume away this kind of problem by thinking that we might get a lot of strategic warning so we could ramp up the industrial base," he said.
"But my argument is that that's wishful thinking, because any event that convinces us to ramp up the industrial base and start a draft is going to entail a war, and anything that doesn't rise to that level isn't going to induce us to do this kind of mobilization."
After that, if the war continued, the Army would have to resort to purchasing used platforms from countries such as Morocco, Egypt and Brazil. If it persisted even further, the service would need to pull old Abrams from the bone yard, Cancian said.
Doing so would make Army officials extremely uncomfortable, he said. "You wouldn't have time to upgrade it, you would just be able to haul it out. So you would be sending basic M1A1s off to war and ultimately maybe even M1s — the old version with the 105 [mm] cannon."
Cancian noted that whomever the United States was fighting would be in the same boat. "It's not like we're going to have our old tanks facing their modern tanks. We're going to have our old tanks facing their old tanks," he said.
Paul Scharre, director of the technology and national security program at the Center for a New American Security, a Washington, D.C. think tank, noted that the future battlefield would likely be more lethal than the United States has seen in recent decades.
"Both more lethal in what we've experienced in Iraq and Afghanistan, but also more lethal than what we experienced in Desert Storm, or the opening phase of the Iraq War in 2003," he said.
The proliferation of anti-tank guided missiles is one contributing factor, he noted. Technology such as active protection systems — which can shoot down anti-tank guided missiles and rocket-propelled grenades — could help build layered defenses against those threats but "they're not a panacea for them," he added.
The United States would also likely lose its air superiority in a future fight with a peer competitor, he said.
"If the U.S. was to face a conflict against Russia, say on NATO's eastern border, that … [would be] within range of Russian air defenses," he said. "That would mean that we wouldn't have the same kind of air superiority that we've kind of come to take for granted in the U.S. Army."
Cancian noted that the United States hasn't faced such a serious threat in that domain for 70 years.
Additionally, long-range fires, such as those developed by Russia, would be an issue, Scharre said.
Currently, Russian systems pose a major threat to most of Europe, found a CSIS report titled, "The Army Modernization Imperative: A New Big Five for the 21st Century."
Russia's "network is comprised of several advanced long-range cruise missiles and short-range ballistic missiles, including the Kalibr, Kh-55/101 and Iskander missiles, that are capable of threatening allied bases, rear echelon forces, ships, logistical hubs and civilian infrastructure throughout the U.S. European Command area of responsibility," it said.
Such weapons could deny the United States access to roads, trains, airports and seaports, which would potentially "stymie the entrance of additional forces onto the European continent and would prevent forward-deployed forces from being reinforced or resupplied, essentially crippling those forces," the report said.
These threats call for the United States to increase its investment in integrated air-and-missile defenses "to better survive long-range missile salvos designed to impede its access to the theater of operations," the report said.
Despite Russia's investments, it is possible that the country may diminish as a threat as time goes on, Cancian said. The nation is fraught with internal issues, he noted.
"Its demographics are horrible. Its economy is sputtering," he said. Over the long term, unless there is a radical change, it may not be able to compete on a global scale, he added.
China, however, is likely to be an enduring competitor, he noted.
"They have a strong economy … and an ideology that leads them to compete aggressively against us," he said. "If you're looking at 2035, 2050, … [then you should be] looking more to the Pacific, frankly."
A conflict in that region would mostly be fought in the air and sea, he added.
"It's just hard to get an army at them in ways that we would find acceptable," he said.
However, there are ways that the Army could contribute, he said. For example, Army artillery units with long-range missiles that can strike ships could assist with sea control. "That would make them extremely valuable," he added.
No matter the adversary, battles of the future will likely involve a number of domains, Scharre said.
"You [will] see more cross-domain synergies, particularly between things like the physical space and cyber space or the electromagnetic spectrum, which is … one that we don't see or touch," he said.
Both cyber and the electromagnetic spectrum are becoming more significant in warfare, he added.
"We're likely to get to a place where you need to make sure we're fighting and being at least competitive, if not dominant, in those domains," he said.
Topics: Army News, Land Forces