INDUSTRY PERSPECTIVE EMERGING TECHNOLOGIES
Trusted Microelectronics: A Critical Defense Need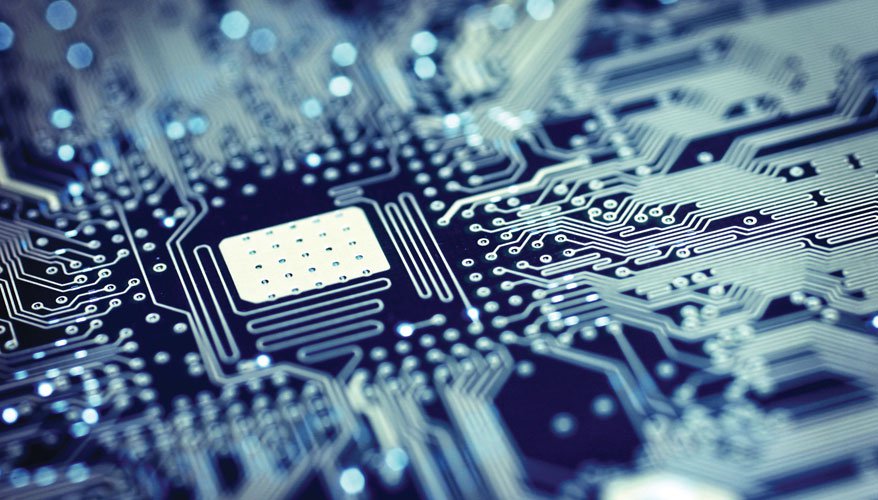 Photo: Getty
Over the course of the past 70 years, the U.S. government's microelectronics needs for national security applications and the semiconductor industry have been intimately entwined.

Beginning with radar and data processing, microelectronics has underpinned every military and national security system, from strategic command to field communications, transportation, weapon systems and platforms. It is not an exaggeration to say that national security depends on these tiny devices.

Since the invention in 1954 of the first commercial silicon transistor, industry efforts have been focused on increasing transistor density and lowering cost, the essence of Moore's Law. Commercial products also have tended to have shorter and shorter lifecycles.

In contrast the Defense Department requires advanced, highly customized state-of-the-art digital components for its systems, which are in use for many years more than commercial products. Warfare has changed dramatically over the years because of the capabilities cutting-edge microelectronics enable.

Indeed, the U.S. semiconductor industry in part grew out of government funded research and development. In recent decades, however, commercial applications and high-volume production have dwarfed government demand. In fact, government purchases — be it direct or through a third party — now account for a very small part of total production. The result is that commercial market forces drive the industry.

As noted by the most recent President's Council of Advisors on Science and Technology report: "The global semiconductor market has never been a completely free market: it is founded on science that historically has been driven, in substantial part, by government and academia; segments of it are restricted in various ways as a result of national-security and defense imperatives; and it is frequently the focus of national industrial policies. Market forces play a central and critical role. But any presumption by U.S. policymakers that existing market forces alone will yield optimal outcomes — particularly when faced with substantial industrial policies from other countries — is unwarranted."

National Defense Industrial Association members are dedicated to maintaining the technical superiority of U.S. defense and national security systems. The ability of U.S. corporations and government agencies to acquire advanced semiconductor devices is being severely undermined by the systemic changes in the semiconductor industry, which is now driven by commercial demands for consumer products, coupled with producer consolidation caused by profitability concerns.

Not only do potential adversaries now have access to the most modern technology, in some cases they have become the major suppliers of the very technology we have come to rely on to establish technological superiority. The question becomes, "Who can the military trust?" And if it can't trust the international producers of microelectronics, how does it mitigate the risk of using their products in highly sensitive national security systems?

The demand for consumer and business electronics skyrocketed with advances in consumer technology. Global sales reached $339 billion in 2016, according to the Semiconductor Industry Association. Demand for smaller and less expensive devices powers this growth, driven by consumer demand for smart- phones, tablets and the like. Indeed, the volume of smartphone shipments has risen exponentially since their initial introduction.

At the end of the 20th century the market for personal computers dominated demand for integrated circuits. This has begun to flatten as demand migrates to other devices, including those that are part of the internet of things. This drives the microelectronics industry to search for new markets, and to restructure itself to serve those markets profitably.

New segments generating significant demand are cloud computing, big data and artificial intelligence, which are increasing demand for servers and data centers and social media in which companies like Facebook and YouTube want to store, manage and process massive volumes of data as quickly and cost-efficiently as possible. Other emerging segments include medical, industrial, automotive and the previously mentioned internet of things.

Once an early-days driver of semiconductor technology, the government and its suppliers are now small players in the global market that drives the microelectronics industry. This has created a crisis in assuring that current and future defense and security systems are free from hidden defects or malware that might impact their operation at a critical time.

Microelectronics use tiny components, micro or nano-scale, to manufacture electronics and terminology in this area can get confusing.

Microelectronics can be considered a broad category within which falls surface-mounted technologies — think motherboards and printed circuit boards — and semiconductor integrated circuits, which, along with other components, are assembled onto circuit boards to create complex assemblies that are then integrated into products, in many cases with software that gives function to a computer.

Adding another level of complexity, an integrated circuit that integrates all components of a computer or other electronic systems into a single integrated circuit is known as a system-on-chip. The advancing technology is quite complex, with systems-on-chip and sophisticated components dominating the semiconductor and microelectronics market.

Advanced semiconductor design uses electronic design automation that enables the modular design of circuits that contain billions of transistors. The trend is toward the integration of complete electronic systems onto a single chip, reducing cost, size and power consumption while increasing performance.

The problem for the Defense Department is that all of this is necessary to providing the warfighter with state-of-the-art systems. Technological superiority depends on these complex technologies.

Some say Moore's Law may be slowing down. Nevertheless, the microelectronics industry is rapidly changing. Mergers and acquisitions, globalization, the search for revenue, the emergence of new segments, and changes to the design and fabrication business models are contributing to market changes that are having an impact on the defense industry.

Globalization of microelectronics design and production means that the department and its industrial base now must increasingly depend on foreign companies for the components necessary for our most advanced defense systems.

Moreover, the microelectronic industry business models, influenced by commoditization and segmentation, are introducing new and even greater concerns regarding assurance and vulnerabilities of defense systems. The result is that design content assembled into an integrated circuit for a defense system may in fact come from an unknown third party.

Sources of domestic, specialty high-performance microelectronics are severely limited. In 2003, the Defense Department founded the Trusted Foundry Program to provide accredited sources of supply for trusted components.

However, these components do not address the full range of capabilities the department needs and many programs are unaware of the products available from the program. In fact, until DoDI 5200.44 was released in 2012, there was no requirement for programs to use microelectronics from trusted sources. Even now DoDI 5200.44 only requires application-specific integrated circuits be acquired from a trusted foundry source. They account for roughly 5 percent of the microelectronics used in defense systems.

Many government program offices do not specify in contracts the use of trusted microelectronics, and therefore contractors are not motivated to go through the process of obtaining trusted components, which can be more complicated and costly in some circumstances.

In the National Defense Authorization Act for fiscal year 2017, Congress directed the federal government to determine how it can buy trusted microelectronics from foreign sources. The House Armed Services Committee report accompanying the authorization bill states that Congress "remains concerned with the Department of Defense's ability to ensure access to cutting-edge microelectronics with the requisite level of verifiable trust incorporated."

There is no way to return to a supplier base of "all-American" companies for the department's needs. Although some programs to protect classified information use cleared facilities and cleared personnel when developing technology for sensitive government use, this approach is neither ideal nor financially feasible on a large scale for most of the purposes for which integrated circuit technology is intended.

Defense Department access to trusted leading-edge microelectronics faces significant challenges stemming from manufacturing costs, supply chain globalization and market trends. This creates uncertainty regarding future access to U.S.-based microelectronics sources that can readily fulfill the assurance needs of defense systems.

NDIA formed an industrial working group with members of government, industry, nonprofits, and federally funded research and development centers to address the microelectronics issues that could impact the Department of Defense's access to the trusted and trustable microelectronics needed to sustain its military technical advantage. The purpose was to fill the gap that existed between government studies and industry.

The specific goal of the Trusted Microelectronics Joint Working Group is to facilitate industry and government interaction in areas related to microelectronics supply to confirm areas of concern and collaboratively develop mitigation strategies. Such interactions are intended to ensure trusted systems for the defense and national security systems through an exchange of information and an interchange of views between defense industry, university, research centers, government and military representatives.

The working group aligned work with stakeholder and members' goals, within the limitations for government-industry collaboration.

It began by asking the participants the following questions: What are the microelectronics capabilities needed by defense contractors to maintain technical advantage, both now and in the future? Are there ways to quantify the value of hardware performance in the context of systems? Are there new hardware paradigms on the horizon that could be disruptive?

What are the potential consequences of China's semiconductor investments to the U.S. defense microelectronics industrial base? What is the likely impact of losing access to trusted supplier base or trustable components in the future? What are the concerns regarding defense industry access to commercially available technologies? What could be done and how much would it cost?

The study explored the concept of assurance and risk in using parts not manufactured by a defense microelectronics activity. What are recommended methods for achieving confidence and assurance? What are the limitations? How much will it cost to implement?

Further, what options exist for obtaining trusted and trustable defense systems components from the projected future supplier base, including design approaches, fabrication approaches and new concepts?

Over the 14-month study period, the membership reached 80 participants from nine government offices, 28 separate defense companies and nine non-profits along with federally funded labs. The working group self-organized into four primary teams, each addressing a critical aspect of the challenge to obtain the trusted and assured defense microelectronics required for national security. The teams were: Future Needs & System Impact of Microelectronics Technologies; Trustable Access to Leading Edge Technology; Trustable Microelectronics Standard Products; and New Methods to Instill Trust in Commercial Semiconductor Fabrication.

The deep and diverse expertise of the members was leveraged to tackle semiconductor challenges specific to defense and national security programs. The teams analyzed approaches to assure semiconductor availability for defense systems through strategy development, research initiatives, standards participation, demand aggregation and future requirements integration.

There were several key recommendations resulting from the work of the four teams of the joint working group.

The first was to create a U.S. national semiconductor strategy. The absence of a comprehensive national semiconductor strategy was viewed by the working group as a major impediment to assuring access to critical national security technologies and to U.S. technological competitiveness.

The group recommended creating a government-industry-academia consortia or coalition to develop a national semiconductor strategic plan, including and beyond the Defense Department's requirements, complete with stretch goals, major priorities and desired outcomes. This plan would prioritize essential technologies for loss contingency protections and create a technology roadmap to identify investments that will strengthen the U.S. semiconductor industrial base, and that connects domestic semiconductor capabilities and projected demand.

The working group also recommended adapting Defense Department acquisition practices to align with the commercial market.

Its analyses highlight the differences between the department's acquisition practices and commercial sales priorities. The group recommended defense programs be provided new methods to purchase technology on commercial terms after the commercial products have been evaluated for trustworthiness. Further work is recommended to adopt commercial solutions and intellectual property with well-defined risk mitigations and to develop a process to plan sustainment needs during initial product purchases.

The department must also increase its market influence. Its share of the semiconductor market has dramatically declined to a less than 1 percent share of today's semiconductors consumption, and the department's ability to gain access to needed microelectronics capabilities has correspondingly diminished.

The group suggested actions that can increase market influence by exchanging research investment for access to commercial products; and aggregating demand across defense programs, other government offices and industries that have similar component and system integrity concerns.

The working group's analyses also articulated the value of developing program-specific trust plans and technical implementation guides to identify security measures for each step in the product flow from design through test. The guides would factor technology-enabled mitigations and countermeasures into security requirements. The plans could expand today's trust offerings by defining the boundaries for assurance spectrums or "tiers of trust" levels, and would cover component categories beyond application-specific integrated circuits.

Separate from, but coordinated with, the national semiconductor strategic plan, the group recommended launching near-term research and development to address the security concerns of existing commercial technology capabilities to leverage these capabilities for defense systems. Establishing a government focus to track future technology trends and impacts is recommended to continuously identify technology renewal opportunities and capabilities gaps.

Obtaining trusted and trustable leading-edge microelectronics is critical to maintaining the U.S. military's technological advantage. As foreign sources of integrated circuit design and manufacturing capabilities increase their presence in the defense supply chain, the defense industry faces increasing challenges to obtain critical electronic components both in acquisition and sustainment phases.

This is a challenge that needs to be met head-on and will not go away. The funding necessary to develop a parallel, defense-centric, and completely isolated source of electronics for military applications is unimaginable and simply not available. The defense community must adopt practices that allow it to assure itself of trusted sources of supply in what amounts to a foreign-dominated and contested environment.

The four teams of the Trusted Microelectronics Joint Working Group independently developed their recommendations to improve the Defense Department's access to leading-edge, state-of-the-practice, and legacy microelectronics critical to defense systems. The findings and recommendations from the teams have been integrated and grouped into action categories and presented here as key recommendations. Each team produced a more detailed white paper as their final product reflecting their conclusions.

Because of the obvious value and critical importance of this work, NDIA plans to convert the Joint Working Group into a standing NDIA division so that it may continue under an officially recognized charter.

To access the papers generated by the working group please visit: www.ndia.org/divisions/working-groups/tmejwg.

Dave Chesebrough is vice president for program development at NDIA. He can be contacted at dchesebrough@ndia.org.
Topics: Emerging Technologies, Defense Department, Research and Development