ROBOTICS AND AUTONOMOUS SYSTEMS
SOCOM Leaning on ThunderDrone Initiative to Acquire New Unmanned Systems Capabilities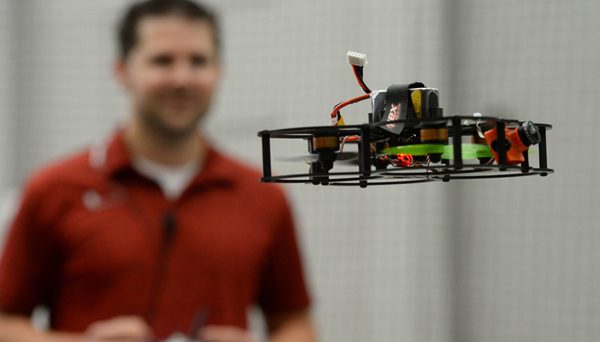 A drone is piloted during the ThunderDrone tech expo at SOFWERX.
Photo: Air Force
Through a series of prototyping efforts — known collectively as ThunderDrone — U.S. Special Operations Command hopes to discover new unmanned capabilities that could benefit the warfighter, the command's acquisition director said Oct. 2.
Industry, laboratory and academic partners, and individual citizens have completed the early rounds of SOFWERX's first ThunderDrone rapid prototyping event in Tampa, Florida, said James "Hondo" Geurts. SOFWERX — an initiative that facilitates fast prototyping and technology experimentation between SOCOM and non-traditional partners — is hosting the event in a rented indoor test range near its headquarters in the Ybor City neighborhood of Tampa.
The command is looking to leverage the recent explosion of commercial unmanned air, ground and underwater systems technology to quickly field needed capabilities among special operators deployed globally, Geurts said in an interview with National Defense.
"There's a huge demand for [intelligence, surveillance and reconnaissance]; there's a huge demand for protecting our forces as they're operating in small teams all around the world, and there's a huge demand for leveraging this technology quickly to get the mission done," he said.
Over 100 companies and over 400 individuals from government, academia and startup companies were present for the initial technology exposition Sept. 5-7, Geurts said. That encouraged collaboration and problem solving across the unmanned systems field, he added.
"What's interesting in those expos is … how folks combined [their technologies] together to create new capabilities we didn't think about in advance," he said.

A transformable land-to-air drone takes off during the ThunderDrone tech expo at SOFWERX
For example, one company with a novel way of remotely charging UAS linked up with a ground-based systems provider to see where they could mutually benefit from the technology, he noted.
After the exposition, SOFWERX brought military officials in to provide the warfighter's perspective, to understand "where they see things going, what they would like to do that they can't do, what are the capability gaps," he said. Promising capabilities are now undergoing a series of "tech sprints" to try and mature the technology over the course of two to three weeks, he added.
During the final round, a "prototype rodeo" to be held Nov. 1-3, companies that participated in the sprints will have an opportunity to demonstrate either a drone technology they developed or give a presentation revealing advancements they have discovered, said Navy Lt. Cmdr. Lara Bollinger, a SOCOM public affairs officer. SOFWERX plans to finalize the list of rodeo participants in mid-October, Geurts said.
"Depending on what is presented, these ideas and innovations may result in further work with SOCOM, and it's possible that a number of companies' ideas/innovations could be selected for future development," Bollinger said in an email.
Geurts noted that companies who don't make it to the rodeo round could still find opportunities to work with the command.
"I would not characterize this as an exclusive" opportunity, he said. "We'll see who's ready and look forward to collaborating with them in the first week of November. … If they aren't there, we look forward to seeing them at another event."
Interested individuals and companies can join the SOFWERX ecosystem via sofwerx.org to receive announcements about upcoming events, he added.
ThunderDrone is a collaboration between SOCOM, the Pentagon's Strategic Capabilities Office and the U.S. military services, Bollinger said. Air Force Secretary Heather Wilson has previously stated the service is taking part through its recently established AFwerX technology accelerator program.
Geurts announced earlier this year at the Special Operations Forces Industry Conference that the command would partner with the Strategic Capabilities Office to create DRONEWERX, an initiative inspired by SOFWERX to leverage the possibilities of swarm technology, commercial drone technology and artificial intelligence. That initiative has become ThunderDrone, he said. SOFWERX will host additional ThunderDrone events through 2018, he noted.
Topics: Special Operations, Unmanned Air Vehicles, Unmanned Ground Vehicles, Unmanned Underwater Vehicles