ROBOTICS AND AUTONOMOUS SYSTEMS
Air Force Looks to Upgrade Reaper Unmanned Aircraft
MQ-9 Reaper
Photo: Air Force
Next year will mark the 20th anniversary of when the Defense Department ordered the Army to hand over an advanced concept technology demonstration aircraft it called the MQ-1 Predator to the Air Force.

As an experimental aircraft thrown into combat at the outset of the war in Afghanistan, the unmanned aerial vehicle was far from a refined piece of military hardware.

The UAV had flown over Serbia to conduct surveillance in 1999, and by the time U.S. forces arrived in Central Asia to fight al-Qaida, it was firing its first Hellfire missiles.
While the Predator — and its follow-on version better known as the MQ-9 Reaper — emerged as one of the most high profile and controversial new technologies employed in the so-called global war on terror, for Air Combat Command Commander Gen. Mike Holmes it serves as a cautionary tale of when a program is created ad hoc.

Since then, new capabilities have been added in "fits and starts," he said. Squadrons have not been built out to the point where personnel can have dwell time and aircraft can be pulled out of service for routine upgrades.

"We are left with an unsustainable enterprise that has been kind of shoe-boxed into a limited mission set. There were a lot of requirements in the joint force that we weren't meeting," Holmes said at a panel at the Air Force Association's recent Air, Space and Cyber Conference.

Reaper upgrades came in the form of joint urgent action requests "without always having all the documents," he noted.

Meanwhile, the aircraft that was unexpectedly thrust into a key role in modern battlefields has been a major success for its Southern California-based manufacturer, General Atomics Aeronautical. Italy, Australia, France, the United Kingdom, the Netherlands and Spain — and soon India — are among the nations flying the aircraft along with U.S. agencies such as NASA and Customs and Border Protection.

The company is spending a significant amount of internal research-and-development dollars to provide upgrades that will make operations less expensive and more efficient, said Darren Moe, General Atomics' senior director of automation and UX mission systems.

The company began a project to introduce disruptive technologies associated with automation to both make the aircraft more affordable and more effective. That includes all aspects from flight, at the ground stations and in the ways intelligence officers request data, Moe said.

The first technology developed under the initiative was XC2, which stands for expeditionary command and control.

Today, forward deploying a Reaper requires "tons" of ground station and test equipment along with about seven personnel. "It's a great expense," he said.
XC2 replaces it all with a laptop, one maintainer and a satellite link, he said.

Advanced cockpit software on a laptop automatically cycles through the aircraft's pre-flight checks and lets the maintainer know that it's good to go.

After the check, the maintainer hands off control of the aircraft through the onboard satellite link to the pilot, who taxis the aircraft down the runway, then hits a "take-off" button, which allows the aircraft to lift off on its own.

Today, this is all done manually.

"This saves a lot of manpower and it also saves a lot of equipment for us," Moe said. The laptop could qualify as carry-on luggage, he added.

The current trailer weighs 10 tons. Since the backhaul communications are done aboard the aircraft, that eliminates a lot of communication equipment, he added.

The Air Force, however, is one of the few operators that does not employ automated take-off and landing.

The Army has featured it on the Gray Eagle, its version of the Predator, "forever," Moe said. It has carried out tens of thousands of takeoffs and landings and suffered no issues. Customs and Border Protection has adopted it for its MQ-9 Predator Bs.

"It's in the Air Force roadmap, it just hasn't been adopted yet," Moe said. "We're ready whenever they are."

Col. Julian Cheater, 432nd expeditionary wing commander, said automated take off and landing is "in the works" and about two years out from fielding.

Doing takeoff and landings are extremely challenging, but when it came to racking and stacking the Reaper's requirements, that feature lost out to new sensors and payloads that would enhance the aircraft's warfighting capability, he said.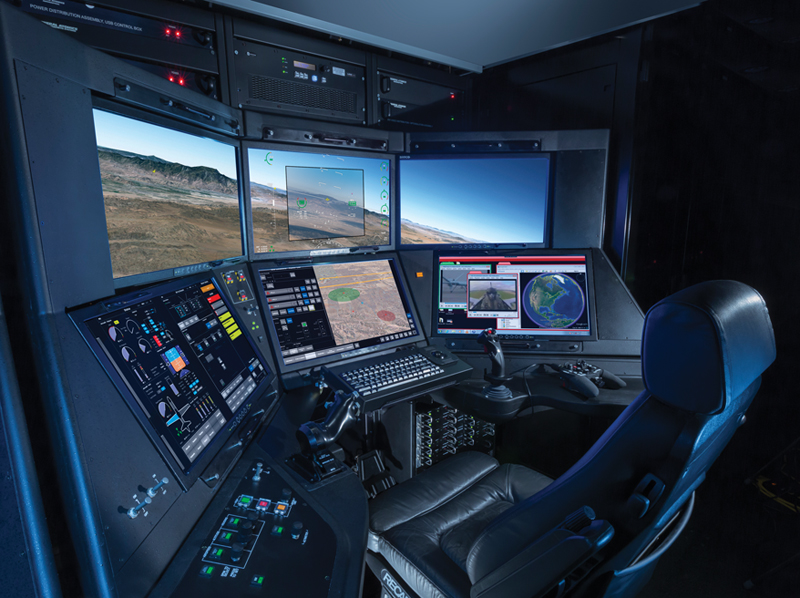 The Block 50 ground control system
General Atomics is going beyond takeoff and landings to incorporate more automation in the operation of its aircraft. The new multi-mission control allows a single operator to fly multiple UAVs at once. This is especially useful for when the drone is in transit or during routine intelligence, reconnaissance and surveillance missions, Moe said.

This is carried out through a simple interface and a controller that looks like a video game joystick.

"It is not a video game, but we definitely took a lot of cues from the video gaming industry, where they spent billions of dollars designing these interfaces for kids and teenagers to control multiple aircraft and entities to go to war with each other," Moe said.

The operator can ask the aircraft to configure its own payloads depending on the mission. It also has a warning-caution-and-alert system that can notify the operator of an oncoming hazard, and suggests actions that can rectify the situation.

Cheater said automating the flight to and from a target is feasible, but he noted that one-third of the Reapers' missions are strike.

"Once you are on target, from an MQ-9 perspective, I am not a huge fan of" automation, he said.

General Atomics has also set out to automate some of the mission commands. The automatic collection management system, which it calls Metis, enables users to request information like an Uber customer sends out requests to hire a car. Once a query is transmitted, the multi-mission control automatically charts the safest and most direct path to the target taking into account such factors as weather or enemy jamming devices. Once the requested data is collected, it is sent back to the user and presented in an easy-to-read format.

The operator, meanwhile, will be sitting in a comfortable chair while using the joystick. The Block 50 ground control system will do away with the notoriously "un-ergonomic" cockpits UAV pilots have had to deal with, Moe said.

The Air Force wants to have the new ground control system in place by 2020 or 2021, he said. The service is working on a sole source contract for the system, Moe said. The United Kingdom's fleet of MQ-9s will probably have the system first as it is already doing some testing, he added.

As for the aircraft itself, Steve De La Cruz, General Atomics staff engineer, said the MQ-9 Block 5 has increased electrical capacity to handle more sensors and other payloads.
"As we put more and more things on the airplane we need more and more power to operate it," he said.

The landing gear is also more "forgiving" on the new iteration, he said.

The Block 5 can also carry external fuel pods to extend its mission range, he said.

Cheater said: "There are more changes on the horizon to be executed than I have ever seen in the past."

Part of the ad hoc nature of putting together an enterprise for the Reaper was a lack of dwell time for crews.

Building out the wings will help the command reach a state of normalcy, he said. That would include regular dwell times — for example eight months in combat and four months off. Then pilots and operators could train for missions for which they don't normally have time.

"We are very good at close-air support in urban environments. … I want to get to other things," Cheater said.

That would include: operating in contested environments; combat search and rescue; strike coordination and reconnaissance; and maritime interdiction, he said.

He also saw the need in the Air Force for a smaller, dedicated ISR platform.

"We have multiple sensors on the aircraft. As you take a step back, should we have a lower-end platform — something not as sophisticated as the MQ-9 that doesn't do strike?" he asked.

This smaller remotely piloted aircraft would have some of the same payloads such as electro-optical and infrared sensors and other packages that are useful in fixing targets. It could be used in conjunction with a platform that is a little higher end and has a strike capability, he said.

As the Air Force enters its third decade with the aircraft, the first blocks of the Predator/Reaper are slated for retirement and will be replaced by a fleet of all MQ-9s.

The old drones won't be passed on to foreign militaries or U.S. agencies as surplus equipment, said Chris Pehrson, vice president of strategic development at General Atomics.

They are not airworthy enough to function in national airspace. Their high-tech sensors will be stripped out and they may end up going out in blazes of glory as Navy target drones, he said.
Topics: Robotics, Robotics and Autonomous Systems, Air Power, Air Force News