Multiple Trends Could Upend JSTARS Modernization Plans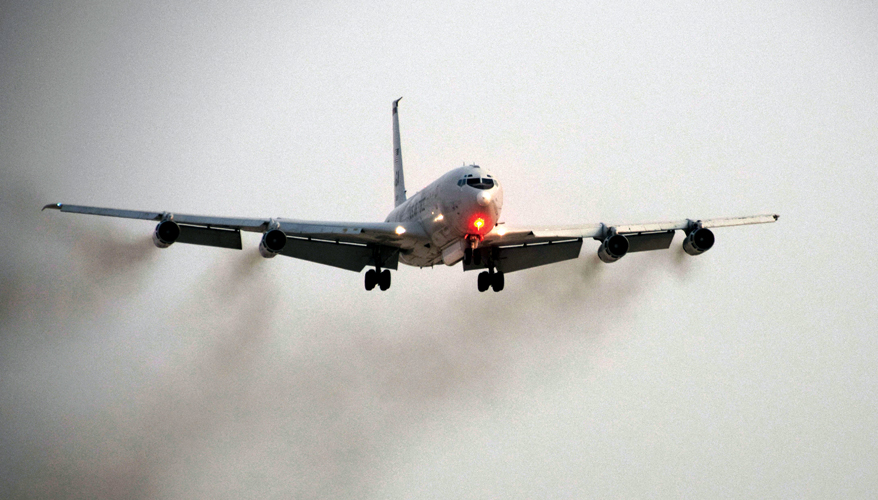 E-8C Joint Surveillance Target Attack Radar System
Photo: Defense Dept.
The future of the Air Force's Joint Surveillance Target Attack Radar System recapitalization program is clouded as the service embarks on an analysis of alternatives. Technological, operational and budgetary considerations could lead to a wide range of possible outcomes, analysts said.
E-8C JSTARS aircraft and equipment provide critical battle management, command and control, and intelligence, surveillance and reconnaissance capabilities that help the U.S. military locate, track and destroy enemy ground targets.
However, legacy platforms are aging and the Air Force planned to replace them with a follow-on system through the JSTARS recapitalization program. But now the service is thinking about moving in a different direction.
"Our advanced battle management system [analysis of alternatives] which begins this fall … is really looking at the contested environment out in the future," said Air Combat Command Commander Gen. Mike Holmes.
"The question is, should we recap [JSTARS] … or not?" he said during a meeting with reporters at the Air Force Association's Air, Space and Cyber Conference in National Harbor, Maryland.
Air Force Secretary Heather Wilson said the service would look at the feasibility and merits of relying on a more distributed sensor and communications architecture. The U.S. military could potentially fuse sensor data from drones and other aircraft such as fifth-generation fighters, as well as space-based, ground-based and sea-based assets, to accomplish the mission, she said.
"What we're trying to evaluate today very quickly is, can we do it in a new way? What time would it take, and what are the pieces that we have to put together?" she said at the Women in Defense National Conference in Washington, D.C. The organization, also known as WID, is an affiliate of the National Defense Industrial Association.
"The question is … can we do it fast enough, and does it give us more capability if we do it that way rather than just do, you know, version 2.0 of what we designed in 1991?" she added.
The service hoped to complete the analysis by the end of October, Wilson said.
Meanwhile, the Air Force is currently in the source selection process for the engineering and manufacturing development phase of the recap program. A decision is expected in fiscal year 2018.
Todd Harrison, director of defense budget analysis and the Aerospace Security Project at the Center for Strategic and International Studies, a Washington, D.C.-based think tank, said it makes sense for the Air Force to review its options now.
"If you're going to look at alternatives, now is the time before you get knee deep into a new program," he said.
Concerns about the survivability of a JSTARS-type platform — which is a modified civilian aircraft — are driving the decision to rethink the path forward, officials said.
In recent decades, the manned planes have operated in relatively low-threat environments such as Iraq and Afghanistan. There are growing concerns that they could have difficulty surviving in a future fight against advanced adversaries.

Northrop Grumman's modified Gulfstream G550 JSTARS recap offering (Northrop Grumman)
"How long do you keep trying to make that work in a more and more contested environment?" Holmes asked. "How long should we continue to fund a [ground moving target indicator] capability ... the classic way we've done it with an integrated platform that has sensors and air battle managers onboard? … How much of our threat environment in the future will allow us to do that?"
China could be an especially potent adversary, said Richard Aboulafia, vice president of analysis at the Teal Group, a Fairfax, Virginia-based aerospace market analysis firm.
"The Chinese are building aircraft and weaponry that are out to deliberately target [U.S.] enabler planes," he said. "Given this potential threat I understand why they want to study their options."
If survivability is given more weight in the analysis of alternatives, it could have major implications for the future of JSTARS.
"That would tilt the balance against the recap they were planning," Harrison said. "It would also tip the balance against maintaining the current aircraft."
National Defense asked Lt. Gen. Arnold Bunch Jr., military deputy in the office of the assistant secretary of the Air Force for acquisition, if the service is considering using stealthy aircraft to perform a JSTARS-type mission in high-threat environments.
"I won't go into a whole lot of details other than we're looking across the board at what can we aggregate together to be able to execute the mission," he replied.
The Air Force planned to procure 17 next-generation JSTARS aircraft at an estimated total program cost of $7.1 billion in fiscal year 2017 dollars, according to the Government Accountability Office.
Some observers have speculated that budget concerns were the catalyst for launching a new analysis of alternatives. Bunch said that was not a motivating factor.
"We're looking at what kind of capability do we need to deliver to the combatant commanders. It really is all driven by that," he said. "What we are looking at is how has the threat evolved and what has changed … [and] is there a better way to be able to provide that [capability] across the spectrum of warfare than the way that I've got mapped out right now?"
But Harrison said the price tag for the recap would have to be part of the calculus about whether to move ahead with the project.

Boeing's modified 737 jetliner JSTARS recap offering (Boeing)
"You can't make a major decision like this on a multi-billion dollar program without considering the cost implications, especially given the compounding challenge of all the other Air Force aircraft modernization programs that are going to be going on in parallel," he said. "It's impossible to view this without the budgetary lens."
The Air Force planned to field a next-generation JSTARS by 2024. But the Air Force has other acquisition priorities for the next decade such as the F-35 joint strike fighter, B-21 stealth bomber, KC-46 tanker, a new trainer aircraft and the Ground-Based Strategic Deterrent nuclear missile system. Together, they will create a "bow wave" of modernization funding requirements, Harrison said.
Delaying or canceling the JSTARS recap could ease the Air Force's financial burden, he noted.
"If you could push off that cost to further in the future, that would help the next five to 10 years … when all those things are ramping up and peaking in the early 2020s," he said.
There are multiple ways that Pentagon officials could kick the can down the road, he noted.
"It could be that they say, … 'We'll do a service life extension. We'll keep the current platform going and in the meantime we'll do some early S&T work looking at is there a different way of doing this mission in the future,'" he said.
Alternatively, they could just hit pause and wait a few years before starting the recap effort, Harrison said. "The question is … is that viable and can they still meet the warfighter demand for these capabilities?"
Analysts said it would be possible to harness new technology at some point in the future to create an effective alternative to JSTARS.
"It still would require a fair amount of development work and it may require putting different types of sensors on some of our platforms," Harrison said. That wouldn't necessarily be the most cost-effective solution, he added.
Aboulafia said it would probably be the 2030s before the U.S. military could field a network of systems with the kind of robust battle management capabilities that JSTARS possesses today. If Air Force planners reach the same conclusion, the service might have to "just bite the bullet and go back to the default plan of [buying] business jets or jetliners," he said.
The outcome may depend on how long the service can tread water with the legacy E-8Cs, and whether the B-21 and its network of capabilities could play a role in performing the JSTARS mission in the 2020s, he said.
How much money the Air Force would be willing to spend on keeping legacy aircraft flying could influence the recapitalization decision, he said.
Analysts are divided about the likelihood that the program will survive.
"If I had to bet at this point I would be leaning toward the Air Force going to … a different alternative other than the recap that was planned simply because they have announced they're taking another look at this and the budget pressures that are building in the out years," Harrison said.
Aboulafia took a different view. "There's a very good chance they will find that their ability to create an alternative architecture before those E-8s expire is highly questionable," he said. "I would still give this program a pretty decent shot at going ahead."
Several lawmakers recently wrote a letter to Defense Secretary Jim Mattis raising concerns that the program might fall by the wayside. But analysts said it's unlikely that Congress would step in and compel the Air Force to move forward with the recap if the service tried to cancel it.
"Until you've made a source selection it's hard to mobilize a political constituency," Harrison said. But the service needs to take the right approach to avoid political backlash, he added.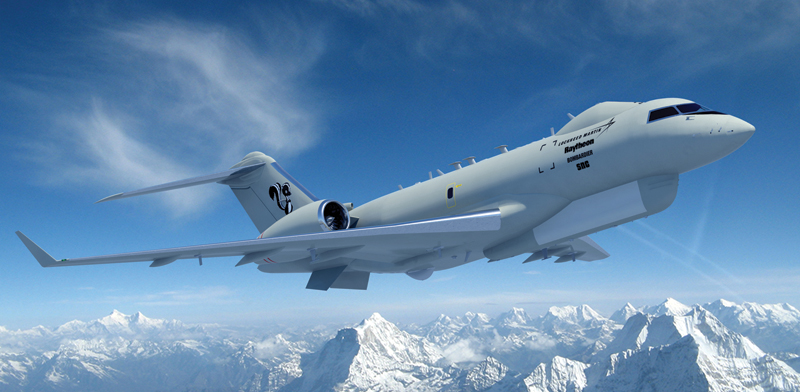 Lockheed Martin's modified Bombardier Global 6000 JSTARS recap offering (Lockheed Martin)

If the Air Force comes up with a credible plan to meet the mission need without recapitalizing JSTARS — and they get buy-in and support from the other services — they are not likely to encounter stiff opposition in Congress, he said. "But if Congress detects or suspects that this is the Air Force trying to jettison a mission then they will meet resistance."
Bunch indicated that the Air Force would consult with warfighters and the other services before deciding whether to nix the program.
"We realize we've got to work with … all the people that utilize the resources and we'll have to have dialogue with all of them before any final decisions are made to change the path we're on," he said.
If the Air Force decides to go ahead and buy a follow-on system, the current acquisition strategy won't change, Holmes said.
"There's general agreement that if a national decision is made to recap the JSTARS airplanes … the approach we're going down is the right way to go," he said. "We don't need to do anymore studies on that."
Three industry teams led by Northrop Grumman, Lockheed Martin and Boeing, respectively, are competing to win the EMD contract.
Reports that the Air Force may cancel the program "give people pause," said Dave Rapp, JSTARS recap program director for Lockheed Martin Skunk Works. But he and members of other industry teams said they are proceeding as if the project will move forward.
"According to all official communications to us as offerers, the acquisition is unchanged," Rapp said. "As far as we know the acquisition is still on. … We have submitted a proposal and we stand by it."
Industry executives said the Air Force has emphasized the need for: open mission systems; cost effectiveness; low technical risk; and extra margin when it comes to size, weight and power to facilitate future upgrades.
The industry offerings include a platform, sensors, communications equipment and battle management command-and-control subsystems.
The Northrop and Lockheed teams are offering modified luxury business jets — the Gulfstream G550 and the Bombardier Global 6000, respectively — while the Boeing team is offering a modified 737 jetliner.
Each type of aircraft provides certain advantages when it comes to the JSTARS mission, according to analysts.
Business jets can generally fly higher, which gives them a better view of ground targets and potentially makes them more survivable than larger jetliners, Aboulafia said. They can also operate from more airports around the world, he noted.
Harrison said operating costs could be an important consideration in the competition. In that case, a smaller aircraft that consumes less fuel would have an advantage, he added.
However, a jetliner such as the 737 has upsides as well, analysts said.
"Another factor they could consider in this is expandability — can you add more things to it in the future. That would favor aircraft that has more size, weight and power available. That tends to be a larger aircraft," Harrison said.
Aboulafia argued that a jetliner would have extra room to house a more robust, onboard battle management capability.
The 737 would also have a leg up when it comes to maintenance, he said. "In terms of spares and maintenance, you can't beat a 737. You could call it the Southwest Airlines effect. There's a mountain of 737 spares all over the world."
Harrison said there's no obvious frontrunner at this point. "It depends on … what [characteristics] they value when they're doing the source selection."
— Vivienne Machi contributed to this report

Topics: Air Power, Air Force News