Army Looks to Integrate Aircraft Technology Faster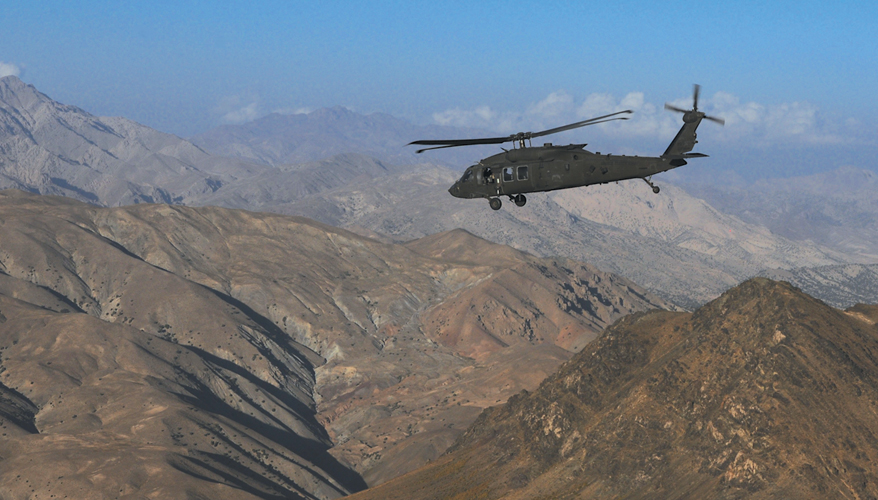 Photo: Defense Dept.
The Army's program executive office for aviation has stood up a new team that will work to get science and technology efforts developed more quickly by encouraging earlier and increased collaboration with industry, according to the office's leader.

The "future operations team" will focus on "identifying new technologies that the S&T community is working on and quickly transitioning them into capabilities for the warfighter," said Brig. Gen. Thomas Todd during an event at the Association of the United States Army in Arlington, Virginia. It could allow the service to synchronize its efforts with industry to develop capabilities that improve the reach, protection and lethality of its aerial platforms, he said.

The Army is facing increasing modification and obsolescence challenges with its fleet — which includes over 5,000 aircraft and was mostly designed in the 1960s and 1970s, Todd said. As industry and service partners work on new technologies — including the joint multi-role technology demonstrator program — and advancements in unmanned systems, increasing collaboration between the public and private sector will be key, speakers said.

The future operations team was stood up "to create that connective tissue that we should always have" with industry partners, Todd said.

The Army is working with a number of partners to develop capabilities that could assist operations in degraded visual environments, enable manned-unmanned teaming efforts across platforms, and make the next generation of unmanned aerial systems more robust and maneuverable, service officials and industry leaders said during the panel.

Chris Van Buiten, vice president of innovations at Sikorsky Aircraft, noted that more autonomous capabilities could provide solutions to several of the service's challenges. He said the company is equipping a demonstrator for its proposed replacement for the UH-60 Black Hawk utility helicopter with autonomous capabilities that can enable flight in degraded visual environments or high-workload environments.

"The crew will be there for most of the missions, but [we] put a degree of autonomy to … enable manned-unmanned teaming," he said.

Maj. Gen. Bill Gayler, commanding general of the aviation branch and the Army Aviation Center of Excellence, said full autonomy is probably not in the cards for future Army rotary-wing aircraft. "Supervised autonomy is where we think we need to pursue capabilities," he said.

It is more about aiding and "off-burdening" the human in the loop than completely replacing the pilot, he said. Further, a fully unmanned helicopter would be vulnerable to electronic warfare. If the enemy jams communication links, that aircraft could be completely lost.

Van Buiten said the Army should be taking advantage of the data collected on its aircraft to help solve key challenges for maintenance and fleet availability, he noted, adding that there are "gigs of data on every platform and we're letting it fall on the cutting room floor."

Supervised autonomy could certainly apply to condition-based maintenance, said Col. Thomas von Eschenbach, director of the capability development and integration directorate at the Army's Aviation Center of Excellence. The goal would be to have "a sliding scale of intelligence to where you make [the aircraft] smarter."

The service needs to figure out how to properly digest and utilize the data from its airframes, he acknowledged.

Any future unmanned aerial system will need to be more maneuverable and survivable to be effective in an anti-access/area denial environment, which will be "a wicked problem to solve," Von Eschenbach said. It may need a "long range, long endurance kind of engine," and vertical take-off and landing capabilities, he noted.

Industry and service partners are also working to find the sweet spot for commonality between systems. There are benefits to developing completely new systems while maintaining older platforms, but there is also a negative impact on maintenance and logistics, said Maj. Gen. Paul Hurley, commanding general of the Combined Arms Support Command at the Army's Sustainment Center of Excellence.

"When you have multiple platforms and multiple industrial partners, plus numerous subcontractors, then you exponentially increase the complexity and size of the supply chain," he said.

Reduced commonality would also impact a program's lifecycle cost "from cradle to grave," he noted. "When you have different variants out there ... you don't have the benefit of scale."

Hurley was responding to earlier comments from panelists.

Gayler said the idea that "common must be better" was a "complete myth." "When you drive to commonality, you field obsolescence." Army aviation has never achieved commonality, he noted.

"We just have to think differently about it."

Gayler added: "If you think of a modernization program as an introduction of a new capability, not as replacing legacy systems, that's the only way it's achievable. We want to introduce a capability rapidly to rapidly solve a specific problem. We will determine later whether we tweak that thing and make it better, or whether or not go in a totally different direction."

The requirements for the Army aviation branch don't change, Gayler said. "We find stuff, we move stuff and we kill stuff." It has to find ways to do these tasks better. And taking 40 years to develop and fully field a replacement aircraft is only going to deliver obsolete platforms, he said.