Army Awards Unmanned Ground Robot Contract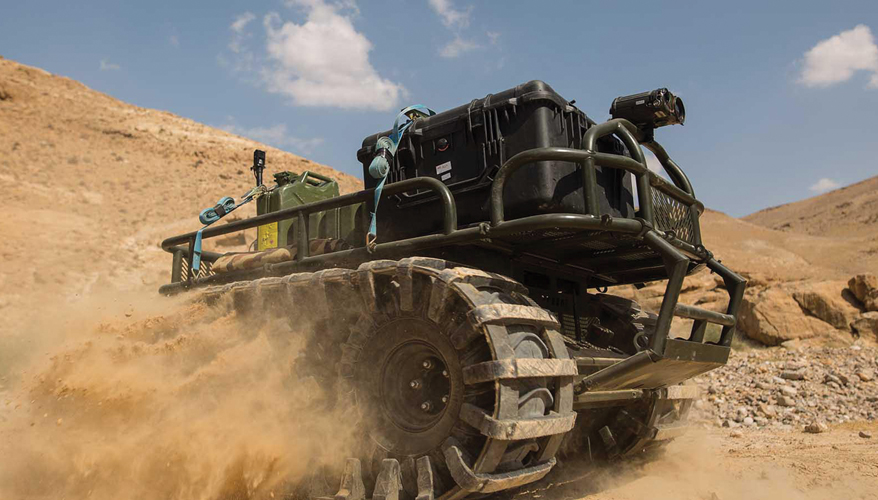 Probot ground robotics platform
Photo: Roboteam
The U.S. Army recently awarded the first in a wave of ground robot contracts that will replace older, less flexible platforms, one of several new service contracts for unmanned systems to assist with explosive ordnance disposal.
During recent conflicts, the Army purchased more than 7,000 unique robotic systems, said Bryan McVeigh, Army project manager for force protection. "That gave soldiers the capabilities they needed, and it was the right thing to do for the mission," he said.
But those systems were not very flexible, he noted. "The robots often had just one capability, used expensive, proprietary software, and required more resources for training and maintenance."
Endeavor Robotics — a Chelmsford, Massachusetts-based company formerly part of iRobot — was awarded a firm fixed-price contract for engineering, development and production of the man-transportable robot system Increment II, at a total contract value of $158 million.
The medium-sized MTRS Inc II system will provide a reliable chassis "that can adapt quickly and take on the role of multiple existing systems" to identify, evaluate and dispose of explosive hazards safely, he said.
It will feature an interoperability profile, or IOP, where new payloads can be added in a way similar to installing applications on a smartphone. Integrated payloads will allow for better remote threat detection in low-light environments and improved awareness of improvised explosive devices, according to the Army. Deliveries and initial operating capability are planned for the end of fiscal year 2019.
The service is planning two additional enduring ground robotic programs of record. It is currently evaluating industry proposals for the common robotic system (individual) program for a robot weighing fewer than 25 lbs. The common robotic system (heavy) program is scheduled for contract award in 2019.
Roboteam, an unmanned ground vehicle manufacturer with headquarters in Gaithersburg, Maryland, and Tel Aviv, Israel, will also provide new systems to the Army.
The company recently announced it has launched production for its second-generation Probot ground robotics platform. Forty systems will go to the U.S. Army, the Defense Threat Reduction Agency and the Israeli Defense Forces by the end of 2017. The vehicle was selected for phase 1 testing for the Army's squad multipurpose equipment transport program in September.
The updated system has an increased endurance of up to 72 hours and an onboard generator, which charges the batteries while in motion to allow the warfighter "near limitless mileage," according to Roboteam.
Shahar Abuhazira, company president and CEO, said he has seen an increased demand for ground robotic systems, mainly to assist with roadside bombs and to help curb terrorist activities.
"Almost 50 percent of casualties in Afghanistan came from IEDs," he said. Users outside of the EOD community, such as police organizations, are also looking for new systems, he said.
Other companies are investing in new systems as the need for unmanned ground vehicles continues.
Northrop Grumman recently announced the latest addition to its Andros line of ground robots called the Nomad. It is also equipped with IOP-compliant software.
"Future upgrades can be spiraled via IOP compliance and its next-generation track pods allow Nomad to go where others cannot," said Dan Verwiel, vice president and general manager of Northrop Grumman's missile defense and protective systems division.
The company was also recently awarded a 24-month support contract from the United Kingdom's Ministry of Defence for its Cutlass explosive ordnance disposal unmanned ground vehicle, according to a company press release.
Topics: Global Defense Market, International, Robotics