Efforts to Thwart ISIS Could Get Costlier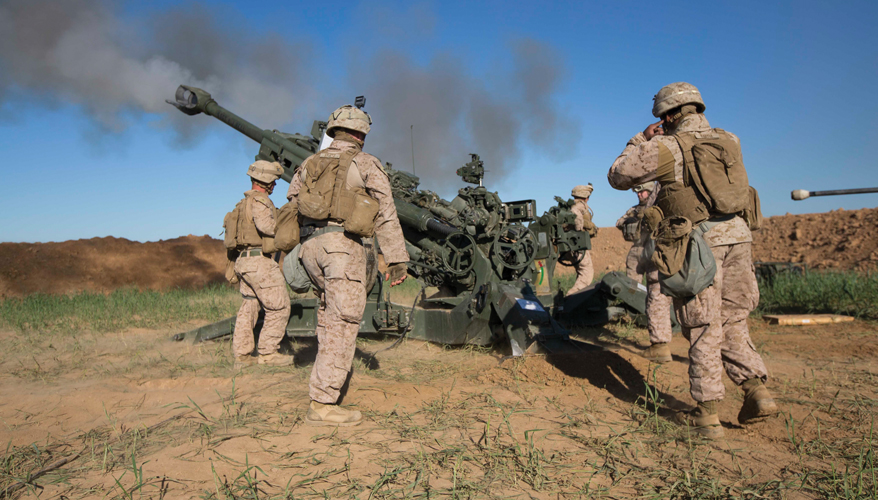 Marines fire a Howitzer at an ISIS infiltration route in Iraq.
Photo: Defense Dept.
Efforts to defeat the Islamic State and stabilize Iraq and Syria could continue indefinitely and potentially become more expensive, one analyst said.
The U.S. military campaign, known as OperationInherent Resolve, recently entered its fourth year. The fighting has intensified in recent months, with Pentagon leaders calling for the "annihilation" of the terrorist group. In August, coalition air forces launched more than 5,000 weapons, the most of any month of the war up to that point, U.S. Air Forces Central Command said in an operations summary.
More than $24 billion has already been spent on the war effort, according to recently released Defense Department estimates. For fiscal year 2018, President Donald Trump requested an additional $13 billion for the campaign.
"If you define the mission and the cost broadly enough to also include security assistance and foreign assistance … the Iraq part is probably likely to stay comparably expensive indefinitely," said Michael O'Hanlon, a senior fellow at the Brookings Institution's Center for 21st Century Security and Intelligence.
Iraqi government coffers have taken a hit due to the drop in oil prices. The country also has a history of sectarian fighting. That could make it difficult for the Iraqis to rebuild and thwart militant groups, he noted.
To avoid squandering military gains, the United States would need to leave a sizeable force in Iraq and continue to provide billions of dollars in aid for years to come, he said.
"There's not really any choice if you want to stabilize the place. … We know what happened last time when there was a battlefield success that wasn't translated into" long-term stability after U.S. troops withdrew from the country in 2011, he said. "That's going to be a pretty powerful incentive" for Trump not to disengage from the region, he added.
In Syria, the situation could get even messier if the local factions currently battling ISIS turn against each other, O'Hanlon noted.
"I could imagine all sorts of ways [U.S. involvement] could get more expensive," he said. "At some point we're going to have to consider options that range from deploying some kind of … peacekeeping force to help protect safe zones that might have emerged or to help shore up a peace agreement."
Depending on how events play out, the costs of military operations, security assistance and reconstruction assistance could "go up a lot," he said. "Syria is likely to get more expensive as time goes on."
Since the U.S. invaded Iraq in 2003, the United States has spent more than $740 billion on wars in the region, according to the Pentagon.
Topics: Budget