Army Working to Reduce Soldier Load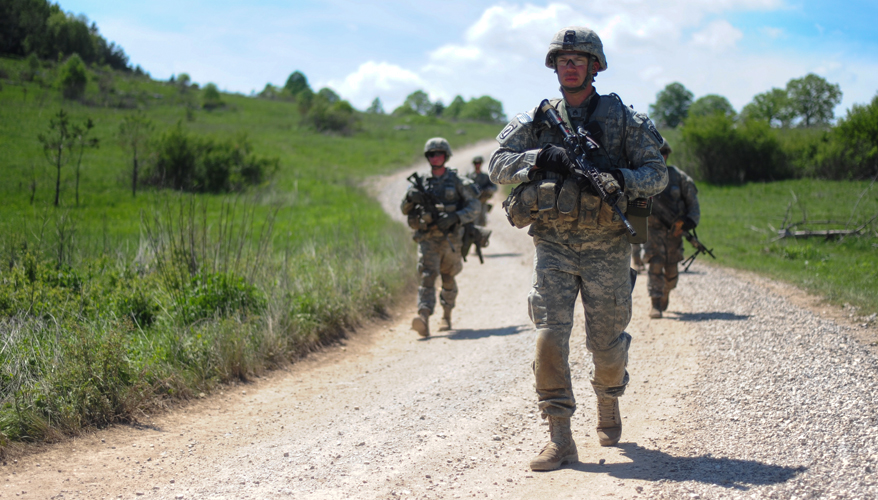 Photo: Army
As soldiers are outfitted with more and more kit, the Army is working on ways to reduce their load burden while enhancing capability, officials said at a recent conference.

From 2001 to 2016, the amount of gear that a soldier carries has increased to 121 pounds, noted Col. Ed Barker, project manager for soldier warrior at the Army's program executive office soldier.

"A lot of the things are smaller and lighter, but in the end we have just been putting more and more on a soldier from a capabilities standpoint," he said during remarks at the Association of the United States Army's annual conference, which was held Oct. 9-11 in Washington, D.C.

"Quite honestly, we haven't done the best job from an integration standpoint in making sure we're managing those space claims … [and really examining] the physical and cognitive burden that we're putting on soldiers," he said.

During his remarks, Barker relayed a conversation he had with a colleague who works at the Army Maneuver Center of Excellence.

"One of my counterparts … [said], 'From a platform standpoint you actually worry about the weight that you're putting on the tanks or the Bradley because it can actually stress the transmission,'" Barker said. "Why aren't we doing that with the soldier? Why doesn't that soldier deserve the same amount of diligence in managing soldier load and trying to understand how we get at that problem?"

To that end, PEO Soldier has been collecting data about all the gear that troops wear to determine a baseline.

"Then what we do is each year we validate that baseline, we bring a bunch of senior NCOs [non-commissioned officers] in and soldiers, and basically it's just like this big monster garage type of thing where everybody is bringing stuff up and figuring the best way to" add kit to minimize the weight burden, Barker said.

Once a baseline has been established, that information is provided to commanders in the field, he said. "It's not supposed to be dictative, it's really more prescriptive in this is what we have learned from the load standpoints and these are the optimal configurations," he said. "What that does is it allows them to manage risk."

PEO Soldier is also working on a number of technologies to make troops more effective, he said. One program — known as the Intra Soldier Wireless — digitally links together all of their kit.

"Just like you have your smartphone today and you're linking to a Bluetooth speaker, you're linking to your personal status monitor, that's what we're trying to get at in linking those devices," he said.

Information gleaned from the various sensors on the soldier could automatically populate into a head-worn visor, giving troops more situational awareness, he said.

Increasing soldier lethality is a major priority for the Army, said Maj. Gen. Cedric T. Wins, commanding general of Army Research, Development and Engineering Command.

There are a number of projects that the Army Natick Soldier Research, Development and Engineering Center is working on to achieve that goal, he noted during the conference.

"Our Natick soldier folks are working … [on technology] designed to help with human performance," he said. The outfit is partnering with U.S. Special Operations Command as SOCOM develops the so-called 'Iron Man' exoskeleton suit, which could be worn by operators breaking down doors in conflict areas.

RDECOM is also working on new technology to improve soldier uniforms and generate power, he added.

Meanwhile, industry members at the conference showed off new soldier technology that could increase warfighting capability.

Harris Corp. unveiled a third-generation night-vision weapon sight that allows for both green and white phosphor images, said Darrell Hackler, senior director of global business development for night vision at the company.

The product — know as the F7030 clip-on night vision weapon sight — was developed with the Knight's Armament Company, he said. It is based on the KAC AN/PVS-30 night-vision sight. The system can be mounted on standard assault and long-range rifles with day scopes.

"We're getting back into the weapons-mounted business," he said. "We're relying a lot on our strong partnerships out there to do that."

Additionally, Hackler noted that there is an increased demand for night-vision scopes and goggles to be available with both the iconic green or white phosphor images.

The sight is being sold to both U.S. and international customers, he added.

W. L. Gore & Associates is producing a new line of garments that could increase the comfort of special operators, said Cheryl Booth, a product specialist at the company.

"We're expanding our portfolio," she said. "When we work with the military with our GORE-TEX fabric it has always been around our core technology and laminate membrane forum — water-proof, wind-proof and breathable — and then building on that."

Gore's new line, called the Katana fabric, takes its legacy fiber and combines it with others including nylon cotton.

"We've managed to take out weight and add strength," she said. "We've opened it up so there is real high air perm[eability]. But what's really unique about our fiber is its hydrophobic so it won't absorb water." That will also give the garment a faster drying time making it ideal for hot weather conditions, she said.

Gore also displayed a new line of rain gear that included a jacket with stretch material that would allow for soldiers to comfortably add layers of clothing, said Tim Quinn, a product specialist at the company.
Topics: Army News, Land Forces