New Undersecretary Lays Out Vision for Curing Defense Acquisition Woes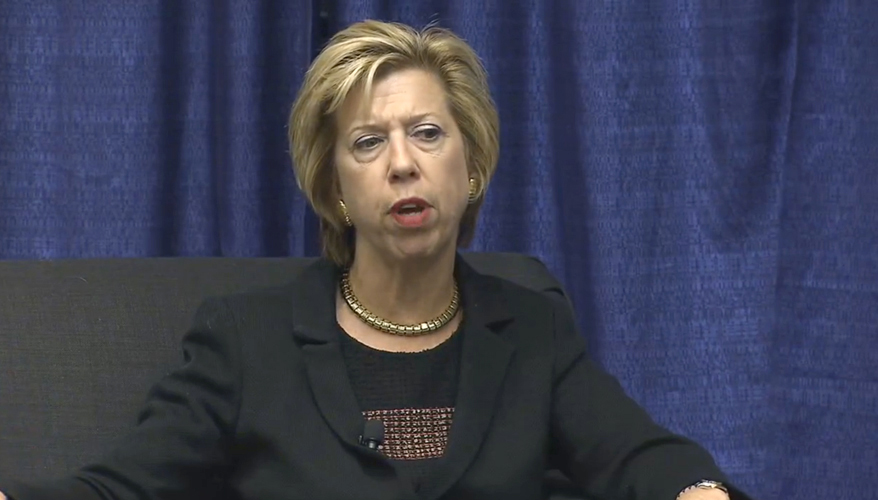 Ellen Lord
Photo: Defense Dept.
"It's all about velocity," Ellen Lord, undersecretary of defense for acquisition, technology and logistics, said Oct. 10.

The means in which the U.S. military acquires new technology is too slow in a world where adversaries are chipping away at the nation's ability to overmatch adversaries. Lord in her first major public appearance since being confirmed to the post in August laid out some of her plans to fix what many believe is a broken system.

"We're trying to experiment. We are trying to prototype. We are trying to iterate and get stuff downrange quickly," she said at the Association for the United States Army's annual conference in Washington, D.C.

Defense Secretary James Mattis wants to transform the way the Defense Department does business, she said in a wide-ranging, hour-long interview led by Steffanie B. Easter, acting assistant secretary of the Army for acquisition, logistics and technology. That is why Lord believes he chose her for the job after serving in the private sector for 33 years, most recently as president and CEO of Textron Systems Corp. He wants a more "commercial" approach to procuring new technology, she said.

Her first order of business will be returning oversight of most major acquisition programs from the office of the secretary of defense and the AT&L back to the four services. Congress has stated through National Defense Authorization Act language that it wants this. "I entirely agree with that," Lord said. She has already relinquished control of a few programs and is reviewing others — both new and old.

The only exceptions will be the programs shared by services, such as the joint strike fighter, or those that are "exceptionally high risk and high stakes," she said. She doesn't need congressional approval to make these changes, she told reporters after her talk.

The role of her office, which will be broken up into two entities in February — Research and Engineering and Acquisition and Sustainment — will be to simplify the acquisition process. That is where the velocity comes in. It takes too long to make decisions and the bureaucracy must be pared down, she said.

A goal she established is to reduce the time from the day a request for proposals is issued to when a program goes under contract by 50 percent. AT&L wants program managers to find the simplest way to get to a contract while still being compliant with the law.

"We are working hard on that right now. We have talked to industry about it. We are talking to the services and — no kidding — we are going to get at that," she said. She did not currently know offhand the average time it takes to get a program under contract now. "We are not going to be 50 percent right away, but we are going to be chipping away, chipping away, chipping away," she said.

"We will put metrics around all of this because if we don't have a goal that is measurable, it is impossible to measure progress," she said.

While her office does not control how requirements are generated, there are some things it can do to speed up the request-for-information and request-for-proposals steps.

The lengthy acquisition process was created by Congress, but there is an ongoing dialogue with lawmakers on what processes "can be peeled back," she said, but declined to go into specifics. "But I am extremely encouraged by what I see," she said. She will start with some small programs to see how her ideas work and go from there, she added.

The Defense Department is also doing itself a disservice by moving program managers to other jobs every three years, she said. They are also taken to task when things go wrong, which creates a risk-averse culture.

"We are trying to get risk out early on in the process versus when materiel is fielded," she said. The "stumbling" in the programs should happen early in the technology development phase "so by the time we get to low-rate production or full-rate production we know where we are."

There are many new methods Congress has created for acquiring new technology such as other transaction authorities that are underused, she noted.

Industry has a big role to play in reform, she said. She wants to leverage associations with small, medium and large businesses as members. She has already had one meeting with the National Defense Industrial Association, Aerospace Industries Association and the Professional Services Council and wants to continue to do so quarterly. She asked them to bring CEOs from a variety of different size firms to talk about their issues and how the department could do better.

Lord was vice chair of NDIA prior to joining the department. NDIA is publisher of National Defense.

She plans to meet with CEOs of the six largest defense prime contractors twice a year, and had her first of these planned gatherings with General Dynamics Oct. 9. "It was a dialogue with GD executives and DoD executives ... talking about where we had concerns, [and] where we saw opportunities," she said. The meetings won't focus on individual programs, but rather what the companies' capabilities are and where they are investing their research-and-development dollars.

She is in favor of rolling back reporting requirements for these companies' independent research and development programs. "I just saw [them] as one more layer of bureaucracy, not really adding any value."

As far as bureaucracy, the split up of Lord's office into an undersecretary for Research and Engineering and an undersecretary for Acquisition and Sustainment will happen in three months. Lord will take the acquisition and sustainment role.

"We spend an incredible amount of time on the acquisition side and very, very little time on the sustainment side," she said. Yet 70 percent of a program's lifecycle cost comes after the technology is fielded, she noted.

"We are taking little bites at things before we do major reorganization," she said.

"As we bifurcate AT&L a couple of things we are very conscious of is that we don't want to develop a chasm between" the two new offices, she said. "We want to make sure there is a good hand-off there."

Demonstrations, experiments and rapid prototyping should be done on the research and engineering side, not on the acquisition and sustainment side, she said. There shouldn't be any concurrent engineering or changes to requirements in the latter stages, she said.
Topics: Acquisition, Acquisition Programs, Defense Department, Defense Contracting