Army to Demonstrate New Extended-Range Artillery by 2018 (UPDATED)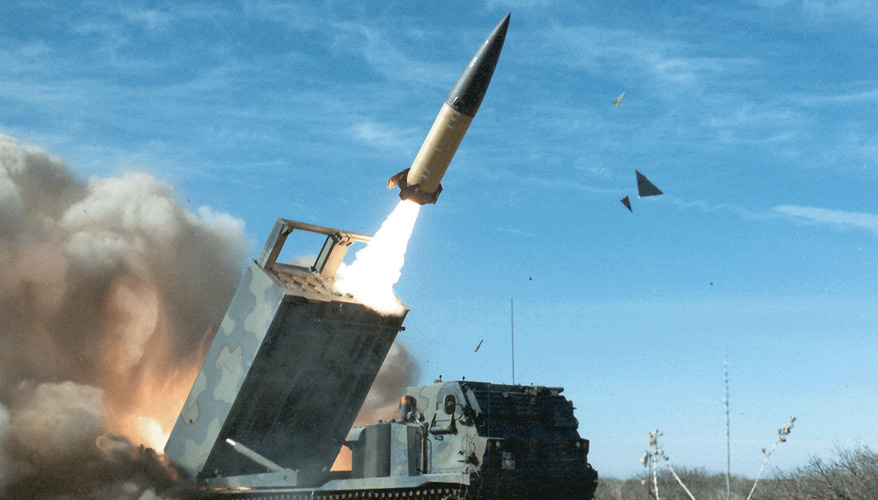 Lockheed Martin's Army Tactical Missile System
Photo: Lockheed Martin
The Army plans to demonstrate new extended-range cannon artillery and projectiles by next year, as the service seeks to fill the gap in its long-range precision weapons portfolio, an official said Oct. 9.
The effort, also known as ERCA, would be a longer, newly modified M777A2 howitzer that could potentially double the system's current artillery range, said Col. Rich Hornstein, military deputy at the Army's Armament Research, Development and Engineering Center, or ARDEC.
The new system is "not just a gun; it's projectile, it's cannon, it's fire control," he said at the Association for the United States Army's annual conference in Washington, D.C. It can be fired from a mobile platform as well as a towed platform, he added.
The center is also developing new extended-range accurate projectiles that it plans to demonstrate simultaneously with the new cannon artillery next year, he noted.
The Army has increased momentum on efforts such as ERCA in order to close a widening gap in its long-range precision fire capabilities, Hornstein said.
Over the past decade, the service has become "very, very efficient" at counterinsurgency operations, while adversaries have focused on designing capabilities that can counter the Army's most powerful weapons, he said.
Now, it has found itself "in an uncomfortable and unfamiliar position … to have a parity in certain areas and actually have overmatch be an outcome in certain areas," he added.
The Army is placing long-range precision fires at the top of its priorities list for new procurements. Chief of Staff Gen. Mark Milley and Acting Secretary Ryan McCarthy announced at the conference a new effort to streamline the service's acquisition processes, culminating in a new command that will bring all modernization efforts under one roof.
"We're investing heavily in long-range precision fires," Milley said Oct. 10 at the conference's keynote luncheon. "This will not be the artillery of yesteryear; this will be an artillery where capabilities strike with land-based precision fires at very extended ranges that our enemies will never expect, well beyond what we have now."
Because of the priority set on rebuilding that capability, the Army has been able to speed up ERCA's development by five years, Hornstein said.
Maj. Gen. Cedric Wins, commanding general of the Army's Research, Development and Engineering Command, said Oct. 9 that the service faces potential situations where it may be "out-ranged and out-gunned" by adversaries.
"We need to regain or re-attain the overmatch capability that we had," he said.
High-precision weapons with longer ranges will also play a key role in multi-domain battle, he noted. "It allows for the commanders to have these windows of opportunity to exploit that initiative, to seize it and to attain the momentum going forward to defeat the adversary," he said.
The service is moving forward with plans to develop a new Long-Range Precision Fire, or LRPF missile that will replace its current arsenal of tactical missile systems.
It recently awarded 36-month contracts to Lockheed Martin and Raytheon for the technology maturation and risk reduction phase 2 to develop a prototype missile.
The prototypes will offer an extended range of between 400 and 499 km, with a minimum of two missiles per pod, said Misty Holmes, LRPF business development manager for Lockheed.
The Army Tactical Missile System, known as ATACMS, with a 300 km range capability and one missile per pod, is also developed by Lockheed.
The company's offering for Long-Range Precision Fire will build upon the success of ATACMS, while providing the desired extended range, as well as upgraded avionics and open architecture systems, Holmes told National Defense Oct. 10.
"It's still going to be a tactical surface-to-surface missile. … It's still going to fit into the same launch capability," she said.
The company completed risk reduction phase 1 this past May and is now five months into phase 2, she said. The engineering and manufacturing development phase is slated for 2021 with initial operating capability planned between 2025 and 2027, according to the Army.
Raytheon is developing a new DeepStrike missile for the program. The company did not respond to interview requests.
Meanwhile, Lockheed will continue to upgrade the ATACMS capability as the Army waits for the new LRPF system to come online, Holmes said. It recently completed a modernization contract where it upgraded all of the electronics and added new proximity sensors to increase lethality, she said.
In August, Lockheed received its first contract to produce modernized tactical missile systems, she added. The $161 million contract calls for the production of 150 missiles as part of the ATACMS service life extension program, according to the company.
Correction: This article has been updated with Col. Rich Hornstein's correct title.
Topics: Army News, Armaments, Land Forces