Army to Jump Start Next-Generation Combat Vehicle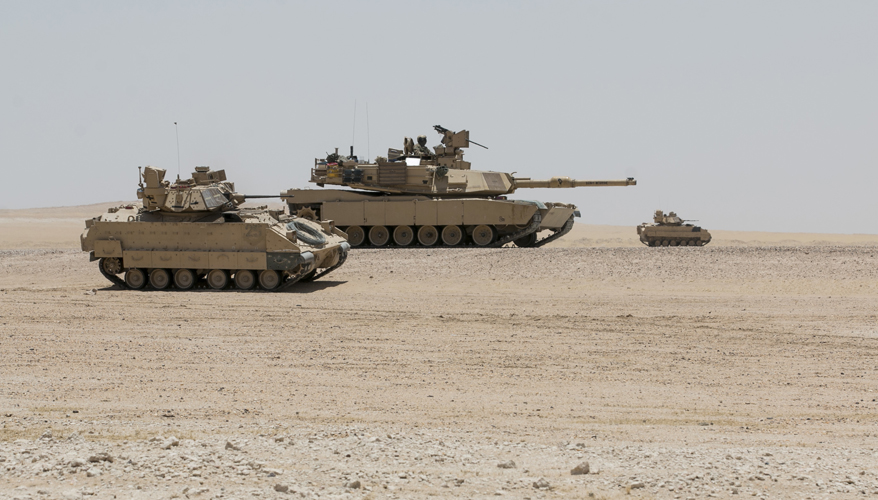 The next-generation combat vehicle could replace the Abrams and the Bradley.
Photo: Army
The Army has designated the next-generation combat vehicle as one of its top development priorities. Investments are expected to flow into the project in the coming years, service officials said Oct. 9.

The future platform, also known as NGCV, is expected to incorporate leap-ahead technologies to make it more survivable and effective in high-end combat environments. The concept has been floated for years. But Army Chief of Staff Gen. Mark Milley and Acting Secretary of the Army Ryan McCarthy have now designated it their No. 2 modernization priority, second only to long-range precision fires.

Service officials have said the vehicle could potentially replace both the Abrams tank and the Bradley fighting vehicle in the coming decades.

"Our wheeled and tracked vehicle fleets are essentially ... at the end of any kind of product improvements we can do on these things," Milley said at a joint press conference with McCarthy at the Association of the United States Army's annual meeting and exposition in Washington, D.C.

For the next-generation combat vehicle, "we are going to leverage new technologies and emerging technologies — things like robotics, active protection systems and all this other kind of stuff," he said.

McCarthy said the Army plans to prototype "a select number of next-generation combat systems, technologies and vehicles" in the coming years. The future vehicle will move into production "as soon as the technologies are mature enough," he added.

The secretary has already initiated a reprioritization of funding in the upcoming program objective memorandum, as well as a science and technology review to support the effort. Funding for NGCV will be "protected" across the future years defense plan, McCarthy said. The Army will divest itself of other capabilities to free up resources for this and other top modernization priorities, he noted.

McCarthy and other service leaders did not disclose how much money they expect to be allocated to the project.

Maj. Gen. Eric Wesley, commanding general at the Army Maneuver Center of Excellence, said the designation of the next-generation combat vehicle as the second highest modernization priority is "a big deal."

"You're going to see budget dollars follow," he told reporters after his presentation at the expo.

Service officials have identified five key enabler technologies that they hope to incorporate into the vehicle: active protection systems; directed energy and energetics; power generation and management; advanced armor materiel solutions; and robotics.

"We want increased capability relative to weight," Wesley said during his presentation to industry and service officials.

Active protection systems, which destroy incoming rounds before impact, would enable developers to lower the weight of the vehicle without increasing armor. Advanced armor materiel solutions could also potentially increase protection while making the vehicle lighter, he said.

"Having 80-ton tanks is not going to solve that problem for us," he said. "We have to reduce the weight footprint in order to be deployable."

Arming the platform with lasers and more potent projectiles than those in the field today, could increase lethality while lowering the weight of armaments, he added.

Reducing the logistical burden of providing fuel for gas guzzling vehicles has been a service goal for years. For the next-generation combat vehicle, the Army has been inspired by what's happening in the commercial sector.

"We're in an era where you've got Tesla who only makes electric vehicles and Volvo who says they are universally going to electric vehicles, as is GM," Wesley said. "At some point the United States Army is going to do the same thing as Tesla."

Robotics is perhaps the most important enabler, he said. The Army wants the NGCV to have enough autonomy to be optionally manned.

"If you've got a robot you've got no people at risk, so your capability is going up relative to weight," he said. "Woe be to the army that attempts to conduct a combined arms breach with anything but an autonomous system," he told reporters.

Wesley noted that some observers will be skeptical that the Army can successfully develop and integrate all of these cutting-edge technologies, as memories of the Future Combat Systems program linger. FCS was to be a networked family of systems including vehicles and aircraft. But it never came to fruition. The program was canceled after the Army spent about $18 billion on development work.

"We might have been criticized under FCS that we chased unrealistic technologies," Wesley said.

"As all of our industry friends would tell us, it is costly to do a developmental project," he said. "When we start over with a combat vehicle, we want that vehicle to be effective. … We want to optimize these [cutting-edge technologies] to the degree possible. But we don't want to chase" capabilities that aren't affordable or feasible, he added.

The Army has launched a gaming project, dubbed "Operation Overmatch," that could help the service explore technologies such as NGCV at relatively low cost, officials said.

"That's kind of what this is designed for," said Lt. Col. Brian Vogt, simulations operations officer at the Army Capabilities Integration Center, Training and Doctrine Command. "We'd be one tool of many tools that they have available" to help with prototyping efforts, he told National Defense at the expo.

During a presentation, ARCIC director Maj. Gen. Robert Dyess said: "The great thing about this [gaming project] is … we're not actually putting dollars to build something on the ground."

The Army aims to make a materiel development decision about the next-generation combat vehicle in 2022. But that could be pushed to the left or right, Wesley said.

"At that point an MDD will be specific in terms of a prototype and production pathway that we're on," he said.
Topics: Army News, Land Forces