Space Sector: Remote Sensing Firms Frustrated by Red Tape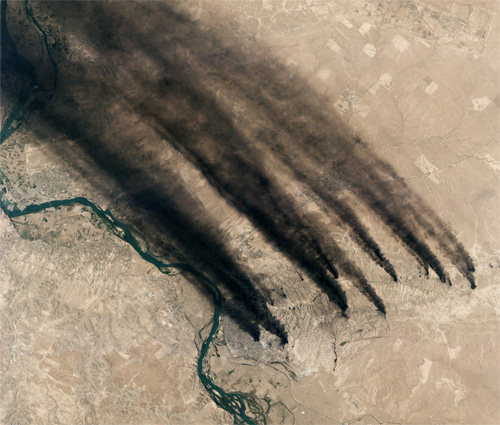 Planet's satellite imagery of oil fires in Mosul, Iraq
Image: Planet
Space startup Planet builds 20 shoebox-size satellites in just one week — and its growing constellation soon will be able to map the whole world, in just three days.
"This will change the way people make decisions," says Robert H. Schingler Jr., co-founder and chief strategy officer at Planet's European division based in the Netherlands.
Leaps in technology and investments by corporate giants like Google and Facebook have taken the concept of faster, cheaper satellite imagery to levels that would have been unimaginable a decade ago.
But while the industry is buoyant about the possibilities of this new technology, executives are sounding alarms about archaic U.S. regulations that may drive investments elsewhere. Commercial remote sensing companies also worry that red tape will slow innovation and deter entrepreneurs from starting companies in the United States. "That's a national security issue, to cultivate an entrepreneurial space and aerospace ecosystem," says Schingler.
At Planet's U.S. headquarters in San Francisco, a lean crew of three operators manages 63 satellites. A much larger team is assigned to write software, an illustration of how the commercial Earth-observation industry is less in the business of selling images than in providing "actionable" information and insights, Schingler tells National Defense during an interview in Washington, D.C.
A former NASA engineer, Schingler started Planet Labs, later renamed Planet, in 2010. His company is one of an expanding cadre of venture capital-funded space enterprises associated with the so-called small-satellite revolution. He points out that small satellites are not new, as NASA spearheaded the movement in the 1960s.
What is actually new — and definitely not possible in decades past — is the industry's knack for mass-producing and operating satellites at very low cost. "We build 20 spacecraft a week because every three months we rebuild our satellites," he says. Not knowing when satellites will be launched next — it depends on availability of slots aboard crowded commercial rockets — "we had to develop a responsive manufacturing capacity to build things when we know they're going to be launched."
Planet and its peers in the microsatellite sector have their eyes on the U.S. government and defense agencies as lucrative customers. They offer subscription-based services, which gives the government more flexibility to download the data it wants and takes the government increasingly out of the business of building and maintaining its own satellites.
The new commercial players do business differently than traditional remote sensing companies that specialize in point-and-shoot pictures. Unlike most other imaging satellites, commercial birds are not tasked by users, but are constantly imaging. For national security agencies, the utility is obvious, Schingler says. If North Korea rolls out mobile missile launchers without warning, analysts can go back in time to investigate. "Nobody wants to be surprised," he says. "At three meters per pixel you can see burn scars from when missiles get launched."
The Defense Department's National Geospatial-Intelligence Agency is the remote sensing industry's largest government customer. On its website, NGA markets itself as the go-to for "anyone who sails a U.S. ship, flies a U.S. aircraft, makes national policy decisions, fights wars, locates targets, responds to natural disasters, or even navigates with a cellphone."
The emergence of commercial players has motivated the agency to shake up its longstanding methods of acquiring data. Established contractor DigitalGlobe remains its top supplier of high-resolution imagery, but NGA also is actively reaching out to "new space providers" such as Planet, Google's Terra Bella, Black Sky Global and Earthcast.
Earthcast's weather forecast imagery (Image: Earthcast)
NGA is working with the General Services Administration to set up a contract vehicle that is targeted at small companies. The plan is to move from long-term contracts to "swipe my government credit card" arrangements.
The potential for fresh new approaches for acquiring and exploiting remote sensing data in the defense and intelligence fields is limitless, Schingler says. And with more players coming into the market, the government can benefit from bargain pricing.
It is not easy, however, to do business in the United States, Schingler and other experts contend. This vibrant industry is governed by federal laws and regulations that were written in the early 1990s. "Entrepreneurs are frustrated," he says. A company like Herndon, Virginia-based HawkEye 360 has developed space-based radio-frequency mapping for application in commercial and military signals intelligence analysis. "The U.S. government doesn't have a process for a company like that to get a license," he says.
Schingler is a member of a regulatory board that provides outside expertise to the Commerce Department's National Oceanic and Atmospheric Administration on remote sensing industry regulations. NOAA's Advisory Committee on Commercial Remote Sensing, known as ACCRES, was established in 2002 to advise the undersecretary of commerce for oceans and atmosphere on issues related to the U.S. satellite commercial remote sensing industry.
"A lot of capital is coming into space," but there are doubts about the future of the U.S. market, he says. "It helps to have a regulatory environment that has insight and foresight into what's coming and not send rulings that will send chills in the industry and drive them to other countries. … We need to be able to cultivate great entrepreneurial businesses in the United States."
Defense and aerospace industry analyst Todd Harrison, a senior fellow at the Center for Strategic and International Studies, also is a member of ACCRES.
"I think the licensing and regulatory environment for commercial space is a growing problem in the United States," says Harrison, who cautioned that he was not speaking on behalf of the committee.
The oversight of the industry fails to take into account the technological advances of the past 20 years, he says. "There are gaps in the current oversight regime for things like on-orbit servicing that the current process was not really designed to accommodate."
For the most part, the government has been finding ways to work with new commercial missions in space, says Harrison, "but as more companies try to do more things in space it is quickly becoming an issue that Congress needs to deal with."
Commercial remote sensing is an area where there are already clear lines of authority and responsibility, but the oversight system is simply becoming overwhelmed with more applications for licenses than it can accommodate, he adds. Broadly speaking, the United States needs to "take a fresh look" at commercial space policy.
Instead of starting from the position that the government needs to license every new operator or system and send each license application through a complicated and opaque interagency review process, "perhaps we should consider giving presumptive approval to some types of applications without an interagency review," says Harrison.
If commercial companies, for instance, are already collecting imagery in a given part of the spectrum at a certain resolution, Harrison asks, "Then why make new operators that conform to the same specifications go through the same process? Perhaps these types of applications should be channeled through a fast-track approval process with a default approval given within a certain time period unless someone within the government objects."
Marcy Steinke, senior vice president of government relations at DigitalGlobe, says the industry is bound by rules that made sense when satellites were owned by the government. "The world is different," she says. "We have been pushing for a real change on the whole mantra of a 'yes, unless.' Right now it's incumbent upon industry to actually prove why we should be able to do something."
Harrison argues that if Twitter and Facebook had been subject to interagency review, they probably would have never been approved, or at least delayed by many years.
Remote sensing law and licensing are treated much differently than other commercial activities, says Douglas L. Loverro, deputy assistant secretary of defense for space policy. "I wonder if we don't need to relook at this whole area, and I think that is something that the next administration needs to deal with," he says at a CSIS forum hosted by Harrison. "We have been treating space in ways that are different than how we treat every other domain in terms of how we allow commercial activity to proceed, and should we, therefore, change how we view space?"
Black Sky Global's satellite imagery of farms in Beijing, China
(Image: Black Sky Global)
As the government sorts through this, a cloud of uncertainty hangs over the industry just as military agencies begin to get a taste of the innovation available in the commercial sector.
Nanosatellites are an "exciting technology," says Rear Adm. Christian Becker, program executive officer for C41 and space systems at the Space and Naval Warfare Systems Command. Manufacturers are able to "rapidly innovate," Becker says at the CSIS forum.
"When you have a factory that's pushing out nanosats on a production line … you are, by nature, going to evolve those capabilities along the way," he says. "It's not just about flying the nanosat. It's about doing something in space that's different" and get data in ways that never have been possible before.
Planet's spacecraft orbit 400 km or 500 km above Earth, depending on whether they were deployed from the International Space Station or placed in a preferred sun synchronous orbit. They remain in orbit from nine months to more than two years in the higher orbit.
Under its contract with NGA, Planet images the whole world every two weeks. "We are able to collect the whole world every week, and it's accelerating to about three days," says Schingler. The pricing is based on the number of licenses. "The traditional way of thinking about how much something costs per pixel is obsolete," he says. "Now people subscribe to a service."
On Capitol Hill, members of the House Committee on Science, Space and Technology, probed the remote sensing licensing issue in a September hearing. Space Subcommittee Chairman Rep. Brian Babin, R-Texas, noted that the last time Congress passed legislation on this subject was the 1992 Land Remote Sensing Act.
"After 24 years, it is time to take a hard look at these changes and see where the laws, regulations and policies governing this industry need reform," said Babin. "We must ensure U.S. industrial leadership. This requires regulatory certainty and a permissive environment that promotes innovation," he said. "The balance between security and innovation is all out of whack."
NOAA's commercial remote sensing licensing actions take months, if not years, Babin said. "Companies are applying and waiting without any understanding as to why NOAA takes so long to get back."
American remote sensing startups want to stay in the United States, but must plan for overseas operations due to uncertainty in the regulatory approval process, noted Babin. A similar situation unfolded in the 1990s, when a number of U.S. companies sought to establish commercial space-based synthetic aperture radar remote sensing satellite services, but bolted for Germany and Canada to avert U.S. regulations.
Kevin M. O'Connell, former chairman of the ACCRES, believes the U.S. government, as a customer of the commercial imagery market, has a stake in overhauling the regulations. "Well-cited regulatory delays such as Planet's delay in orbital slot allocation and Digital Globe's request to use short-wave infrared capabilities in the market are examples that should be avoided," O'Connell told the subcommittee.
"As the number of license requests has grown rapidly over the years, NOAA has been unable to devote additional resources to its regulatory and enforcement responsibilities," he said. NOAA has reviewed about 50 license requests and stimulated the need for 22 others over the past six years, compared with approving 26 licenses between fiscal year 1996 through 2010.
"This drives innovation overseas," he said. "Sadly, the current regulations are no more meaningful than the operator's manual for an old car or a mobile phone."
Topics: Space, C4ISR, Defense Innovation