ROBOTICS AND AUTONOMOUS SYSTEMS
Navy Sees Littoral Combat Ship as Robotic Systems Platform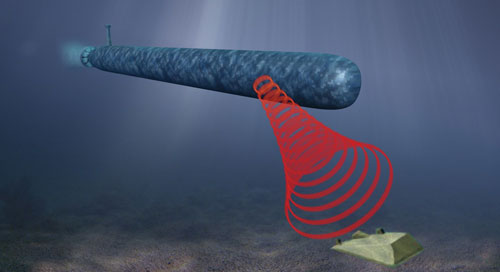 Knifefish unmanned underwater vehicle concept art
Photo: General Dynamics
As the future of the littoral combat ship is called into question by high-ranking government officials, the Navy is continuing on its path to equip it with a variety of unmanned systems.
The LCS — which has over the years seen its survivability in warfare criticized, its planned buy slashed and a restructuring of future vessels into upgraded frigates — is one of the Navy's most controversial shipbuilding programs. In just the past year, five ships have been operationally impaired by "engineering causalities of concern," said Sean Stackley, the Navy's assistant secretary for research, development and acquisition. The service has conducted formal engineering reviews and command investigations to find the root cause, he added.
Despite its issues, the LCS is envisioned as a platform from which the service will launch a myriad of new unmanned systems, said Nidak Sumrean, executive director at the Navy's program executive office for LCS.
"LCS is the first ship class designed and built up, the keel up, if you will, to support unmanned systems," he said during a speech at the Association for Unmanned Vehicle Systems International's annual defense conference. "We've got unmanned systems that are below the water, on the water and in the air."
The technologies will be key to the success of the littoral combat ship, he said. To that effect, the Navy is investing heavily in them, he added.
In fiscal year 2016 the program office allocated about $82 million for unmanned systems, he said. In the fiscal year 2017 budget request it increased that to $263 million, Sumrean said.
"That's a 70 percent growth," he said. "I don't know where else in the department you'll see from year to year a 70 percent growth in the portfolio."
(See clarification)
"That shows that there is commitment from the leadership, from the comptroller … to be able to kind of put our money where our mouth is when it comes to bringing those capabilities to bear," he said.
Unmanned vehicles will be one way for the Navy to rapidly procure new capabilities and place them in the fleet, he said. "That's how you bring that technology edge," he noted.
Unmanned platforms are a way for the service to take sailors out of harm's way, he said. "It reduces the risk to human life because you extract the human, if you will, from the threat box," he said.
The Navy needs vehicles that are affordable, he added. "You can't be a high-priced item if you're going to be expendable or disposable," he said.
Unmanned systems will be especially crucial for the LCS as it conducts mine countermeasure missions, which is one of the ship's core functions, he said.
"Mine countermeasure is a difficult thing to execute," he said. There is "a lot of uncertainty, a lot of unknowns."
To achieve the mission using its current platforms, the Navy has to detect, classify, localize and neutralize a mine. "It takes us weeks, months and in some cases half a year in order to do that process with the systems that we have today," he said.
The service wants to cut that process down to days or even hours, he said.
The LCS' mine countermeasure mission package has faced criticism. The remote multi-mission vehicle was canceled after it did not meet requirements, Stackley said.
The vehicle "failed to meet our reliability requirements," he told lawmakers during a Senate Armed Services Committee hearing in December. "Despite extensive redesign efforts, following a series of test failures, we stopped testing and assigned an independent review team to assess and recommend."
The review found that if the Navy kept to the same path it would be unlikely to field a reliable system, he said.
"As a result of these findings, we have restructured the MCM mission package to utilize the unmanned surface vehicle that is currently being built to tow the minesweeping system to likewise tow the mine detection sonar," he said.
Textron is building the common unmanned surface vehicle which will be used to tow both systems, Sumrean said.
The common unmanned surface vehicle, which is a program of record, has a minesweeper on it. However, because of its modularity and common hull structure, it could employ a variety of payloads.
"The question for us is what capabilities, what technologies are out there that we can use in order to enhance what that CUSV [can do]," Sumrean said. "Maybe we can do ASW [anti-submarine warfare] with it. … Maybe we can do anti-piracy."
There are a number of industry opportunities surrounding the vehicle, he said. More autonomy and better collaboration and communications are at the top of the list, especially when it comes to operating more than one system at a time, he said.
"It's easy [to operate] when you have one CUSV out there and you've got the whole ship and you're in communication with it," he said. "What if you have a family of them out there? How do you manage that communication?"
It is also investing in platforms such as General Dynamics' Knifefish, an unmanned underwater vehicle. The system is a self-propelled, untethered autonomous undersea vehicle that is meant to operate independently in shallow regions of the ocean to locate buried mines, he said. Each system consists of two vehicles and associated equipment.
Operational testing is planned for fiscal year 2018, he said.
Littoral combat ship USS Detroit (Photo: Navy)
The Navy plans to purchase 24 systems and six trainers in the near term, but depending on the demand it may buy more, Sumrean said.
The Navy also wants to harden the common unmanned surface vehicle against cyber attacks, he said.
"We're all aware about cyber [threats] so we have to be able to understand what are the cyber implications when you have a networked unmanned surface vehicle to a host platform or to even a shore base," he said.
Having a family of systems to conduct mine countermeasures will be key for the Navy, Sumrean said.
"We don't have to one size fits all for everything," he said. "We can have small, medium, large, extra large kind of capabilities."
With the Navy facing evolving threats around the globe, it needs to have the ability to send out systems that vary in size and capability, he said.
On the bigger side, the service is developing the large displacement unmanned undersea vehicle, which could extend the reach of current platforms to support mine countermeasures.
The platform will enable missions in denied areas and in water too shallow or otherwise inaccessible, he said. It will have the ability to be launched and recovered by both submarines and surface vessels, he added.
The Navy is still finalizing system requirements, but foresees that it could be used in a variety of missions besides MCM including intelligence, surveillance and reconnaissance and anti-submarine warfare, he noted.
The service plans to build about 10 of the vehicles and expects to put one in the hands of sailors by fiscal year 2019, he said.
"[We want them to] use it and then come back to us and tell us what was good, what was bad, 'Here are the things I would change,' so then we can change … the design [if needed] and then go out and go for a long production," Sumrean said.
An even bigger system will be the extra large unmanned undersea vehicle, he said. The Navy plans to build five such platforms.
Key attributes of the vehicle are its extended range and reconfigurable and modular payload, he said. It also has advanced autonomy to support its size and endurance, he said. The system will require a pier-launch, he added.
In the fall the service released a request for information, he said. The Navy will support a formal competition for the program in fiscal year 2017.
The intent is for the extra large system to be able to traverse the ocean for long periods of time to collect information. That will require sensor data management technologies, Sumrean said.
"Just because you can collect data doesn't mean we can use all that data," he said. The Navy needs industry to create automated systems that can distill vast amounts of data into actionable information, he said.
It is also looking for new technologies to improve the power and reliability of the platform, he said.
In recent testimony before the Senate Armed Services Committee, J. Michael Gilmore, the director of the Defense Department's office of operational test and evaluation, said despite the Navy's efforts, there are still issues with the LCS' mission packages.
"The effectiveness of the ship is closely tied to the capabilities of the installed mission packages; yet, the Navy has not yet delivered effective mission packages that meet the Navy's own requirements for" surface warfare, mine countermeasures and anti-submarine warfare, he said in his prepared testimony.
"Unless corrected, the critical problems that I have highlighted in multiple DOT&E reports and multiple formal memoranda over the last seven years will continue to prevent the ship and mission packages from being operationally effective or operationally suitable in war," he said.
Meanwhile, the UUV market is growing substantially, according to a report by big data analytics firm Govini titled, "Third Offset Strategy: Autonomous Capabilities."
The overall market for unmanned undersea surveillance vehicles is less than half of the ground and robotic systems market and one-tenth the size of its aerial counterpart, the report said.
"That is because UUVs have not been widely deployed and have a substantially smaller share of [research-and-development] funds compared to the others," the report said. "The dynamic, however, is in the process of changing as UUV R&D led segment spending higher by 42.9 percent to $138.8 million in FY16."
Most unmanned undersea vehicles are being used for underwater mine detection, but others also track submarines, assist with the navigation of manned ships and support airborne ISR, the report said.
Most of the UUV market is being driven by government demand, it noted. The Navy has funded more than 80 percent of the efforts and the Defense Advanced Research Projects Agency has financed the remainder, the report said. Naval Sea Systems Command is also investing in systems and is currently soliciting proposals, it added.
To fully exploit UUV technology, advancements need to be made in sonar, thermal and electrical propulsion, energy use and payload capacity, the report said.
Raytheon, Northrop Grumman, SAIC and Lockheed Martin are leading efforts to improve sonar functionality onboard UUVs, the report said.
Clarification: The fiscal year 2017 budget request for unmanned systems at PEO LCS increased by 220 percent over fiscal year 2016.
Topics: Robotics and Autonomous Systems, Research and Development, Navy News, C4ISR