NATO Increasing Training to Counter Resurgent Russia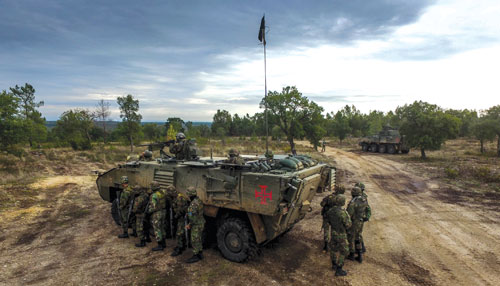 A Portuguese infantry battalion participates in a NATO exercise.
Photo: Allied Joint Force Command Brunssum
With the Russian bear out of hibernation, NATO members are preparing for potential future conflicts with Moscow.
That will require an increased need for complex training among alliance nations, said Gen. Petr Pavel, chairman of NATO's military committee.
The alliance has increased its training substantially since Russia illegally annexed the Crimean Peninsula of Ukraine in 2014, he said.
"Right after the Ukrainian crisis, we adopted a program of immediate changes," he said. "There are more exercises at more levels and also bigger exercises."
Prior to the annexation, NATO's exercises focused mostly on crisis management operations. However, that "wasn't good enough to face the new challenges," Pavel — an officer within the Czech Army — told National Defense during an interview at the Halifax International Security Forum in November.
NATO training is now "much more focused on collective defense and especially in larger formations," he said.
Gen. Denis Mercier, NATO's supreme allied commander for transformation and a member of the French air force, said the alliance has gone from about 100 exercises per year to 300 since the Crimea crisis.
It has now reached the maximum number of exercises it can host per year, said Mercier, who in his role at the alliance identifies future capability requirements and is responsible for training and education programs. It isn't a matter of cost, but rather a matter of personnel and balancing various countries' military commitments around the world, he noted.
Instead of trying to host more exercises, NATO is now focused on increasing its realism, flexibility and robustness, he said. It also wants to be able to coordinate them faster.
"A big exercise requires today 18 months of planning and … [that's too long] if we want to be more reactive," he said. The key would be to have training scenarios that could be quickly integrated with new concepts and technologies, he added.
To take better advantage of emerging equipment and systems, NATO in 2014 started a program called the Industry Involvement Initiative, or I3X, Mercier said.
Through the program, defense companies are invited to observe NATO training exercises from the planning stage all the way through execution to see if they can propose new technologies to improve them, he said.
During the Trident Juncture 2016 exercise — which took place in the fall and included 500 personnel from NATO's allied rapid reaction corps training in the United Kingdom — more than 20 companies participated in the program, he said.
The feedback from industry to NATO was "absolutely excellent," Mercier said. The alliance plans to continue the effort in the future, he added.
Interoperability among systems and linking troops separated by hundreds or thousands of miles plays a major part in the success of most exercises, Pavel said.
"We will be linking exercises together to provide more effect and for it to be more … [affordable] at the same time," he said. NATO is using a number of methods for training including computer-generated simulations and live exercises, he said.
"This new approach allows us to save resources by not moving all the troops to one training area," he said. "We can train with the staff in very distant locations from the live troops, achieving the same effect."
NATO needs to increase its investments in modeling and simulation technology, said Brig. Gen. Athanasios Tsouganatos, assistant chief of staff for NATO's joint education, training and exercise organization, and a member of the Greek army.
"NATO has used simulation successfully for many years and it is an essential part of our exercises," he said during the Interservice/Industry Training, Simulation and Education Conference hosted by the National Training and Simulation Association in Orlando, Florida. However, the alliance has not exploited all possibilities, he said.
"As we have discovered talking to our customers — the NATO training centers and headquarters — there are a number of education and training areas where modeling and simulation can make a difference," he said. "In particular, our customers are demanding more complex scenarios, including non-kinetic and non-military aspects. They want to play with more realistic data including social networks and information from real sources."
Amy Kruse, chief technology officer at Cubic Global Defense, said her company has seen an increased desire from European customers to integrate social media data into training environments.
The company is currently offering a product, the social media analytic replication tool kit to meet this demand, she said.
The kit allows a user to include aspects of social media in various exercises. "You can have opposing forces in the field who are like, 'Hey, these guys just came into my village. What are they doing here?' And you have to have a response, a public affairs response.
"It's one of the things that we've seen a lot of pull for this year … the inclusion of the richness of reality in the training space," she said.
Because of a resurgent Russia, Cubic has seen many of its customers in Europe examining their defense plans and some are considering mandatory drafts, said Robert Wells, the company's director of international business development.
That means they could need more training to support a larger force, he said. Increased training is "going to be more important than ever, because if you're ready, then you will deter and deterrence is a big part" of countering Russia, he said.
Countries such as the Baltic States — which include Estonia, Lithuania and Latvia — and nations around the Black Sea are on alert, he noted.
The nature of NATO training has seen a marked change recently, said Mark Cancian, senior adviser for the Center for Strategic and International Studies' international security program.
Just three years ago, most of its training "focused on stability operations and counterinsurgency because that's what NATO was doing," he said. "It had forces in Afghanistan, plus it had the memory of Bosnia and Kosovo where much of the effort … was providing stability in an unstable environment."
However, since the rise of an aggressive Russia, "you've seen a renewed interest in high-end, state-on-state conflict, facing the threat of a possible Russian attack on the Baltics particularly," he said.
The United States, through its European Reassurance Initiative, has funded a persistent, rotational air, land and sea force in the region. It has also paid for increased training in Eastern Europe, Cancian said.
In President Barack Obama's 2017 budget request, he quadrupled the ERI's funding level from 2016 to $3.4 billion.
The ERI, now in its third year, has moved "beyond reassurance to real deterrence," Cancian said. "It's building real military capability."
However, training is still rudimentary in the Baltic countries, he said.
"The capability of the Baltics is pretty basic. Each one of them fields about a brigade of essentially light infantry," he said. "You're not talking about a very sophisticated military."
Training in the region is tricky because it can be difficult to get to, Cancian said. U.S. troops have to traverse a great deal of land and sea across Europe, and the Navy in particular does not like sailing in the Baltic Sea, he added.
"It's just very constrictive," he said. "The U.S. Navy hates to put its capability in that kind of environment, a restricted body of water. … It's like putting capability in a bathtub — it's easy to find."
As NATO faces a growing threat from Russia, it will need to train for tank and electronic warfare, two aspects of fighting it did not have to worry about over the last decade and a half of war, Cancian said.
"The Iraqis haven't really had much or any electronic warfare capabilities whereas the Russians have a lot," he said. Army Chief of Staff Gen. Mark Milley "has talked about being spotted any time you emit, and we emit like crazy."
Troops will also have to learn how to operate their equipment without some of the capabilities they may have become accustomed to, Cancian said.
In "a command center, everybody assumes you're going to have chat rooms and internet and GPS and video feeds," he said. "That may not be available. You may be back to … handheld radios, which would be quite a shock for today's troops."
Systems can be degraded through both electronic warfare and cyber attacks. NATO is putting a premium on cyber training going forward, Mercier said.
During the Warsaw Summit in July, the organization recognized that cyber was an operational domain that it would have to train to fight in. "There is no exercise today without a cyber dimension," he said.
The emphasis comes as cybersecurity experts around the world warn that Russia is beefing up its cyber prowess and could purposefully degrade communications between NATO nations.
Cyber training poses many challenges for NATO, Mercier said. "It's difficult to fully train [for] cyber because … one of the risks is that you'll kill your communication and then you do not meet your other exercise requirements."
The alliance currently operates the NATO Cooperative Cyber Defence Centre of Excellence in Tallinn, Estonia, he said. It plans to eventually open a cyber range at the center. It is also considering investing in simulators for individual troop training.
Despite increased training and preparation, Russia will be a cause for concern for NATO for some time, Cancian said.
"This is going to be with us for a while," he said. "If you look long term, the Chinese look like more of an adversary than the Russians just because economically and demographically the Chinese are in a much stronger position. But in the near term, listen to [Russian President Vladimir] Putin — he's much more aggressive."
Over the next five to 10 years "tensions with Russia are likely to be high," he said.
But it is possible that pressure in the region might go down because of the election of Donald Trump as president, he said.
"Trump certainly … hopes that he can make a deal with Putin," he said. "There's a chance that he can make a deal. I think most people believe it's unlikely."
Topics: International, Training and Simulation