BATTLEFIELD COMMUNICATIONS
Military Learning to Share Congested Radio Spectrum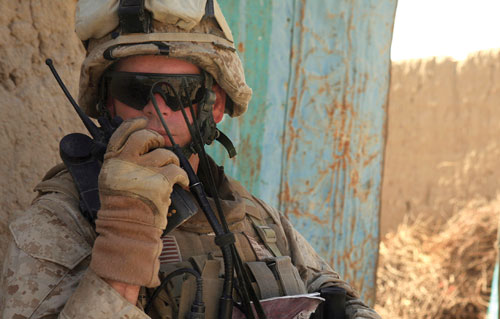 Photo: Defense Dept.
The allocation and management of radio spectrum hasn't changed much since the day when Italian inventor Guglielmo Marconi first broadcast over the airwaves.
It involves taking electromagnetic spectrum, cutting it up into little pieces and handing it out to one system or operator or another, Paul Tilgham, a program manager at the Defense Advanced Research Projects Agency, said in an interview.
That is "presupposing that it has to be divided and presupposing that every person you are going to give it to is going to use it to its fullest extent, all the time everywhere on the globe," he said.
"It's a simplification that we have carried since the advent of the first radio frequency systems," he added.
DARPA is embarking on a three-year grand challenge that aims to change the means of managing spectrum and to make its use more efficient and automated.
It coincides with an Obama administration directive that calls for the military and federal agencies to free up 500 megahertz of their spectrum for commercial use by 2020. This too calls for new ways to coordinate the use of the airwaves as they become increasingly crowded.
The fact that spectrum has become congested is a problem in the military going back decades. The explosion in the use of cell phones made the problem worse. The introduction of data hungry smartphones seemingly overnight has now created a crisis.
"Our industry is growing by leaps and bounds … and the use of those devices is going nuts," Paul Anuszkiewicz, vice president of spectrum planning at CTIA, The Wireless Association, said at the Milcom conference in Baltimore, Maryland.
The trade association has already seen the Federal Communications Commission release a significant amount of bandwidth. Every 10 megahertz of new spectrum the industry gains results in billions of dollars invested in the economy, he pointed out.
A White House fact sheet released in July said the FCC was halfway to its goal of freeing up the 500 megahertz of bandwidth for commercial use. Auctions of the newly available spectrum netted the Treasury Department $40 billion.
Thomas J. Taylor, deputy director for policy, technology and operations, at the office of the Defense Department's chief information officer's spectrum policy and programs directorate, said that's good. A strong economy means a strong military.
There are two issues: domestic and overseas. Both require more efficient use of the airwaves. Stateside, the military needs this spectrum for all the weapon systems it employs. It must train like it fights.
"We currently limit some of our training and some of our more larger training ranges simply because we can't get enough electromagnetic spectrum to do all we need to do for the modern battlefield," he said.
When deployed, the military must de-conflict the use of spectrum with local systems. There might be some cases where U.S. forces have destroyed all of an enemy's communications infrastructure and it has free reign, but in cases such as joint exercises or disaster relief, that might not always be the case.
"Globally, our own worst enemy is ourselves. We super saturate bands because of the lack of flexibility in our own equipment design," Taylor said.
The need for spectrum flexibility also coincides with emerging doctrine coming out of the Army called the multi-domain battlefield, he noted. It is now a given that opponents will try to take down the U.S. military's networks, and some of that travels over electromagnetic spectrum. (See story:
"Defending Networks Emerges as Top Battlefield Priority."
)
The military needs to "get out of this fixed frequency reservation mindset to a capability that can outmaneuver an enemy," Taylor said.
It's both a technical problem and a cultural problem, he noted. The former must be solved first, he added. "We're putting engineering up front first … to find out what the possibilities are for sharing before we get to a regulatory implementation," he said.
"We are still living in that post-9/11 world … we still have critical DoD systems up and running today that are providing national defense of our own territory. These things are invisible to most of the nation," he added. "We are defending the national soil while trying to come up with sharing scenarios. The complexity of this engineering has to be trusted."
Taylor added: "This is really a national level challenge of our engineering capacity. We need qualified people with security clearances to work on it."
Derek Khoplin, senior advisor for spectrum policy at the office of the assistant secretary of communications and information at the National Telecommunications and Information Administration, said for the federal side, sharing is not a new concept. Some bands have 15 to 20 agencies on them. It's true that some of the spectrum is underused.
"Maybe we only need the spectrum only 10 percent of the time, but when we need it, we really need it," he said.
William T. Lasher, deputy chief of staff, G-6, at U.S. Army Forces Command headquarters, said there is concern among some in the military about giving up some of this valuable spectrum.
"I have spoken to some [researchers] in the hard sciences who are very frightened of our spectrum sell off," he said.
Prioritizing and allocating bandwidth autonomously depending on the traffic is very difficult to do today, he said.
"When we go overseas into a sovereign nation where they have completely different regulations for spectrum, we have got to be maneuverable with our systems," he said.
That is not exclusively a military problem, said Preston F. Marshall, principal wireless architect at Google.
The tools will apply equally well when the Army must share the same band as the Air Force, and commercial users must share bands. It's not just about the Defense Department sharing its spectrum with civil users. "We should be thinking about sharing in general. Who it is sharing with is irrelevant. We all have the same problem," Marshall said.
That is one of the ideas behind DARPA's Spectrum Collaboration Challenge, Tilgham said. Figuring out how to automatically manage and de-conflict spectrum is a problem not only for the military, but in the private sector as well.
"This problem of exponentially growing spectrum demand against finite supply is not intrinsically a military problem. It's a problem that exists in the commercial space," he said. The agency sees benefits beyond the military.
"How do we optimize our use of the spectrum so we can get all of our radios that we need talking in the spectrum to do so?" he asked. That is the tough problem DARPA is looking to solve.
There must be a new breed of collaborative intelligent radio networks, where the radios coordinate directly with other radios that share the same frequency, and physical space, he said. Radios must be intelligent enough to learn from each other and devise new strategies on how to use the spectrum and optimize it from moment to moment, he added.
DARPA employs grand challenges in cases where there is a wide variety of expertise in a field, but the research community lacks focus. Radio engineering "is a community that has tremendous amount of technical prowess and accomplishments but that community has yet to be catalyzed against a single goal," he said.
The teams will square off in a virtual wireless arena DARPA is calling "the coliseum," which will feature simulated congested radio traffic. The goal is for each team to transmit their data from the source radio to the destination radio successfully and quickly, he said.
"Teams will develop these breakthrough capabilities by taking advantage of recent advances in artificial intelligence and machine learning, and the expanding capacities of software-defined radios. Ultimately this competition aims not only to challenge innovators in academia and business to produce breakthroughs in collaborative AI, but also to catalyze a new spectrum paradigm that can help usher in an era of spectrum abundance," the DARPA website said.
There will be several users all trying to share and access the exact same spectrum. The radios will need to first understand who is occupying the space with it, then autonomously collaborate with the other radios in order to adjudicate how to share the bandwidth.
The prize money totals $3.5 million. The competition will be held in three stages. One tournament will be held at the end of the next three years in 2017, 2018 and 2019. There will be a winner and prize money in each round with the finalist winning the grand prize of $2 million in 2019.
Tilgham said it is not a knockout competition. Teams that don't win in one round can make improvements to their radio and return for the next round once they are vetted.
The teams signing up so far hale from the military and commercial sectors, he added.
"For us, it pays off in broad societal benefits, not just strictly military benefit," he said.
Topics: Battlefield Communications