Defense Innovation Unit Enters Critical Period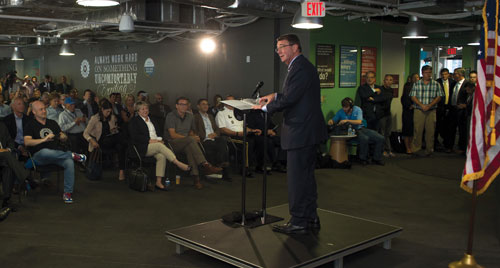 Defense Secretary Ashton Carter speaks to innovation leaders during a visit to Capital Factory, Austin, Texas.
Photo: Defense Dept.
Supporters of the Pentagon's Defense Innovation Unit-Experimental are touting its value as the future of the organization hangs in the balance.
Leaders of the outfit, known as DIUx, have been making the rounds at high-profile national security conferences and engaging with media in recent weeks to highlight their achievements.
The unit, which is based in Silicon Valley and has additional outposts in Boston and Austin, Texas, is trying to break down barriers between the Defense Department and high-tech commercial firms, and make the Pentagon's acquisition process more agile.
"Core to our value and approach here at DIUx … is to help nontraditional vendors work with the department so we get access to their technology earlier and more directly than we normally would," Managing Director Raj Shah said during a conference call with reporters to discuss the office's fiscal year 2016 acquisition results.
Following a rocky start in 2015, in May the Defense Department launched a revamped "DIUx 2.0" with new leadership and acquisition authorities provided by the 2016 National Defense Authorization Act.
Using its streamlined "commercial solutions opening" process, the unit has awarded at least 12 contracts in recent months. The average time between the initial DIUx meeting with an interested company and contract award was less than 60 days. "That's lightning speed for the Department of Defense," said Lauren Schmidt, the organization's pathways director, at a recent conference hosted by the Center for a New American Security.
The outfit has a slew of different projects currently underway and additional contracts will be awarded in the coming months, Shah said at the recent CyberCon gathering of government officials and industry in Washington, D.C.
The unit — which aims to spur rapid prototype development and then transition successful products to the services for sole-sourced full-rate production — is largely focused on five technology areas: autonomy; artificial intelligence and machine learning; big data; cyber; and space.
Contracts awarded in the fourth quarter of fiscal year 2016 include money for: autonomous unmanned aircraft and surface vessels; big data-crunching technology for real-world event modeling and simulation; and automated textual analysis and content curation from open sources.
Projects in the pipeline include multi-factor authentication for data access, software for deployable cyber defense systems and microsatellites.
"We are beginning to bear the initial fruits of the labor of the team and the partnerships that the services have with us, and we can now point to specific projects" that are in the works, Shah said.
Viewed by some observers in the defense industry as a facilitator of unfair competition by commercial firms with fast-tracked acquisition authorities, DIUx officials are noting that the unit is also open for business with traditional contractors.
"Any company is eligible for working with DIUx, even [a large firm like] Boeing," Schmidt said. "Obviously [the acquisition authorities] are geared towards nontraditional companies and small businesses, but traditional companies can work with us as well if we do a one-third cost share or if the traditional is partnered with a nontraditonal."
The defense industry can sometimes be an important enabler for startups trying to do business with the innovation unit, Shah said. There have been instances where "we've had the young companies with great ideas but [they] may not be able to scale as fast" as the Defense Department would like. As a result, those companies have teamed with traditional contractors to push the project forward.
Leanne Caret, president and CEO of Boeing Defense, Space and Security, praised the initiative at a recent defense innovation conference hosted by the Center for Strategic and International Studies.
It "provides an opportunity to talk to some nontraditional folks about how they might bring not only technologies that they're developing but business models on how they're developing it," she said. "This is a really great opportunity for us as the traditional primes because … this is a way for us to partner and … [discuss] what the art of the possible is."
But others are more skeptical of its value. David Melcher, president and CEO of the Aerospace Industries Association, sees more promise in some of the Pentagon's other rapid acquisition initiatives such as the strategic capabilities office.
While Secretary of Defense Ashton Carter has made DIUx his pet project and promoted it vigorously, his successor might not be as committed to it, he noted.
"A new SecDef is going to have to be convinced that they're getting bang for their buck out of that investment," Melcher said during a CSIS panel discussion. "I don't think I've seen it, at least from an industry perspective."
Opinions on Capitol Hill are mixed. The Senate Armed Services Committee has an overall favorable view of the unit, said Bill Greenwalt, a senior SASC staffer and acquisition expert. But he noted that there are "other viewpoints" in Congress.
"There's still a learning on what DIUx is supposed to do," he said. "There's still a lot of misinformation out there."
The 2017 National Defense Authorization Act calls for withholding 75 percent of the money appropriated to the unit for research, development, test and evaluation, and 25 percent of the funds appropriated for operation and maintenance, until the Pentagon provides a comprehensive report to Congress about the outfit.
The report must describe DIUx's mission, governance structure, operations, metrics for success, project successes and failures, staffing requirements, relationships with other agencies, expansion plans and other aspects of interest to lawmakers.
House Armed Services Committee member Rep. Michael Turner, R-Ohio, said he would wait to consult with President-elect Donald Trump's national security team before prognosticating about the future of the initiative.
"We're going to have very tough debates as to what we need to do for this new administration," he said during a conference at the Heritage Foundation in response to a question about whether he believed the unit's existence would continue in the coming years.
Shah said his office has been in discussions with congressional officials about its activities.
"We're working very closely with our partners in Congress to show how we are using the taxpayer dollars that we have and we're open about the projects that we are working on," he said.
The funding restrictions in the NDAA, if left in place for a lengthy period, could derail the initiative at a time when DIUx is increasingly under the microscope. "The critical part … of us prototyping processes is our ability to move quickly and agilely," Shah told National Defense. "Having a set of resources enables us to show the value of that speed."
The unit's budget is small within the context of the Pentagon's approximately $600 billion annual funding stream. The office received about $30 million in fiscal year 2016. For fiscal year 2017, the Pentagon requested $45 million.
Greenwalt said that doesn't mean the organization can't have an outsize impact. "There's this whole thing in Washington about, 'Oh, if you don't have a gazillion dollars you're somehow not relevant.' I don't think that's the case."
DIUx can still be an agent of change for the broader acquisition community, he argued.
Shah said spreading the unit's acquisition practices to other parts of the Pentagon bureaucracy is the main goal for his office.
"The real mission of DIUx to me is not to prototype technologies," he said. "But rather [it] is to prototype cultural and process changes that can then scale across" the Pentagon, he said at the Reagan National Defense Forum in Simi Valley, California.
"We have to start small, show that it works and then let the department scale," he added.
Greenwalt noted that the "other transaction" authorities that DIUx is using to streamline the acquisition process are also available to other agencies.
"There are only a few contracting officers in the entire Department of Defense that … even know that it exists and how to use it. And even then they may not quite have the complete knowledge of how to exercise it," he said.
To address the problem, Shah's office recently posted a how-to guide for other Pentagon organizations on its DIUx.mil website.
The guide is an effort "to share our experience with using these authorities … and actually working with companies on this basis so that others can hopefully build on our success with the [commercial solutions opening] and broaden the industrial base for the department writ large and really work to accelerate the acquisition process," Schmidt said.
The unit is still in its "infancy," Greenwalt noted. The big question is whether it will survive the Trump administration.
Shah expressed optimism that the initiative won't be blown away by changing political winds. And he appeared to draw hope from Trump's rhetoric about not accepting business as usual when he takes office.
"The mission of DIUx, which is how do we bring new innovative solutions to the department, is inherently a nonpartisan one," he said. "If you look at some of the reform-minded statements that the incoming administration has made … I think that DIUx can play a role."
Andrew Hunter, the director of the defense industrial initiatives group at CSIS, expects the unit to make it through the early months of Trump's presidency.
"The outreach to Silicon Valley and other innovation hubs is a pretty broadly accepted idea, although it is not entirely without its detractors," he said in an email. "The bigger hurdle for DIUx will be ensuring that it has the deliverables necessary to maintain support with the department and on Capitol Hill" after the first year or so of the Trump administration.
Although some of the unit's biggest boosters, including Carter, are leaving office after the transition, the initiative still has backing from senior military leaders who will remain in the job when the new Republican president occupies the Oval Office.
Army Chief of Staff Gen. Mark Milley said DIUx should be given additional time to show results.
"These guys haven't been in operation for all that long," he told National Defense. "I think there's some tweaks to do [and] I've provided some of that feedback back to the Department of Defense."
"It's a very good initiative … because we need to accentuate and accelerate innovation for the applications of commercial products" for the military, he added. "Let's give them a little bit of space here, let's give them some running room before we start breaking them up."
Topics: Defense Department, Defense Innovation, Emerging Technologies, Research and Development