Like Pro Sports Teams, DoD Program Offices Use Software to Select Players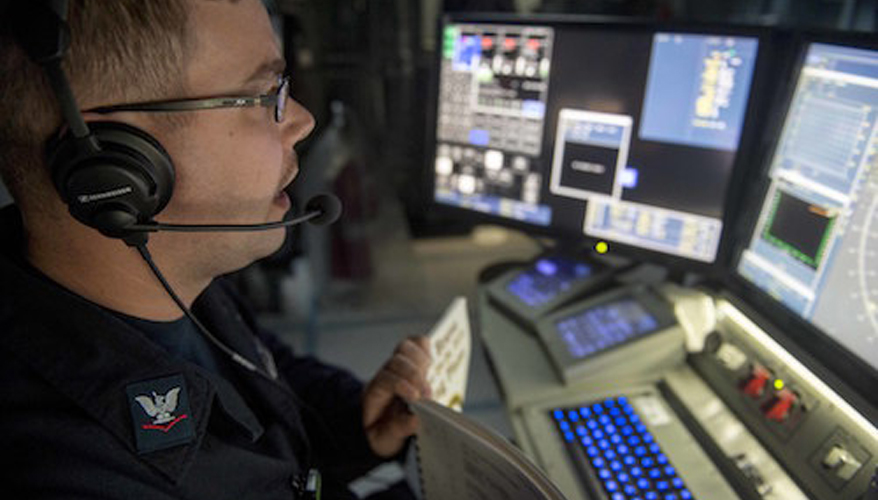 Photo: Navy
Who gets assigned to work on Pentagon weapons programs can make for fateful decisions.
With defense projects becoming increasingly more technologically complex and under pressure to meet stringent schedules and cost targets, picking the right talent is critical, officials say. Some government agencies now are experimenting with the use of "resource optimization software" to choose staffs, an approach widely used by professional football teams. Defense program executives, like NFL bosses, employ the software to develop selection criteria and benchmarks to evaluate and decide on what players they should select.
"When we get a new program, how should we staff it?" is a question frequently posed to Greg Thomas, chief of staff of the program executive office for integrated warfare systems at the Naval Sea Systems Command. The PEO IWS office has about 500 employees and oversees 60 programs, including radars, sensors and weapon systems that go aboard Navy ships.
The traditional methods for staffing program offices can be inefficient and unrealistic as the size of the government workforce shrinks, so Thomas is now a proponent of using computer models and data to decide where to apply resources to "tame the complexity, to avoid risks, to execute efficiently," he says in an interview. He also believes models are helpful for long-term workforce planning. "Data tells us where we should consider improving: hiring, policy, structure, training."
At a time when many of the Defense Department's seasoned procurement managers are retiring and being replaced by younger workers with far less knowledge of the field, one of the more significant decisions for Thomas' office is how to apportion scarce talent across many programs. Intuitively, the more complex projects shouldn't be staffed with the more junior people, but these decisions are always harder than they seem, he says. With dozens of programs and multiple tiers of talent in different pools, figuring out how to assign them can be a job better left to a computer model. Managers for decades have tried to do it with Excel spreadsheets, but that does not provide the "analytics" that show the potential damage from personnel tradeoffs. In some cases, moving people around can have strategic implications.
Thomas believes models can more accurately measure risk. "Where can we put junior people where there's less complexity? Where are the places where junior people can learn the ropes?" he says. "We have a few senior people carrying all the weight. Some things are too complex and you don't want a novice."
The software creates scenarios where managers can gauge whether they should assign a "farm team" — less experienced people but more of them, or go with a "lean and mean" team of fewer but more experienced workers. Other models can be used to determine if a program should be "stovepiped" — meaning every function has a dedicated person or "matrixed" — with many functions mapped to fewer people.
The models may be widely used by sports teams and government agencies, but Thomas had to customize it to meet his office's specific mission. "Decisions have to be based on the reality of the work, not some generic model," he says. "It's geared to ACAT 1 program management." That's short for major acquisition programs.
The success or failure of this approach will be seen over time as the PEO IWS sets up new program offices to fill emerging Navy requirements for combat systems. The office, for instance, will oversee a high-profile effort to install electric rail guns aboard combatant vessels. Navy leaders in June assigned naval high-energy weapons to PEO IWS. One program office is being created for the railgun and projectiles, and another for directed energy weapons.
Thomas stresses that the model is restricted to government-only staffing decisions, and does not address the mix of civil servants, military officers and contractors working in a program office. He says he does share the data with his program contractors so that they can use it to make their own hiring or staffing decisions.
The resource optimization software was licensed from Decision Lens, based in Arlington, Virginia. The company has worked with the National Football League and other commercial organizations but is trying to expand its government and defense business, says Decision Lens founder and president John Saaty. Federal agencies can license the software for a flat annual fee, regardless of the number of users, he says. "We want to encourage collaboration and not have them worry if they have enough licensed users."
Saaty anticipates a growing demand for his product as agencies downsize. "As we're going through a period of reevaluating the size of government and the amount of resources put into government activities, there is a need for thoughtful approaches to right-size the workforce, avoid slash-and-burn cuts across the board, and be more strategic to apply talent."
Topics: Defense Department, Defense Innovation