F-35 Review: A Fresh Look at the Industrial Base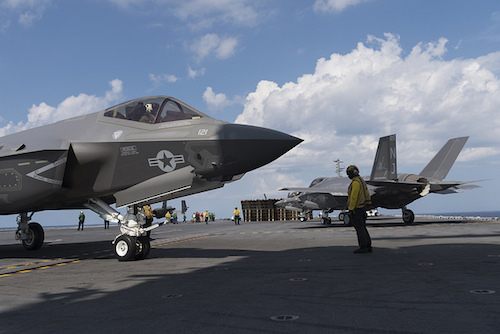 F-35C developmental testing
Photo: Lockheed Martin
A re-examination of the F-35 program ordered last week by Defense Secretary Jim Mattis will look at "opportunities to significantly reduce costs" by possibly replacing the Navy's F-35C with an advanced version of the F/A-18E/F Super Hornet.
The review will seek to "inform programmatic and budgetary decisions," said Pentagon spokesman Capt. Jeff Davis.
But a fresh look at the program also could serve as an opportunity to revisit the idea that the military should have more than one viable manufacturer of fighter aircraft over the long run. In the Navy, especially, concerns about the fighter industrial base have existed for many years, and bringing in an alternative to the F-35C might ease apprehension, said Lou Crenshaw, a retired vice admiral and naval aviator who served as deputy chief of naval operations for resources, requirements and assessments.
"You need two reliable fighter manufacturers," Crenshaw told National Defense. "Every decision you make, especially in the Navy, has to consider the industrial base."
Until only recently, the accepted reality was that F-35 manufacturer Lockheed Martin would remain the sole U.S. maker of fighter jets after Boeing's Super Hornet line ran out of work in the 2020s.
After losing the bomber competition to Northrop Grumman in early 2016 and facing dwindling Super Hornet orders, Boeing had been all but preparing to exit the combat aircraft manufacturing business in the coming decade. The company's top defense executive Leanne Caret made headlines in June when she told The Wall Street Journal that Boeing would focus on repairs and upgrades to existing jets, as well as militarized commercial planes.
Crenshaw believes that a decision to keep the Super Hornet as an alternative to the F-35C could inject much-needed competition in the market, and the Navy would benefit financially. "The Navy wants the F-35," he insisted. "The way forward is the joint strike fighter," but the Navy wants to keep buying Super Hornets to ensure it has enough fighters to fill carrier air wings and also because it costs far less than the F-35. Whatever Boeing ends up proposing as an alternative, "it will be cheaper," said Crenshaw. "Whatever they come up will be a step up from the current Super Hornet, but it will be cheaper than the F-35."
In the early days of the F-35 program, Crenshaw recalls, the Navy was predicting delays and worried it would have no plan B. "Back then we saw this sliding," he said of the F-35C. "We knew we needed to buy Hornets." The problem, though, is that "when you put money into Hornets it means you don't have money for the F-35." He denied long-rumored conspiracy theories that the Navy was not fully on board the joint strike fighter program. "It's really about filling the gaps in the air wings," he said.
During a conference call with industry analysts last week, Boeing CEO Dennis Muilenburg was mum on the Super Hornet proposal that President Donald Trump asked him to develop. "I'm encouraged by his engagement. His approach to engaging business, having an open dialogue, discussing the issues, finding solutions, finding ways to grow U.S. manufacturing jobs," he said. "We had some targeted discussions, well publicized discussions on things like Air Force One and fighter aircraft. I think those were very productive discussions."
Industry analyst Byron Callan, of Capital Alpha Partners, cautioned investors to not read too much into the Super Hornet/ F-35 showdown. "We don't expect this to result in major programmatic changes" to the larger F-35 program for the Air Force and the Marine Corps, he said in a research note. "Matching the F-35C to the F/A-18E/F is slightly better news than the initial Trump tweets on the program may have implied."
The current Navy requirement is for 327 F-35Cs, and the Marine requirement is another 67. Through 2017, the Pentagon has funded just 69 F-35Cs. The Navy's current plan is to buy 24 F-35Cs annually by 2021, "so another 10 years to go at that rate," Callan said. "We see low odds (25 percent or less) that the DoD would hold a competition for Navy combat aircraft and that Boeing would win in 2017 or 2018 to supply about 325 F/A-18s."
Trump also has met with Lockheed Martin CEO Marillyn Hewson, pressuring her to squeeze costs out of the F-35 program. Industry consultant Jim McAleese, of McAleese & Associates, believes the program is on solid ground despite Trump's public bashings. "CEO Hewson's F-35 meetings with Trump are obviously exhausting, but there is strong inference that President Trump now recognizes F-35 lethality, combat capability and survivability as a combat game-changer," McAleese wrote. "Hewson did not speculate on expectations that the Navy could still request up to an additional 120-140 Super Hornets during 2017-2022 — at least 74 minimum to fill its strike fighter gap."