The Defense Budget Could Take Backseat to Other Political Priorities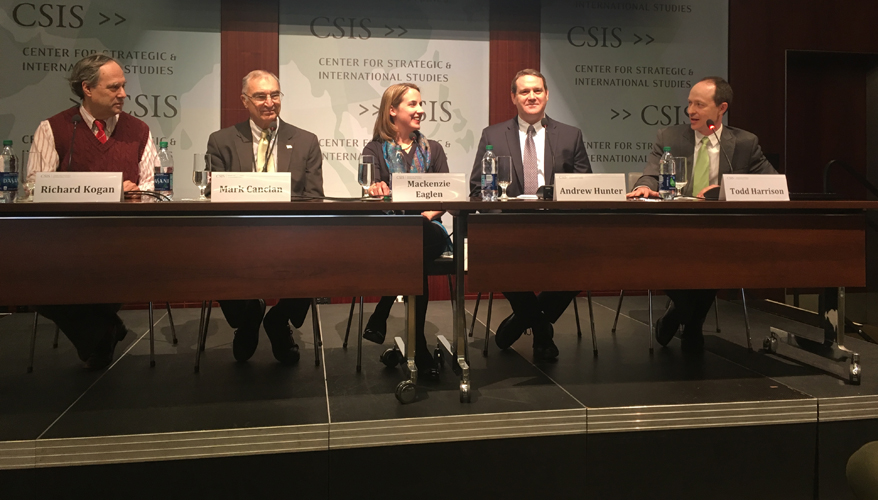 From left to right:  Richard Kogan, senior fellow at the Center on Budget and Policy Priorities; Mark Cancian, senior adviser at the Center for Strategic and International Studies; Mackenzie Eaglen, resident fellow at the American Enterprise Institute; Andrew Hunter, director of the Defense Industrial Initiatives Group at the Center for Strategic and International Studies; and Todd Harrison, director of Defense Budget Analysis at the Center for Strategic and International Studies.
Photo: Jon Harper
A few weeks before taking office, Vice President Mike Pence said the White House would send Congress a supplemental defense spending proposal during the administration's first 100 days.
"There is a great desire to be bold and to do a lot" in the first months of the administration including putting more money into Pentagon coffers, Mackenzie Eaglen, a defense analyst at the American Enterprise Institute, said during a panel discussion at the Center for Strategic and International Studies.
But other political controversies will "consume all the oxygen" among lawmakers and the White House, she said, adding there was "no chance" a supplemental spending bill for the Pentagon would pass in the first 100 days.
Although Republicans are now in charge of Congress and the White House, some Trump proposals would require a number of Democrats in the Senate to sign on before they could go into effect.
Efforts to get a large defense spending bill through Congress would likely "hit the unyielding tyranny of the calendar in the U.S. Senate," Eaglen said. "There are a lot of clashes coming."
The GOP effort to repeal and potentially replace the Affordable Care Act, also known as Obamacare, is already underway.
"I don't think you can underestimate how much time that's going to chew up of this incredibly precious resource of Senate floor time," said Andrew Hunter, the director of the defense industrial initiatives group at CSIS.
"The Democrats can telescope that time tremendously. And right now things are not trending in a real bipartisan, comity direction," he added.
Tax reform is also near the top of Trump's agenda, the panelists noted. The businessman turned politician has promised to slash taxes on high-income individuals and corporations. Democrats could try to fight back on that front as well.
Meanwhile, a showdown looms over the makeup of the judicial branch. Trump is expected to nominate a conservative to fill the vacancy on the Supreme Court, which is expected to set up a long, heated battle with Senate Democrats.
"In modern history it's a three-month average floor time" to debate a Supreme Court nominee, Eaglen said. "That's just killer and that's going to really take up a lot of the time" in the early months of the Trump administration.
The new commander-in-chief has called for building a giant wall along the U.S.-Mexico border and pumping money into infrastructure projects, among other promises, analysts noted.
Amid all the controversy over these and other hot-button political issues, it's unclear when the Trump team will have the opportunity to push through a new defense bill.
"Defense is very much behind other things," Hunter said. "It's very clear that … the priorities start with Obamacare and what's going to happen to it. Then you get to taxes. Then you get to other things of which there's a list of candidates, and it's not clear to me [that] of those other things, defense is at the top of the list."
Congress has yet to pass a defense appropriations bill for fiscal year 2017, which began in October. The Pentagon and other government agencies are being funded through a continuing resolution, which runs until April 28.
Meanwhile, the new administration will need to build a budget blueprint for fiscal year 2018 for the Defense Department and the rest of the federal government.
"We start with a self-inflicted wound here, which is the FY17 budget could have been completed after the election in the fall" before Trump took office, Hunter said.
"It was a decision by the incoming administration that said, 'No, keep that around. We want to deal with that.' Well, I think perhaps if they had a chance to do the fall over again now they would say, 'Gosh, you know we really don't want to be wasting time on [getting a fiscal year 2017 budget passed] when we're trying to do all of these other things,'" Hunter said.
Topics: Budget, Defense Department