Defense Secretary Mattis 'Hits Ground Running'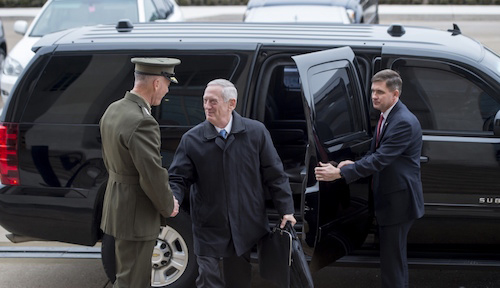 Defense Secretary James Mattis arrives at the Pentagon.
Photo: Defense Dept.
On his first full day as Pentagon chief, newly sworn-in Defense Secretary James Mattis is moving to establish a "battle rhythm" in the building, his spokesman tells reporters. "He has hit the ground running."
Mattis started his orientation over the weekend, meeting for several hours with the chairman and vice chairman of the Joint Chiefs of Staff, and with Deputy Secretary Bob Work.
Davis said it is obviously still too early to discuss specific policy decisions as Mattis tries to get his bearings. In a statement, Mattis listed his top priorities: to improve the combat readiness of U.S. forces, strengthen international alliances, and ensure the Pentagon spends resources responsibly in order to "earn the trust of Congress and the American people."
The secretary has moved swiftly to build a trusted circle of top aides, notably naval officers. He named retired Navy Rear Adm. Kevin Sweeney chief of staff, and Navy Rear Adm. Craig Faller as senior military assistant. Faller was recently the Navy's chief of legislative affairs. Mattis and Sweeney previously worked together at U.S. Joint Forces Command and U.S. Central Command.
In Washington, defense hawks on Capitol Hill and industry groups eagerly await decisions regarding future military budgets. On the White House website, President Donald Trump stated he will "end the defense sequester and submit a new budget to Congress outlining a plan to rebuild our military."
Chairman of the House Armed Services Committee Rep. Mac Thornberry, R-Texas, reminded Trump of his promise to "request supplemental funding for national security in his first 100 days in office." In a Fox News editorial, Thornberry insisted that "Congress and the president must pass funding for fiscal year 2018 at a level that adequately supports our military and begins to repair the damage inflicted over the last several years. President Obama's proposal of $584 billion to fund base requirements next year is clearly not enough." He noted that from 2010 to 2014, the military budget was cut 21 percent in real terms.
But even defense insiders close to Mattis have no clue how a spending deal will be hammered out in a deeply divided Congress where defense advocates will be squared off against deficit hawks. "Campaign statements about building a powerful military are colliding with other campaign statements about finding efficiencies in defense and making allies pick up more of the security burden," the Center for Strategic and International Studies said in a statement. "Initiatives to cut taxes and invest in infrastructure will compete for funds with a defense buildup, while Democrats are working to protect domestic spending."
Retired Army Lt. Gen. Thomas Spoehr, who led a Heritage Foundation study on military readiness and modernization, said Mattis is deeply concerned about the military becoming weaker after years of budget cuts. But Spoehr wonders whether the secretary — who is known for his toughness leading troops in battle and for his shrewd political skills — can prevail in the coming fiscal wars. "I wish I had a crystal ball and was smarter to be able to explain how this country is going to lift the Budget Control Act," Spoehr told National Defense. "I don't see a clear path now. Everyone agrees the military needs more money. I just don't know how that happens."
Even though Trump has pledged to increase the defense budget, none of the funding will be used to hire new Pentagon civilian workers or for civilian pay raises. He instituted a government-wide hiring freeze Jan. 23, signing an executive order that he said would affect all civilian employees, but not the military.
Topics: Defense Department