Defense Acquisition Professionals Tout Accomplishments Amid Criticism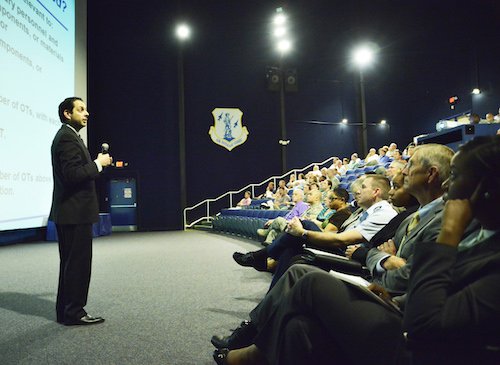 Camron Gorguinpour, Air Force director of transformational innovation, speaks at Robins Air Force Base
Photo: Air Force
Contrary to conventional wisdom, the Pentagon in recent years has reduced the cost of many weapons programs, it has diversified the supplier base and acquired cutting-edge technology faster than was thought possible, departing Obama administration officials insist.
"We've made some serious headway," said Camron Gorguinpour, who served as Air Force director of transformational innovation. On his last day on the job, he spoke with National Defense about the state of defense procurement and shared concerns about the future as the Trump administration moves to shake up federal procurement.
Gorguinpour spent nearly three years "poking at the bureaucracy" in an effort to lower costs and expedite the military's notoriously slow procurement system. "We have reduced the time it takes to award contracts by several months. … We introduced an 'open systems' acquisition policy and our IT [information technology] programs have saved nearly $100 million so far," he said. At least 500 Air Force contracting officers have been trained to negotiate nontraditional contract vehicles that should motivate commercial companies to do business with the Pentagon. These are "notable" achievements, said Gorguinpour, considering how difficult it has been over the years to improve the procurement process in meaningful ways.
The House and Senate Armed Services Committees have pounced on the Defense Department for its recalcitrance and bureaucratic inertia regarding weapon acquisitions. Congressional frustration culminated in legislation passed last year that dismantles the office of the undersecretary of defense for acquisition, technology and logistics.
"It's valuable that Congress is paying close interest to the acquisition process," said Gorguinpour. "But I don't actually believe that in most cases, major statutory changes are really necessary." Most problems could be resolved with just "tweaks," he added. "We have a lot of authorities and a lot of flexibilities within the statute and the regulations to get things done differently." Broad, sweeping reforms are Congress' prerogative, "but regardless of how you reorganize the bureaucracy, we're still a bureaucracy." More laws can backfire, he said. "Folks need to be motivated and incentivized to do things differently."
As Pentagon procurement officers face the wrath of Congress, they are also bracing for what could be rough treatment by the incoming Trump administration. Since he was elected, President Donald Trump has publicly bashed on social media big-ticket Pentagon programs like the F-35 and the future Air Force One aircraft for being too expensive and possibly targets for termination. Trump officials at the same time have hinted they will downsize the federal workforce, possibly reducing the ranks of procurement professionals. Trump's preferred style appears to be to negotiate privately with industry CEOs, without much regard for the role of government buyers.
"At the end of the day, it's the frontline people who have to negotiate these deals, who are going to have to process the requirements, and put that into contract language, and ensure competition is fair and reasonable," said Gorguinpour. "The GS-10s and below get the stuff done. Understanding the responsibility they bear is really important," he said. "Their willingness to go out on a limb and try to do things differently is very directly affected by things like social media and what Congress says."
Gorguinpour would not comment specifically on the F-35 or Air Force One, but noted that in any large, complex projects there are "obvious opportunities to reduce cost and get capabilities faster. … But it's the people on the frontlines that are working these programs that are going to get that done," he said. "To come in thinking you're just going to bully your way into long lasting reform? I'm skeptical of that approach for any organization. Once you take the time to understand the nuances, you can find a lot of things to improve."
The Pentagon still has a long way to go in reforming outdated procurement practices, though, he cautioned. The push started during the Obama administration to attract high-tech commercial companies into the defense market has yet to bear fruit. "If tech firms are going to come into the mix, it will require a fundamental change in the rules and processes that we use to execute acquisitions," said Gorguinpour. "We have onerous export-control restrictions. We have onerous intellectual property restrictions. The time it takes to award contracts is way beyond what most American companies will deal with," he said. "It will take real work and real risk to get some of that done."
Also on his last day on the job, Pentagon procurement chief Frank Kendall defended his record in remarks at the Center for Strategic and International Studies. "What scares me … is that we're bringing in outsiders who have no idea how this place, how the Pentagon works, they will have no idea how the defense industry works," said Kendall. "And I'm a little nervous that that may happen in this administration," he said. "Bringing somebody in who does not have the experience of working in that environment I think is a disservice. They will spend their first year just learning what the environment is like and how it works before they can be effective."
In the defense industry, CEOs are scrambling to figure out how to adapt to the "management by tweet" public shaming tactics, noted aerospace analyst Richard Aboulafia, vice president of the Teal Group Corp. "What I'm most worried about is that he's asserting the power of the state to interfere with the economy and micromanage decisions that are best left to professionals," said Aboulafia of Trump. "If this is the case, we are in for a very rough ride."
A major concern for contractors is that the "people who are doing the really hard work, the procurement professionals in DoD, these are the people whose swamp is being drained." On the private deals that Trump has worked out with the chief executives of Lockheed Martin and Boeing, "How does that get implemented? I don't think anyone knows," said Aboulafia. "If they start getting rid of procurement professionals, that's very bad for them."
Trump reportedly has asked Lockheed Martin to reduce F-35 costs by at least 10 percent. The reality is that contractors don't hold all the bargaining chips, other than their fees and profit margins, said Aboulafia. "It's the nature of aerospace products, a lot of it is pass-through cost," he said. "I'm not so sure he appreciates there's an incredibly complicated supply chain with multiple players, with multiple expectations."
Federal contracting attorneys Sandy Hoe and John Sorrenti, of Covington & Burling, noted that the president holds a powerful bully pulpit to "pressure high-profile government contractors to 'voluntarily' take actions to their detriment and in favor of the government," but the legal tools and contractual remedies are another matter. "The legal obligations of the United States to its contractors, with some exceptions, is a little different from the obligations of a buyer in a private contract," the attorneys wrote in a blog post.
Contracting officers are not immune to pressure from high-ranking government officials, including the president, but they are "bound to apply the law when awarding and administering contracts." If a program is terminated "for convenience," contractors are entitled to recover their cost incurred to the date of the termination, profit or fee on that cost, and termination settlement expenses. For practical reasons, Hoe and Sorrenti argue, the government is "unlikely to take this path because it would be costly and delay ultimate delivery of the system. Thus a contractor willing to endure the public approbation of being identified with 'fraud, waste and abuse' likely can survive simply because the consequences of terminating a contract are so drastic." Given the tightly worded contracting legislation in the U.S. code, "we shall see how the Trump administration proceeds."
Topics: Defense Department