Pentagon Acquisition Chief Worried About Trump Appointees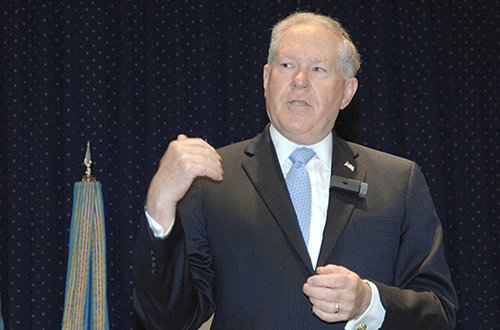 Frank Kendall
Photo: Defense Dept.
The Pentagon's top weapons buyer is worried that President-elect Donald Trump will appoint someone ill-suited to succeed him.
Frank Kendall, the undersecretary of defense for acquisition, technology and logistics, is expected to leave office when the new administration takes over.
"What scares me … is that we'll bring in outsiders who have no idea how this place — how the Pentagon works. They will have no idea how the defense industry works," he said Jan. 17 at the Center for Strategic and International Studies, in what may be his final public remarks as the Defense Department's procurement chief.
Kendall, who began working at the Pentagon in the 1980s and has spent more than 40 years in the national security field in the public and private sector, has been serving in his current post since 2012.
He noted previous examples of outsiders being brought in to lead defense acquisitions, only to fail.
"The first few undersecretaries for acquisition … were people from non-defense industry," he said. "The idea was we're going to bring professional mangers in and they're going to bring commercial industry expertise in, and I'm a little nervous that that may happen in this [Trump] administration."
It took time for those individuals to learn how the Pentagon works, and their tenures were often short-lived, he said.
"They weren't bad people. They were good people. They were good managers ... doing what they had done before. But it wasn't what we do … it didn't work," he said.
Trump has signaled that he will tap successful businesspeople to help lead his administration. But prior experience working with the military and the Washington establishment is critical for knowing how to get things done, Kendall argued.
"DoD brings with it some very interesting cultural things and so does this town. So bringing somebody in who does not have the experience working in that environment I think is a disservice. They will spend their first year just learning what the environment is like and how it works before they can be effective," he said.
Kendall warned about another trend that he finds troubling: the push for rapid acquisition.
High-tech military advances by potential adversaries have been contributing to the desire among many senior Pentagon officials to shorten acquisition timelines and deliver new technologies to warfighters more quickly. The Defense Department and the military services have established offices to fast-track the development and procurement of critical capabilities.
"I'm a little nervous about … the trend towards something called rapid acquisition," Kendall said. "Rapid acquisition means high-risk /low quality acquisition… The cost of speed is quality."
In certain cases, such efforts might be warranted, he noted, citing the rush to deploy mine-resistant/ambushed protected vehicles to Iraq and Afghanistan as U.S. casualties mounted from enemy improvised explosive device attacks.
But the MRAP story also illustrates the drawbacks of such an approach, he said. The systems deployed to Iraq were not well-suited for the terrain in Afghanistan, he noted. The Pentagon had to buy MRAP ATVs that weighed less and had more dynamic suspensions to operate in that environment.
Cybersecurity, reliability, maintainability, manufacturability, versatility and other "cost-driving features" are examples of qualities that could end up being sacrificed when procurement officials are in a hurry, he said.
"Those are things that our operators want but they take more time and they take more detailed designs and they take more testing," Kendall said. "That's sort of the normal acquisition process that gets you that quality vehicle. The rapid acquisition process tends to get you something that is not very reliable."
Fast acquisition is "not a panacea" for the Defense Department's challenges, he said.
"You're not going to get the same quality product if you go down that route and you can expect bad things to happen, risks to materialize and [cost] overruns and schedule slips to occur," he added.
Kendall also took issue with the perception that the Pentagon isn't being innovative enough as it seeks to acquire new capabilities to fight high-end wars.
"There has been a great deal of talk obviously about innovation," he noted. "In the last few years we've emphasized it very heavily in the department. The problem that I see with that is that we have, I'm afraid, conveyed the impression unintentionally that a lack of innovation is our problem and that more innovation is the solution to our problems. I don't believe that."
The real problem is a lack of sufficient funding, he argued.
"We have quite a bit of innovation but what we haven't had is the money to take that innovation and translate it into products… to develop it and then to start the manufacturing process," he said.
Trump has promised a military buildup after he takes office, and he has outlined plans to grow the force while investing in a variety of capabilities. Kendall is optimistic that the budget picture will improve in the coming years. He expressed hope that Trump's team would use increased funding wisely.
"Looking towards the next administration, there may be more money flowing into the Defense Department," he said. "I hope that a lot of it goes to research and development and modernization because that's where we really need the money."
Pentagon leadership under President Barack Obama has been pushing the so-called third offset strategy, an effort to develop and integrate new technologies and operating concepts to counter advanced foes.
In recent years, the Defense Department has been making investments toward that end. But more funding will be needed, Kendall argued.
"What we've been able to fund in the last few budgets is a number of demonstration projects which are early stages, risk reduction, proof-of-principle projects," he said. "What we don't have in our budget right now, in our budget request, is the money to take those demonstrations and … go on to building products, which is a whole different matter and much more expensive. So that's the challenge I think for the next administration."
Topics: Defense Department