Goldfein: Search for New Light Attack Aircraft May Begin by Spring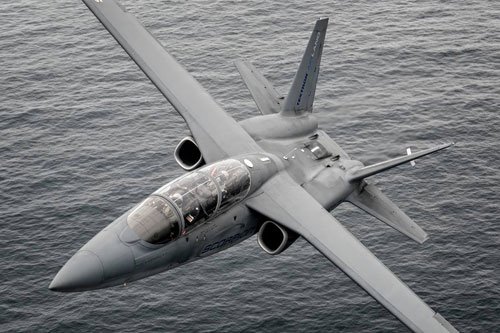 Textron's Scorpion jet
Photo: Textron
The Air Force may begin eyeing potential commercial-off-the-shelf light attack aircraft to add to its fleets as early as this spring, the service's chief of staff said Jan. 18.
If approved, the service could begin an experiment, called OA-X, to work directly with the defense industry to find a suitable light-attack and/or low-end fighter aircraft within a few months, said Gen. David Goldfein in a speech at the American Enterprise Institute, a Washington, D.C.-based think tank.
"We're actually right now looking at an experiment where we go out to industry and ask, 'What do you have, commercial-off-the-shelf low-cost, that can perform this mission?''' he said. "We're going to do this experiment and just sort of see what's out there, and I expect many of the companies to come forward."
The service is looking to begin the experiment" probably around the springtime" but he emphasized that this would not be a competition.
"This is an experiment … there are very appropriate acquisition laws that ensure we have a fair and open competition; this is not a competition," he said.
Brig. Gen. Ed Thomas, director of Air Force public affairs, said the experiment remains in discussions, has not officially been approved, and no money is attached "at this point."
"The chief believes it does make sense to look at opportunities to provide as he described a … less expensive attack-type aircraft that can do the close-air support mission, that can do the support mission, that other countries and allies can fly also … cheaper to maintain, and do this in a way that doesn't require the F-22 [tactical fighter] or an F-35 [joint strike fighter] over a permissive environment," he said.
Sen. John McCain, R-Ariz., called for the Air Force to develop and field new counter-air and electronic attack capabilities to maintain U.S. air dominance beyond the 2020sin a defense white paper released Jan. 16.
He also called for the service to embrace a "high/low mix" of fighter aircraft, noting that expensive fifth-generation technology is not needed in every scenario. He recommended the Air Force procure 300 low-cost, light-attack fighters that would require minimal work to develop.
"These aircraft could conduct counterterrorism operations, perform close-air support and other missions in permissive environments, and help to season pilots to mitigate the Air Force's fighter pilot shortfall," the report said.
Goldfein said he thought McCain's recommendation was a "great idea," especially as it pertains to service readiness levels while conducting a sustained air power campaign against violent extremism in the Middle East and elsewhere in the world, while maintaining readiness levels at home.
"If you're looking at sustaining this campaign… if that's all we're doing, I can take all of the forces that I currently put towards the fight — the F-22s, the high-end capability — I can continue to sustain that, as long as I am willing to accept the risk that I have back home," he said. "I don't think that's acceptable risk, given the global challenges we face."
"If getting into a low-end capability, that can actually help me with building and sustaining the coalition, lowers costs and improves capability, I'm all for it," he continued.
Textron's AirLand Scorpion jet is "one of the ones we're going to look at," Goldfein said. Experts have previously mentioned Embraer's A-29 Super Tucano and Beechcraft Defense's AT-6 Wolverine as viable options.
Air Force service acquisition officials noted at the 2016 Air Force Association's Air, Space and Cyber Conference that the OA-X program is not about replacing the aging A-10 Thunderbolt II, but could supplement the Warthog and other existing warplanes. McCain in his report called for sustaining the A-10 fighter fleet for close-air support.
Topics: Air Power