Surge in Military Aircraft Sales Projected Amid Commercial Slump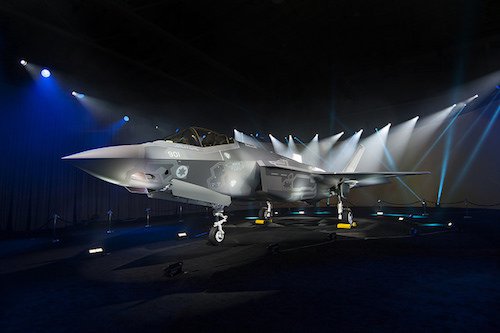 Israel's first F-35 joint strike fighter
Photo: Lockheed Martin
The aerospace industry is facing a bleak commercial aviation market for the first time since 2003. The saving grace for manufacturers will be a surging demand for military aircraft.
The industry's reality can be described as one of "trading places," said Richard Aboulafia, vice president of analysis at the Teal Group Corp. The commercial boom is over, and the industry is going to have to pivot to military aviation to stay afloat, Aboulafia said in an "Aviation State of the Union" speech to the National Aeronautic Association, in Arlington, Virginia.
Global defense spending grew last year for the first time since 2011, and much of the new funding will go to military aircraft, said Aboulafia. The world is becoming more volatile and more uncertain, he said, which will fuel military sales.
For the aerospace sector, defense will be its only growth engine. The bad news for commercial aerospace powerhouses like Boeing and Airbus is that defense is a dramatically smaller market. Worldwide deliveries of commercial aircraft in 2016 were valued at $138 billion, compared to $41.7 billion worth of military aircraft — $17.8 billion in fighters, $6.6 billion in transports and $13.6 billion in rotorcraft.
The Teal Group projects a 0.6 percent drop in sales in the commercial sector in 2017, whereas defense deals should soar by 10.6 percent. Fighters and so-called "special mission" aircraft — militarized commercial airframes — will drive that growth, said Aboulafia.
The changes in the market are the result of geopolitical shifts. "Geopolitical tension, uncertainty are good for military, bad for civil," said Aboulafia. The antitrade mood in the United States that propelled Donald Trump to the presidency also is a major factor. "Trade is more important than ever for civil, and global trade is under the greatest threat since World War II."
A wild card in the defense forecast is whether Trump will deliver on his pledge to build up the military while he is also promising tax cuts, a massive infrastructure program and an expansion of healthcare benefits. "This is as fiscally loose as it gets," said Aboulafia.
Until the budgetary outlook settles in the defense market, companies will face pressure to cut cost and will put pressure on their supply chains, he said. In the absence of new programs, aircraft makers will resort to "vertical squabbling," said Aboulafia. "The great boom is over. We won't see its kind again for some time."
Topics: Global Defense Market, Air Power, Acquisition Programs, Acquisition