Regional Threats Prompt Boost in Baltic Budgets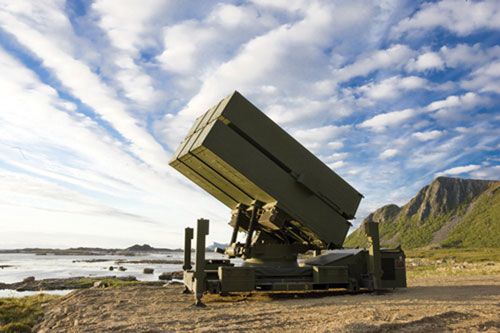 Kongsberg's Norwegian advanced surface-to-air missile system
Photo: Kongsberg
Increased tensions in the Baltic region have Estonia, Latvia and Lithuania boosting their defense budgets to new heights.
Orders for new defense equipment in the region have increased substantially in recent years. Defense equipment spending for the three countries increased from $210 million in 2014 to $390 million in 2016, according to a new analysis from IHS Markit, an information services firm based in London, England. The countries are expected to spend about $670 million a year on new equipment by 2018.
Among recent investments, Lithuania this year signed a technical agreement with Norway to procure new missile systems worth around $106 million, according to the country's defense ministry. The mid-range Norwegian advanced surface-to-air missile system, produced by Kongsberg, is scheduled to be delivered by 2020.
Latvia and Lithuania have had the two fastest growing defense budgets in the world since 2014, according to IHS Jane's. Craig Caffrey, principal analyst at the firm, said that by 2020, the region's defense budget will be $2.1 billion, up from $930 million in 2005.
"Each country will have doubled or tripled their budgets from 10 years ago," he said.
The increase in defense spending can be largely attributed to increased confrontations between Russia and NATO, said Alex Kokcharov, principal analyst at IHS Country Risk. "We have seen political confrontation between Russia and the West in the past two and a half years escalate to military assertiveness and we don't see this ending anytime soon," he said.
Russia and NATO countries have boosted military exercises in the region, and maritime and aviation incidents have become more frequent in the Baltic and Black Seas, he added. "Russia very much views these areas as its immediate frontier."
The United States has recently beefed up its presence in Europe with continuous troop rotations and static equipment storage, as part of the U.S. commitment to increased assurance and deterrence in the region.
NATO countries have pledged to dedicate 2 percent of their GDP to defense spending by 2020 — a requirement that many members do not currently meet. Estonia is currently one of five NATO countries to meet that goal; and by 2018, Latvia and Lithuania should also meet that goal, Caffrey said.
NATO recently announced a plan to invest nearly $3.9 billion in defense technology between now and 2019. The investments focus on boosting the alliance's cyber and air defenses and satellite communications.
Topics: International, Missile Defense, Cybersecurity