Raytheon Wins Next-Gen Landing System Contract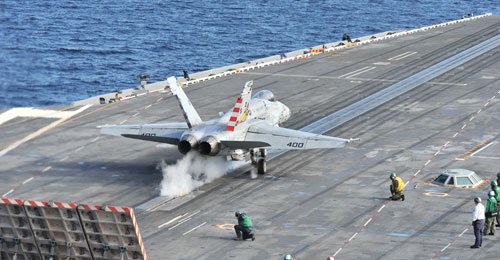 Photo: An F/A-18C Hornet assigned to the Salty Dogs of Strike Aircraft Test Squadron (VX) 23 takes off from the flight deck of the aircraft carrier USS Theodore Roosevelt. VX-23 is conducting tests of the Joint Precision Approach Landing System.
Photo: Navy
The U.S. Navy is working with Raytheon to complete a next-generation precision landing system to provide fighter pilots and drones with safer and more accurate landing in any environment.
The company was recently awarded a $255 million contract to complete its next-generation joint precision approach and landing system (JPALS). The contract includes options, which, if employed, would bring the value to $270 million, according to Raytheon.
JPALS uses GPS satellite navigation to assist aircraft landings on aircraft carriers and amphibious assault ships, even in difficult weather conditions. It also features anti-jamming capabilities.
The award builds upon the first phase of the program, which began about eight years ago, said Bob Delorge, Raytheon's vice president of transportation and support services. For the past 18 months, the company has conducted a series of tests to assist pilots in landing in a space with a 20 centimeters vertical accuracy, he said.
The next phase will include an auto-land capability that would allow the plane to pinpoint a landing space anywhere on the ship's deck, said Mark Maselli, JPALS deputy program manager.
"This is good because it gives them the confidence in night missions and rough weather that they're going to sit that landing down," he said. Currently, JPALS is required to provide landing assistance down to 200 feet above the ship, he said.
The final phase will also integrate the system with the F-35 joint strike fighter — which will be the first aircraft equipped with the technology — and with unmanned aerial vehicles, according to Raytheon.
The program's Milestone B review took place in 2016, and enhanced operating capability is scheduled for early 2018, Maselli said.
The contract options include three additional ship systems — two will support unmanned aerial vehicle testing and one will support F-35 testing, he said.
With early operational capability in 2018, the Navy and Marine Corps will use JPALS on the F-35C carrier variant, the F-35B short takeoff/vertical landing variant and the MQ-25A Stingray unmanned vehicle, according to Raytheon.
The JPALS system could be used internationally, Delorge said, citing the United Kingdom — a partner nation for F-35 development — and NATO as possible options.
Correction: An earlier version of this article misstated the size of the landing space in recent JPALS tests, and the level of operational capability in 2018.
Topics: Acquisition Programs, Sensors, Navy News