Battelle Upgrading Biological Threat Detector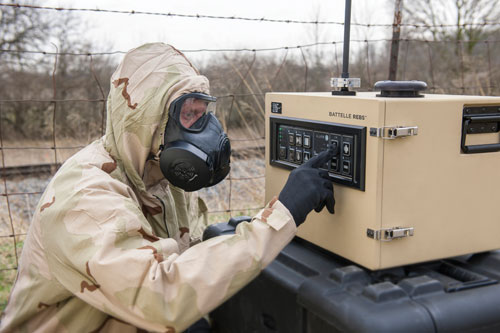 Photo: Battelle
Battelle is upgrading a compact system that can quickly detect and identify chemical and biological warfare agents.
The device — which is called the resource effective bio identification system, or REBS — was released in 2014 and offered customers such as the Departments of Defense and Homeland Security the ability to identify hundreds of pathogens in less than 30 minutes.
Now, the company plans to release an upgraded version that offers more functionality, said Matt Shaw, vice president and general manager of Battelle's chemical, biological, radiological, nuclear and explosives defense business unit.
"We are making some improvements," he said. "We're looking at the future and making it more reliable."
When REBS was first released, it was developed as an aerosol identification system, Shaw said. The new version will include a way to analyze liquids. The company also plans to upgrade a laser on the system to make it more ruggedized.
Chris Gunther, director of business development for CBRNE defense at Battelle, said the company was also working to reduce the system's cost.
"A lot of our focus has just been on providing a product that can be manufactured in a simpler, cheaper fashion," he said. "That doesn't really change its performance but helps either drive its cost down or improves overall lifecycle affordability."
The system can detect a variety of pathogens including anthrax. Its software can also be updated to remotely add new signatures, Shaw said. Once a new pathogen is identified, REBS can be updated within 12 to 24 hours.
"The threats that we are facing are constantly evolving," he said. There are traditional ones, like chlorine gas that have been around for decades, "but there's also these evolving threats on both the chemical and the biological side with the proliferation of technology."
While Battelle is primarily targeting the Defense Department as its main customer, it can also be used commercially, Gunther said. The system could be useful during police investigations into drug manufacturing.
Battelle would like to offer the system to DHS if the agency "ever decided what they were doing about their BioWatch program," Shaw said. The effort to create a "lab in a box" was mired in delays and cost overruns before it was canceled in 2014.
Battelle declined to provide a specific timeframe for when the new version of REBS would be available.