Navy and Industry Say Capacity Is There to Boost Fleet Numbers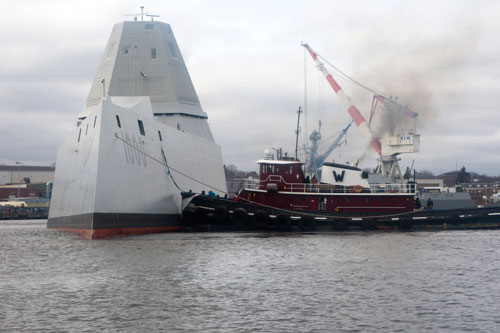 The future guided missile destroyer USS Zumwalt departs the Bath Iron Works shipyard.
Photo: Navy
The U.S Navy's path to expanding its fleet to over 350 ships will not be easy, but it is possible, service leaders said at the annual Surface Navy Association symposium.
Following the Navy's recent release of its future force structure assessment, the speeches at the symposium in Arlington, Virginia, were replete with arguments for why the service must expand from 274 ships to 355, and how it could hope to make that target in the current challenging fiscal environment.
The Navy has performed its duties at the same level of operational tempo since 9/11 with significantly fewer ships, Vice Chief of Naval Operations Adm. William Moran said Jan. 10. That means the ships it deploys are making longer and more frequent trips, promoting wear and tear and raising maintenance costs.
In 2001, the Navy was operating 316 ships, "and we're still operating in the same tempo, with 274 ships," he said.
The Navy has been unable to fully fund its needs for several years due to budget uncertainty, he added. "We're lucky in any given year to have had 90 percent funding."
If the service's budget allocation continues along this trend, the Navy could be deploying at sea fewer than 90 ships within a few years, he warned. "We haven't deployed less than 90 ships in the last 15 years, on a daily basis."
The service leader for PEO submarine said Jan. 12 that the Navy is working to develop a revised 30-year shipbuilding plan since the force structure assessment raised the requirement from 48 nuclear-powered attack submarines to 66.
"So we went from managing a trough where we were below 48 SSNs later in the 2020s, to immediately being in a trough under 66," Rear Adm. Michael Jabaley said.
It is possible to build that quickly, he noted, saying that the Navy delivered up to six Los Angeles-class submarines in one year in the 1980s, while also building the Ohio-class ballistic missile submarine.
"The question is: At what point do you need to start building more facilities, hiring more people?" he said, adding that shipbuilders are already expanding to handle the increased demand signal wrought by the Columbia-class ballistic missile submarine.
"We're just doing that hard work right now to figure out what the recommended posture is, just to get us to 66," he said.
Service leaders argued that rebuilding the fleet is crucial to the service's ability to meet the plethora of threats that it faces today.
"The world has gotten more complex in the years since 2012, and the demand for naval assets has gone up," outgoing Secretary Ray Mabus said Jan. 11. Aggressive tactics from countries including China and Russia and the threat of non-state actors like ISIL contribute to that complexity, he said.
But Mabus added that he is confident that the nation's shipyards can meet the service's demands. Shipbuilders have recently invested in infrastructure and training that have led to hot production lines and multi-year or block-buy contracts, he said. "I don't think we could have seven years ago … [but] we now have the basis … [to] get to that much larger fleet," he said.
That is the case for Ingalls Shipbuilding, said the company's president, Brian Cuccias, at a media briefing at the conference. Today, the shipbuilder — a subsidiary of Huntington Ingalls Industries — has 10 ships under construction across four ship classes at its Pascagoula, Mississippi, yard, and it remains under capacity, he said.
Ingalls is "significantly ahead" of schedule on all contracts, with "costs improving across the board on every platform," Cuccias said. Among the 10 ships under construction are five guided-missile destroyers, the latest San Antonio-class amphibious transport dock ship and two national security cutters for the Coast Guard.
"Ingalls is a very successful production line right now, but it has the ability to actually produce a lot more in the future," he said.
The company's facility is currently only operating at 75 percent capacity, he noted. He could probably produce the ships faster if the funding were available, he said.
Ingalls wasn't always in this position, he acknowledged, but the company has made significant efforts in infrastructure, training and in employee benefits to improve and maintain efficiency.
"Our engine is significant, and our engine is really ready to meet the needs of the Navy and of the country," he said.
Rear Adm. William Gallinis, program manager for PEO ships, said his team is "working closely" with the shipyards to ensure a smooth transition as they boost ship numbers.
"I would tell you, from a shipbuilding perspective, the capacity is there," he said. "But what we need to be mindful of is probably our vendor base that support the shipyards."
Smaller companies that supply power electronics, switchboards or hydraulics could be challenged to deliver at a faster rate, he said.
"Do we need to re-sequence some of the funding to provide some of the facility improvements for some of the vendors that may be challenges? My sense is that the industrial base will size to the demand signal. We just need to be mindful of how we transition to that increased demand signal," he said.
The acquisition workforce may also see an increased amount of stress, Gallinis noted. "It takes a fair amount of experience and training to get a good contracting officer to the point to be [able to] manage contracts or procure contracts."
"But I don't see anything that is insurmountable," he added.
Congressional representatives at the conference told audiences that the hardest part of achieving a 350-ship Navy would be funding.
Rep. Bradley Byrne, R-Ala., said Jan. 12 that Congress has to "break the cycle" of passing continuing resolutions in lieu of a full budget.
"Nothing is worse for the Navy and our entire military than this uncertainty of these continuing resolutions," he said. "I'm worried that we're beginning to accept continuing resolutions as some sort of new normal, and we have got to push back against that as any sort of normal."
"This lack of funding certainly hits the entire shipbuilding industrial base," he added.
Vice Adm. Thomas Rowden, who commands the Naval Surface Forces, said Jan. 10 that the service's 2018 shipbuilding plan would include recommendations to build more ships beyond the 355 already identified.
"For the time being, the ships that we have built — both variants of the littoral combat ship and our guided missile destroyers … provide us opportunity to grow that fleet more rapidly if we choose to do that," he said.
Mabus recommended that the next administration continue to increase the number of ships, as neglecting to do so would mean more costly shipbuilding down the road.
"If you miss a year building a ship, you never get it back," Mabus said. "You won't be able to get anything else because you won't save any money. You may actually pay more for fewer ships."
But as important as new ships are for the Navy's return to full readiness, Moran emphasized that maintenance, not building, should be the current fiscal priority.
"When the transition team came around, and … asked us what we could do with more money right now, the answer was not to buy more ships," he said. "The answer was to make sure that the 274 we have were maintained and modernized enough to provide 274 ships worth of combat. Then we'll start buying more ships."
"That doesn't mean we don't need more ships," he noted. "It's all connected. We need a bigger Navy."
Moran said the Navy knows "precisely how much money we need in our readiness accounts to be able to execute the full magnitude of what our yards can handle for ship maintenance and modernization for '17 and '18," but he would not disclose the number.
"Any money that comes on top of that, we can start looking at how we would contract out for ships [that] yards and contractors are ready to start building this year or next," he said.
Technologies including unmanned ships could help fill the ship gap at a lower cost, Surface Warfare Division Director Rear Adm. Ronald Boxall said Jan. 10. The Defense Advanced Research Projects Agency's Sea Hunter autonomous unmanned surface ship, which was launched last year as part of its anti-submarine warfare continuous trail unmanned vessel program, is being tested and evaluated for mission suitability by the service, he said.
"Somebody talked about, 'well, are you worried about the cost of all these ships and everything?' Yes, we are," he said. "We want to bring the best bang for buck … [The Sea Hunter is] a lot of bang for a lot less buck for something that size."
The unmanned ship could serve functions, such as providing an escort for a destroyer, he added. "Could that ship do a function that we need it to do at a much lower rate? I would say, "Yeah. We're going to go find that out.'"
Rep. Rob Wittman, R-Va., said Jan. 12 that Congress and the House Armed Services Committee needs to use the Navy's force structure assessment for 2016 as a baseline target.
"I think that this year's force structure assessment is … very accurate," he said. "It takes the demand signal from the co-coms [combatant commanders], it looks at that in context of what's happening around the world and what we can realistically do and achieve, and it says the Navy should be at 355 ships."
Wittman said he was "confident" that the goal could be met by working with the Navy and the industrial base.
To get to 355 ships would require a 60 percent increase in ship construction funding, or almost $25 billion over the long term, he said.
"I believe that Congress needs to make a commitment in the shipbuilding budget of at least $5 billion annually," he said. "I believe $5 billion a year is something that we can integrate into the current shipbuilding programs, integrate into the Navy force structure assessment and realistically and efficiently … apply those numbers to grow the fleet to where it needs to be."
Wittman noted that the reason for a 355-ship Navy is "not to go to war, but it's to prevent war."
"It's the greatest ability for us to project force forward, to deter bad behavior, to deter aggression and to make sure the world is a safer place," he said.
Jon Harper and Yasmin Tadjdeh contributed to this story.

Topics: Shipbuilding, Navy News