Mattis Breaks With Trump on Russia Threat, Praises F-35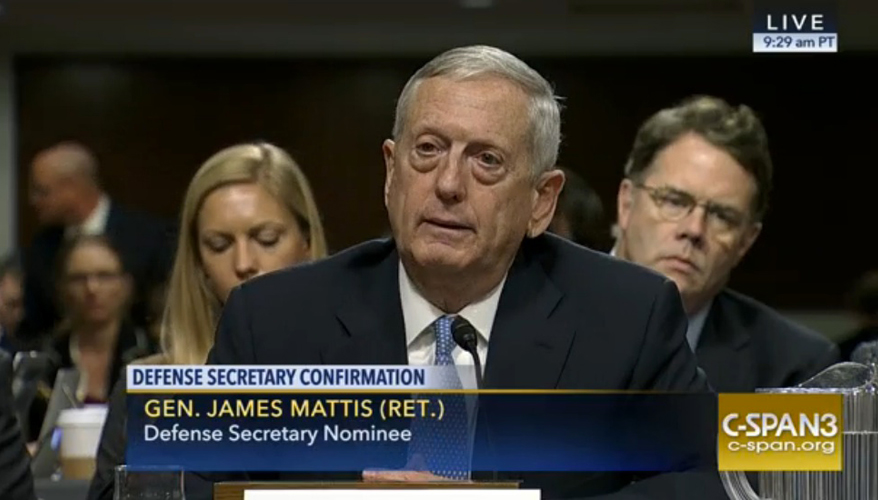 Retired Marine Corps Gen. James Mattis in his Senate confirmation hearing to be secretary of defense on Jan. 12 singled out Russia as a key threat to the United Sates, a departure from President-elect Donald Trump's assessment.
During his nearly three hours of testimony before the Senate Armed Services Committee, Mattis found himself answering statements made by Trump on the campaign trail as well as a series of tweets after the November election that addressed Russia, North Korea, the U.S. intelligence community, and the cost of the F-35 joint strike fighter.
Senators from both parties grilled Mattis on his beliefs about Russia and whether the departed from the president-elect. Chairman John McCain, R-Ariz., included in his prepared remarks a list of Russian aggressions, including the allegation of interference in the past election. Trump, meanwhile, has signaled a détente with Russia, and a desire for better relations.
Mattis, when asked to list the greatest threats facing the nation, named Russia first.
"Russia, to quote the chairman's opening statement, has chosen to be a strategic competitor. They are an adversary in key areas, and while we should always engage and look for areas of cooperation … we also have to recognize reality and what Russia is up to. And there is a decreasing number of areas where we can engage cooperatively and an increasing number of areas where we are going to have to confront Russia," Mattis said.
Sen. Lindsay Graham, R-S.C., wanted to know exactly what Trump meant when he tweeted "not gonna happen" about North Korea's ambitions to launch an intercontinental ballistic missile. Was that a red line? he asked. Mattis said he didn't want to characterize the president-elect's statement, but added: "It's a serious threat and I believe we have to do something about it." Graham asked if force should be an option if North Korea continues with its ambitions. "I don't think we should take anything off the table, sir," Mattis testified.
As for the Iran nuclear deal framework, the joint comprehensive plan of action, which Trump has disparaged and threatened to pull out of, Mattis said the United States should uphold its end of the deal. "It's an imperfect arms control agreement. It's not a friendship treaty. But when American gives her word, we have to live up to it and work with our allies," he said.
Later, under questioning from Graham, he said he personally would not have signed the deal.
Making public Iran's involvement in terrorism through proxies, its ICBM ambitions and threats in the cyber and maritime domains, "all helps to constrain Iran," he said.
As for the ongoing dispute between Trump and the intelligence community, Mattis said had full confidence in the intelligence agencies.
"I can tell you that in my many years of involvement in the military I had a close relationship with the intelligence community. I could evaluate their effectiveness at times on a daily basis and I have a very, very high degree of confidence in our intelligence community," he said.
Mattis on several occasions during his testimony defended the F-35 in light of Trump tweets that called into question the program costs.
Mattis said it was a superior aircraft with stealth and electronics beyond the current generation of fighters. Allies that are purchasing the aircraft are also depending on the program, he noted. Trump only wants to make sure the program getting "the most bang for the buck," he said.
As far as other weapons systems, Mattis confirmed his support for modernizing all three legs of the nuclear triad with the B-21 long range bomber, the Columbia-class nuclear armed submarine and the ground-based strategic deterrent, the next-generation of intercontinental ballistic missile. He however stopped short of endorsing the controversial idea to arm a long-range cruise missiles with nuclear warheads.
"I need to look at one, sir. My going in position would be that it makes sense. But I need to look it in terms of its deterrent capability," Mattis said.
He also took care to note he endorsed a "manned" version of the B-21, implying that he was lukewarm on the idea, or had not decided on an unmanned version of the bomber.
Mattis also said he would support the Pentagon's current efforts to decrease its reliance on fossil fuels. "We will take advantage of every advance in terms of extending our legs, extending our energy efforts," he said.
Mattis on two occasions mentioned the need to boost operations and maintenance accounts in order to refurbish equipment that has been at war.
"We have a reset problem in several of our armed forces coming out of many years of hard use. That reset has not been achieved. We also have a current maintenance problem where ships are at sea longer because the ships that are supposed to relieve them are not prepared," he said.
Topics: Defense Department