Marine Corps Eyeing Additional Amphibious Ships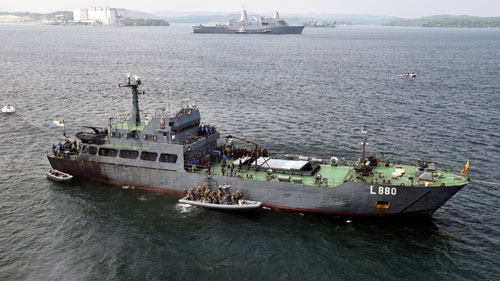 The amphibious transport dock ship USS Somerset
Photo: Marines
The Navy hopes to boost the size of its fleet in the coming years after President-elect Donald Trump takes office. Adding amphibious ships to the force would be the top priority for the Marine Corps if more money is injected into the shipbuilding account, the service's commandant said Jan. 12.
For years, the Marines have complained of a shortage of such vessels. There are currently 32 in the inventory.
"We've got a stated requirement of 38," Gen. Robert Neller said at the Surface Navy Association symposium in Arlington, Virginia. "Those special purpose [Marine air-ground task forces] probably wouldn't have to be land-based if we had more amphibious ships." And commanders such as U.S. Southern Command leader Adm. Kurt Tidd "wouldn't have to come up here with his tin cup in hand" and ask for more assets, he added.
Amphibious ships are expected to bring even more capability to the force in the coming years as they are equipped with F-35B joint strike fighters and MV-22 Osprey troop transport aircraft, he noted.
The Navy and Marine Corps have also been studying adding vertical launch systems to San Antonio-class amphibious transport docks to enable them to carry more potent offensive missiles.
"If that LPD hull form … has VLS, and you've got a big deck amphib with F-35s and MV-22 Ospreys, I can go pretty much everywhere I want to go and do pretty much whatever I want to do," Neller said. "It's going to change the game."
The Navy recently released a new force structure assessment that calls for a 355-ship fleet. During last year's presidential campaign, Trump proposed a ramp-up to 350 ships. Both targets are well above the 308-ship goal that the service had been working toward.
Neller said he would defer to Chief of Naval Operations Adm. John Richardson with regard to precisely how a larger fleet should be composed. But he made his procurement desires known.
"We would … clearly like to see a number of amphibs," he said. "That would be our first priority."
However, any growth in the force needs to be balanced, he argued. Other assets are needed to take on high-end adversaries and carry out amphibious operations, he noted.
"The answer isn't … 100 amphibs," he said. "Amphibs have to be protected … the conditions for them to land have to be shaped. So you need every model/type/series of ship out there."
Topics: Marine Corps News, Shipbuilding, Defense Department