Fanning: Army Must Change How it Works With Private Sector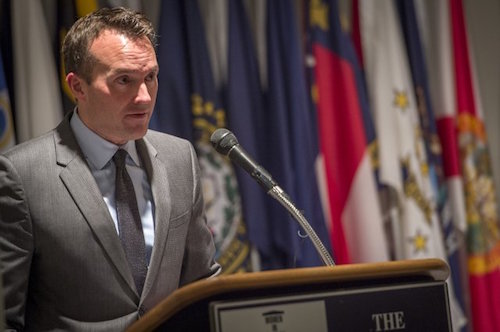 As he prepares to leave office as the Army's top civilian leader, Eric K. Fanning is urging his successor to rethink how the service works with the private sector and acquires technology.
The U.S. military is seeing its technological superiority eroding and needs to find better ways to tap innovation from startups and companies across the board, Fanning will tell a gathering of industry executives Jan. 13 in Washington, D.C., hosted by the National Defense Industrial Association.
Fanning was appointed 22nd Secretary of the Army by President Obama on May 18, 2016. Before that, he served as acting secretary of the Army and in several senior level posts at the Department of the Army. He previously was chief of staff to the secretary of defense and served as the 24th undersecretary of the Air Force.
According to a draft of Fanning's prepared remarks, he will call on the Defense Department to create a more "open and flexible" environment for innovative companies. He notes that while the Defense Department often tells industry that "creative solutions are welcome," for too many companies it feels like they have to "cross a moat to arrive at the front door — and when they get there they find it locked."
Fanning, like other defense officials, blames the procurement system for stalling innovation. "Often the formal requirements that drive our acquisition process become inflexible guidelines. Rather than promoting the innovative capacity of our industrial partners, we constrain them," he wrote in his draft remarks. "It's no secret that some of today's most innovative companies prefer not to work with DoD."
Fanning suggests that there should be a closer partnership between the government and industry as national security challenges become more complex. "By finding new ways to incentivize business to make its own investments in adaptable solutions, DoD will ultimately gain access to even more advanced capabilities, more rapidly, at a reduced cost."
He cites several areas that are "ripe for the private sector to take the lead and provide creative solutions."
• Cyberspace: The costs of industrial cyber espionage range as high as $500 billion annually and 1.2 million jobs a year. "What is arguably more important and more costly is how states like Russia are incorporating cyber tools to sow disinformation and make it more difficult for democratic systems to make decisions," Fanning says in his draft speech. "We're undergoing a real test of that so far and the worst may be yet to come."
• Space: Commercial companies like OneWeb are launching hundreds of small satellites to provide broadband internet service to individual users and to support potential first responders over the next three years. "There should be ways DoD can piggyback on these kinds of investments to push the access of our networks to the tactical edge."
• Autonomous systems: The defense sector is driving many cutting-edge efforts forward but some of the most creative advances come from civilian applications. Right now, most of DoD's autonomous systems do what humans tell them. But many civilian autonomous systems can also interact with humans. "There are opportunities here to develop machines that can learn and make decisions based on analyzing big data."
• Advanced machine learning and artificial intelligence: The leading edge of machine learning is now supported by complex algorithms that enable a computer to learn from prior tasks rather than perform the same task in the same way. Think of Netflix, and the way it will queue up options it thinks you like. "We are working on doing something similar with options and capabilities we provide to our forces on the battlefield. This is one area where the military needs a better way to tap into existing innovation rather than seeking to duplicate it."
• Big data applications: "What we need and don't have is a comprehensive approach for using big data to derive a competitive advantage over capable, near peer adversaries. Today, operational big data military applications lag far behind commercial capabilities."
• Materials science: "We could make the equipment our people need smaller, lighter, and easier to move. And in the long term, it's an area where the military can save enormous amounts of money. Researchers are working to provide batteries that recharge in minutes or less, don't die, are difficult to damage, and orders of magnitude more powerful. This will revolutionize how we store and use power in both civilian applications like cars, phones, and infrastructure, but also for military vehicles, communications systems and facilities."
Topics: Acquisition Programs, Army News, Defense Department