Trump Policies Could Drive Away Foreign Military Sales — Or Not, Experts Say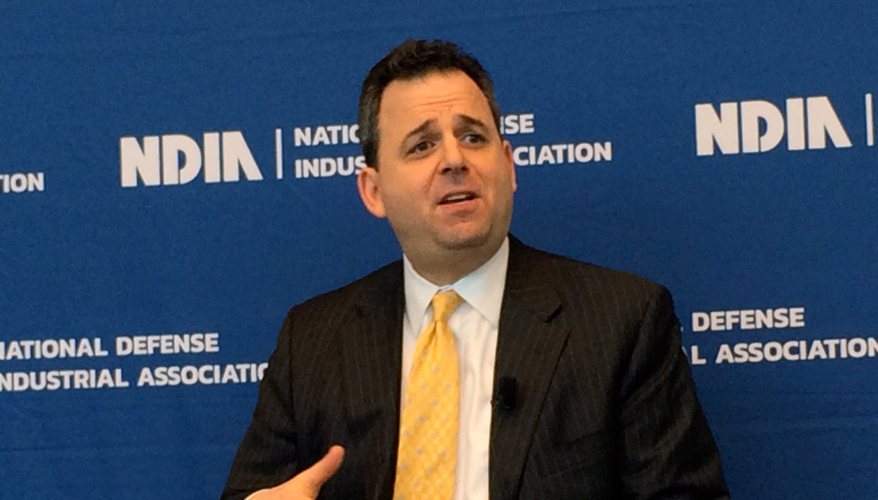 Andrew Shapiro, founder and managing director of Beacon Global Strategies and former assistant secretary of state for political-military affairs
Photo: Stew Magnuson
Foreign military sales under defense security cooperation agreements are robust, coming in at some $36 billion in 2016. Whether that trend continues under the Trump administration is anyone's guess, a panel of experts said Jan. 11.
President-elect Donald Trump during his candidacy focused heavily on the creation of manufacturing jobs. But he also hinted at trade wars, disengagement from alliances and said some foreign partners were not pulling their weight in paying for their own defenses.
These varied positions make predictions on future weapon sales in the coming years extremely difficult, the panelists said in a National Defense Industrial Association discussion "Reforming the Security Cooperation Enterprise," held at the Covington & Burling law office in Washington, D.C., and sponsored by Orbital ATK.
Vice Adm. Joseph Rixey, director of the Defense Security Cooperation Agency, reminded attendees that foreign military sales is a tool of foreign policy. "There are benefits, of course, for our industrial capacity. We recognize that," he said.
"Our primary goal is to assist our foreign partners … in building their military capacity so they can defend themselves," he said.
The office does have a forecast for 2017, the details of which are confidential, he said. He did say sales, according to the document, "would be about the same. That's about the best answer I can give you."
"We are also seeing a trend out there that our products are very popular, so I'm optimistic about the future in terms of sales," he said. However, it remains to be seen what the next administration's attitude will be on defense security cooperation.
"We will determine what it is, they will give that to us, and we will go off and execute it, whatever it is they determine. But that does have an influence on sales. We need to understand what the next administration's desires are."
Peter Lichtenbaum, a partner at Covington & Burling and former assistant secretary of commerce for export administration, said it will take some determined efforts to educate the next administration on how FMS fit into its goals of creating jobs or having allies share more of their defense burdens.
Often times, large purchases of U.S. defense equipment come with offset stipulations, which can require that parts of production, and therefore the jobs, be moved to the purchaser's country. "That might be seen as inconsistent with an administration that is trying to promote American manufacturing," he said.
"It would be easy for a tweet to come out ... that is harmful," he said, referring to the "policy by tweet" communications tactic that Trump has taken since the election.
Andrew Shapiro, founder and managing director of Beacon Global Strategies and former assistant secretary of state for political-military affairs, noted that none of the sub-cabinet positions and assistant secretaries have been designated yet, which makes prognostications hard. But he and the other panelists agreed that Secretary of Defense nominee retired Marine Corps Gen. James Mattis knows defense security cooperation well. Shapiro recalled times during Mattis' tenure at Central Command when he become personally involved in making sure Gulf allies received the U.S.-made materiel they needed.
The Department of State approves the sales, and it's not clear whether the department's nominee, businessman Rex Tillerson has much knowledge of the program, he noted. It remains to be seen whether the next administration will reduce State's funding and approval processes for FMS, Shapiro said.
"The question under a Trump administration is: 'Are our customers still going to be there?'" Foreign policy changes may cause customers to look elsewhere. "That's an open question." On the other hand, Trump's disposition to celebrate job creation may prompt an ally to tout a program as a boon to U.S. manufacturing in order to get in the president's good graces, he added.
Topics: Global Defense Market, Defense Department