Mabus: U.S. Shipyards Can Meet Demand for Larger Navy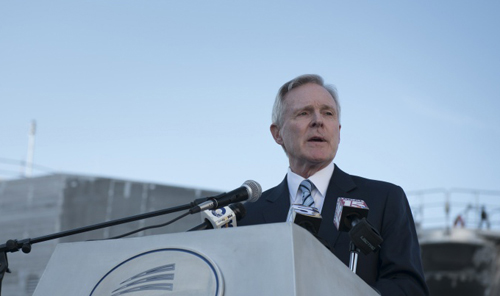 Photo: Navy
In its latest force structure assessment, the Navy said it needs 355 ships to meet its needs, a significant increase over an earlier requirement of just 308. The Navy is confident that U.S. shipbuilders will be able to meet that demand, outgoing Secretary Ray Mabus said Jan. 11.
They have the capacity to "get there because of the ships we are building today," said Mabus during a speech at the Surface Navy Association's annual conference in Arlington, Virginia. "I don't think we could have seven years ago."
Shipbuilders around the United States have "hot" production lines and are manufacturing vessels on multi-year or block buy contracts, he added. The yards have made investments in infrastructure and in the training of their workers.
"We now have the basis ... [to] get to that much larger fleet," he said during what may be one of his last speeches as the Secretary of the Navy.
Since Mabus began his tenure in 2009, the Navy has put 86 ships under contract. The Navy will have 300 ships in its fleet by 2019, and 308 by 2021, he said.
The need for the 355-ship Navy is based on an increased demand signal from combatant commanders around the world, he noted.
"The world has gotten more complex in the years since 2012 and the demand for naval assets has gone up," he said. "The reason for the difference is in 2012 we didn't have a resurgent Russia. In 2012 we didn't have an increasingly aggressive China. In 2012 ISIS or Daesh or whatever you want to call them didn't exist. In 2012 North Korea was not doing the range of things it's doing."
It will be critical for the next administration to continue to increase the Navy's fleet, he said.
"There are consequences to not having enough ships. There are consequences to a shrinking fleet," he said. "If you miss a year building a ship, you never get it back. If you miss a year, that neglect will reverberate for decades."
Cutting ships will not save the government money, he said. The cost of each vessel will go up.
"You won't be able to get anything else because you won't save any money. You may actually pay more for fewer ships," he said.
Meanwhile, Mabus praised his administration's push to develop alternative fuels for Navy and Marine Corps platforms. He said he hopes these efforts will not be pared back by the Trump administration.
"The new normal at sea is alternatives mixed with traditional fuels," he said. "If you do [roll it back] you will make us a less effective fighting force. If you do, you will make us weaker. If you do, you will put sailor's and Marine's lives at risk."
He noted that when the Great Green Fleet deployed last year, the Navy paid $1.99 per gallon for a biofuel blend. Not only is it cost effective, it allows ship to be at sea longer. He noted that vessels are most vulnerable when they are refueling.
"It gives us an edge, it makes us better," he said.
Oil usage over the last seven years in the Navy has decreased by 15 percent. In the Marine Corps, it has decreased by 60 percent, he added.
Topics: Navy News, Maritime Security