INDUSTRY PERSPECTIVE DEFENSE INNOVATION
'Third Offset' Strategy Calls for Fresh Thinking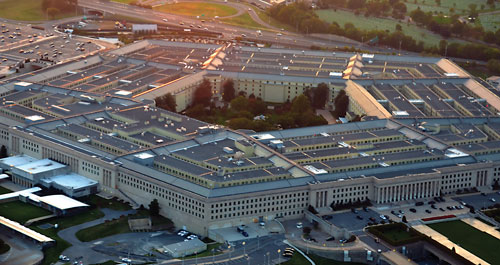 Photo: iStock
Seeking to gain a competitive advantage by changing the conditions of the environment is referred to as an offset strategy. Defense Department leaders in recent years have been discussing a "third offset" strategy.
Offset strategies are intended to overcome technological or quantitative military advantages of our adversaries. During the Cold War, the first offset was realized with a superior nuclear arsenal designed to avoid larger expenditures on conventional weapons. Later in the 1970's, smart weapons, sensors, targeting and control networks were introduced providing technological superiority to mitigate quantitative inferiority in conventional forces, the second offset.
In these times of declining defense budgets, and more importantly, the proliferation of advanced technologies by U.S. adversaries, particularly in the consumer electronics across the global market, the Defense Department is seeking to identify a third offset strategy to regain technological superiority and reverse the cost imbalance created by our adversaries' lower-cost systems.
This next offset strategy cannot rely on investments in exquisite costly systems. Instead, we must identify ways to leverage existing technologies and maximize the operational utility of development efforts.
In light of this drive to find innovative solutions, the Defense Department has pushed a re-invigoration of the innovative spirit of the United States by supporting organizations like the strategic capabilities office and Defense Innovation Unit-Experimental. Across all domains of the industrial complex it is safe to say that the United States is still a leader in innovation and technology development and we benefit from having some of the most creative and inventive people in the world. As such, technology development is not our biggest challenge in meeting our adversaries' military posture; fielding innovative technologies more rapidly and efficiently is the challenge we face today.
The defense community has fully embraced this challenge by investing in various technologies intended to truly change the battlespace, altering the playing field in order to maintain superiority. There is a strong tendency for the defense industry to search for that "special" technology or the "next big thing" to provide this offset.
As the previous two offsets have shown, technology is a necessary ingredient, but is just part of the overall strategy. Rather, technological superiority is an enabler of an investment strategy which maximizes the pace and efficiency of capability improvement putting operational and investment pressure on our adversaries.
The 2016 annual Government Accountability Office report on selected Defense Department acquisitions assesses a multitude of programs with timelines in excess of a decade from program start to initial operating capability. On average it seems the weapons themselves or components and upgrades are on a cycle of eight to 12 years whereas major platforms, such as ships, can be measured in decades. In many of these highly complex systems the rigor and pace necessary to ensure program success is understandable, particularly when large quantities of expensive platforms are involved. However, often times the Defense Department could be better served by looking for opportunities to introduce limited quantities of more targeted advanced capabilities more timely and cost effectively.
When looking at adversary cycle times we see that their agility and focus allows them to be inside of our production loop, often fielding counters to our capabilities as our systems are introduced to the warfighter, creating gaps and forcing reactionary responses. If that equation can be flipped, where the Defense Department can introduce advanced capabilities at a faster pace, it will put our adversaries in a more reactionary mode.
Today's budgetary climate and acquisition process presents challenges to this approach, but there are ways to achieve the recommended effect. There are some select programs demonstrating more rapid acquisition approaches designed to meet critical objectives, but also to identify characteristics that could be the third offset, accelerated capability fielding. Within the framework of the traditional acquisition process there are a few key characteristics that could aid in streamlining and accelerating the fielding of new capabilities.
From the top down there needs to be a cultural shift to accept more risk in order to achieve greater gains in capability. The process in place currently emphasizes low-risk solutions and approaches; however, technically and programmatically there are times where significant gains can be made by taking calculated risk. Our current culture rewards individuals and programs for "not messing up" rather than incentivizing success.
A great example, albeit a bit extreme for acquisition, is the Defense Advanced Research Projects Agency's mentality of "swinging for the fences." Many of DARPA's game-changing breakthroughs occur because of the willingness to accept the risk of failure. Acceptance of a "not perfect" solution must be an acceptable approach. The ability to reassess the requirement based on technical knowledge gained through the engineering process is a critical element to achieving an appropriate solution in an efficient, timely manner. In many instances an 80 percent solution early is more impactful and cost effective than a 100 percent solution late and over budget.
In order to manage risk, program progress should be paced by technical progress with structured reviews that support key decisions. This enables a program to focus on challenging problems and identified risk areas, supporting progress based on technical maturation and risk mitigation rather than strict entry and exit criteria based on standards. These efforts can benefit from active management supported by application and vigorous use of basic management tools and processes. As an example, a fully integrated program schedule and risk management approach allows the team to actively track technical progress, mitigate risks and allocate resources as needed to address potential challenges and opportunities.
"People" is a common thread seen throughout all organizational leadership and effectiveness discussions. Somewhat cliché, but the right people in the right positions can make a significant impact. A high-risk, fast-paced environment is not for everyone and selecting personnel with the correct technical skill sets in conjunction with programmatic and personality characteristics suited to this environment will pay dividends over the course of a program. Subject matter experts with a willingness to take on risk are critical in ensuring program success or even when deciding to "throw in the towel."
Senior leadership needs to be able to rely on their teams to take calculated risks throughout the program. Key decisions need to occur on the timeline of the technology and progress of a program rather than based on the process. In order to achieve rapid decision-making, managers must have access to necessary stakeholders and be empowered by their leadership. The traditional hierarchy seen in many programs has numerous levels of leadership involved in decision-making based on the type and impact of the decision. This structure can create a risk-averse environment, stifling rapid decision making. A direct line from a program office to an executive steering board comprised of those major decision owners can greatly enhance decision timing as well as incentivize other stakeholders to ensure timely action. A streamlined organizational construct and empowered individuals can keep an accelerated program on pace and when staffed by the appropriate expertise can be agile and flexible enough to handle pop-up challenges.
These are a small sample of ideas that can be achieved today to accelerate the insertion of advanced capabilities by leveraging existing technologies and making use of rapid development and fielding processes.
By demonstrating our ability to bring these improvements to bear when we want and where we want will achieve the desired effects of the third offset regardless of the technology. Embracing concepts to accelerate capability improvements and maximize investments in technology will ultimately force our adversaries into a reactionary posture, thus allowing the Defense Department to maintain its technological and economic superiority for years to come.

Arthur (Artie) A. Mabbett is director of advanced technology at Raytheon Integrated Defense Systems. John Kovach is a consultant with 2 Circle Inc. This article does not contain technology or technical data controlled under either the U.S. International Traffic in Arms Regulations or the U.S. Export Administration Regulations. The opinions expressed herein are solely those of the authors and do not represent the business judgments of either Raytheon or 2 Circle Inc.
Topics: Defense Innovation, Emerging Technologies, Government Policy, Research and Development