Can Defense Procurement Be Great Again?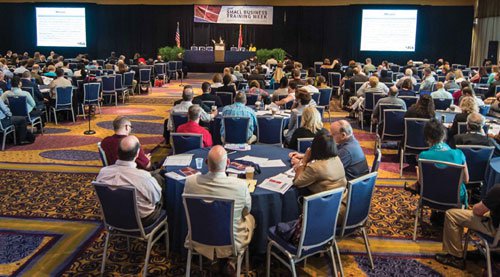 A Defense Department small business summit
Photo: Defense Dept.
As the CEO of a small defense contractor, I see hope for a brighter future. We are excited not just at the prospect of a permanent end to sequestration and a return to more funding for defense but also at the prospect that the broader issues of the electorate discontent manifested in Trump's win will be felt and heeded by our government.
We believe that government exists to serve citizens. In government contracting, for instance, bureaucracy and bureaucrats have become accustomed to ruling over their fellow Americans. The recent past has been characterized by process gone amuck.
As small business leaders, we feel victimized by a lack of redress to issues such as an acquisition system that takes forever, relies on arcane rules, involves lawyers at every opportunity and requires top-tier lobbyists to obscure accountability.
Following are some new rules that America's small businesses would like to see in defense procurements:
Write requirements in plain English. Use modern commercial technology to take the "black art" out of the process. Instead of forcing contractors to employ expensive legal firms, use modern software like "Legal Zoom" to provide readily available contract language to small firms. Set a reasonable time limit for government proposals. Establish timelines for steps in processes and live by them by enforcing penalties on the government for non-performance. Cash flow is an issue for small firms that cannot risk months or years of bureaucratic processing to gain decisions.
End the DoD war on intellectual property rights. Firms that are inventive deserve the right to profit from their success. The federal government's current approach to intellectual property would not be accepted in the music and publishing industries. In those sectors the sanctity of intellectual property is respected and serves as the engine that drives re-use of the most clever ideas.
Enforce transparency in decision-making. Under the guise of "protecting the process," government is able to make decisions with minimal accountability, particularly with small contract awards that are so often the bread and butter for smaller firms.
Make civil servants and military officers accountable. While a heroic few work extremely hard and are deeply devoted to their professional responsibilities, too many are not. When you contact world-class commercial organizations with a problem, you expect to speak to a human being who understands that we expect accountability. Emails are responded to promptly. Satisfying the customer is key. The commercial world believes that relations with partners and customers are long term and mutually beneficial, not adversarial. Emails receive responses and communication is evaluated for results. None of this is true with the government, where the contractor is often viewed with disregard and occasionally with contempt.
Adopt modern commercial principles of innovation. It is the foundation of much that is going well in America. We started the country with innovators in charge. Early founders such as Benjamin Franklin and Thomas Jefferson popularized the view that the creative, questioning human spirit is the spark of greatness. Our foundations of government reflect this view. Unfortunately the reality of the DoD bureaucracy hinders innovation.
Initiatives by Secretary Ash Carter to "bolt on" innovation to DoD are of limited relevance. Innovation principles are by now well established in industry and can be applied to DoD, but only if senior leaders are committed to the task. Innovation needs to be undertaken in partnership with all contractors, including the small and midsize businesses that bend metal and make hardware.
Coach DoD leaders that lawyers provide "legal opinion" and not "the law." Uniformed and civilian leaders hide behind their lawyers who dominate government decision-making with the power to delay, obfuscate and just say no. The responsibility of leadership is to act and to take responsibility for decisions. We all know that the opposite is true as too often inaction becomes the goal. While we all recognize that issues of senior leader misconduct are serious, we need better procedures to ensure swift and fair resolution of allegations to make the business of DoD work better.
Make American jobs count. Many small businesses that are defense contractors are struggling to survive. DoD's focus on the industrial base centers all too often on the top 100 firms and not the small manufacturers that possess unique qualities of innovation, agility and enormous capability. Let's establish a framework — if the president-elect gets involved to save 1,000 jobs, then when should a secretary of defense or general get involved? It will take that kind of focus to cause DoD to change its indifferent operating focus.
So where is the future of the U.S. government headed for small businesses? It must move in a new direction. We feel sure of that. As contractors, we must embrace a goal of creating a new DoD culture, peopled with agile, committed leaders and followers who understand partnership, embrace service and respect as core ethics and are prepared to multiply the value of the $600 billion our nation invests annually in this most noble cause.
Stephen M Speakes, a retired U.S. Army lieutenant general, is president and CEO of Kalmar Rough Terrain Center LLC, in Cibolo, Texas.
Topics: Contracting, Defense Contracting, Industrial Base, Small Business