ROBOTICS AND AUTONOMOUS SYSTEMS
Secretive Pentagon Office Developing Next-Generation Swarming Drones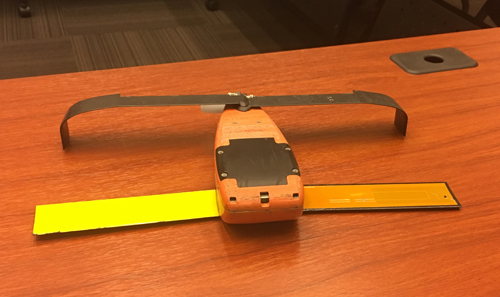 A Perdix micro-drone rests on a table at the Defense Advanced Research Projects Agency headquarters in Arlington, Virginia.
Photo: Jon Harper
A secretive Pentagon office is aggressively developing a swarming micro-drone technology that could soon be transitioned to the Air Force, the office's director said Sept. 8.

The program, known as Perdix, would enable the U.S. military to launch Coke bottle-sized unmanned aerial vehicles out of fighter aircraft to conduct swarm missions.

"When the pilot hits the dispense flare button, flares don't come out — the UAVs do," explained William Roper, head of the Defense Department's strategic capabilities office.

The propeller-driven drones, equipped with foldable wings, are contained inside a canister equipped with a parachute so that they can survive the launch and initial descent.

"They have to wake up and boot as they fall, and then they have to find each other and then they go fly whatever mission that we've programmed them for," Roper told reporters during a media roundtable at the Defense Advanced Research Projects Agency headquarters in Arlington, Virginia, where his office is located.

Once deployed, they are expected to act in concert.

"Let's say if we're telling these guys to go out and survey a field, then as a group they know that mission and what they will do is then allocate and optimize the best way to do it," Roper said.

The personnel overseeing the mission would only need to communicate with the group as a whole, not each individual UAV. "That simplifies what operators have to do," Roper said.

Perdix is a low-cost surveillance asset built using 3D-printed parts, he noted. Keeping the equipment inexpensive is key because the UAVs are not currently designed to be recoverable after they complete their mission.

"They don't come back, so we have to keep them relatively low cost or else it's not a great idea," Roper said. He did not disclose their current price tag.

Keeping the cost down also offers operational advantages, he noted. "Price is a very important warfighting metric," he said. "When you're price point is low … then you can have a lot of them." Saturation tactics are appealing because such systems typically have an advantage over their targets, he added.

More than 500 Perdix test flights have been conducted, and Roper's office is already developing the seventh-generation version of the technology. During one exercise, 20 Perdix drones were launched out of a single F-16.

The strategic capabilities office, also known as the SCO, is moving quickly to advance the technology. "We build 40 or 50 of one lot and by the time we've tested them we already have the next design that we're building," Roper said.

He declined to go into greater detail about the system's capabilities, including the sensors, citing a desire to maintain secrecy. "We've designed it for speed and we've designed it for all weather conditions but the numbers for the speed and the endurance are numbers that we protect," he said.

The office hopes to mature the technology enough to be able to transition the program to the Air Force by the end of fiscal year 2017. But more work needs to be done to demonstrate its readiness.

"This is a risky thing," Roper noted. "There is nothing like this right now in inventory — a tactical aircraft that can dispense a little expendable, fly-low surveillance asset. So there are a lot of things that, if we don't prove them to the Air Force, they shouldn't take transition of the program."

Perdix is a government-designed aircraft built with commercial parts. Roper sees an advantage in using this model for such cutting-edge systems, noting major advances in microelectronics in the commercial sector.

"It would be awesome if the Air Force was able to just buy these [in] small bunches while continually upgrading them with commercial tech," he said. "An important thing for us is recognizing when a technology base or a component base is going to self-improve for commercial reasons, and then … ride the wave."

The office is conducting an assessment to determine whether the Air Force could rely on non-traditional industry partners to build Perdix drones using a design that has already been developed.

"If they can, then they have a very wide industrial base… that they can go use," Roper said.
Topics: Robotics and Autonomous Systems, Robotics