Stealth Bikes May Fill Troops' Need for Lighter, Faster Transportation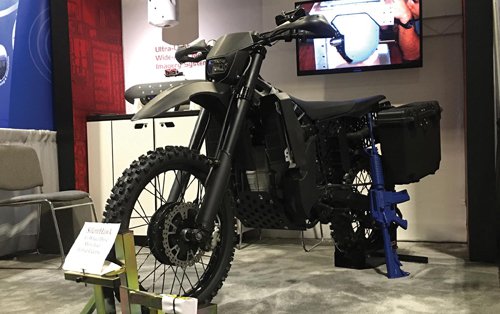 Logos Technologies' Silent Hawk hybrid off-road motorcycle.
Photo: Logos Technologies
A couple of never-before seen militarized motorcycles grabbed headlines at this year's Special Operations Command's trade show in Tampa, Florida.
The hybrid-electric, off-road bikes appear to be more than curiosities, however. Because of their stealth-like features and flexible fueling options, there is a chance that they could one day be part of the military inventory.

Hybrid-electric motorcycles — that can be powered by either heavy fuels like diesel and jet fuel or by a lithium ion battery — offer a longer range and a quieter ride than other motorized vehicles, said Christopher Orlowski, a program manager at the Defense Advanced Research Projects Agency, who is leading the motorcycle research.

"Raids can require infiltration into an area, and if you can do it more quietly, then that can add benefits into the operation," he said.

The two prototypes — Logos Technologies' SilentHawk and LSA Autonomy's NightMare — were unveiled at the 2016 Special Operations Forces Industry Conference. They can each run for at least 120 miles on combined electric and heavy fuel sources, reach a top speed of 80 miles per hour and maneuver in and out of areas at about the noise level of a normal conversation. They can also charge portable electronics, saving precious space in soldiers' rucksacks, Orlowski said.

The program was funded in 2014 through small business innovation research grants, which provide funds to smaller companies to demonstrate the feasibility of a product or technology.

For the hybrid off-road motorcycles the objective was "to demonstrate a lightweight two-wheel drive hybrid-electric off-road motorcycle […] powered by heavy fuels, capable of short periods [of] electric-only propulsion, and usable as a portable electric power source for soldiers in the field," according to documents.

The stealth motorcycle effort is "not a traditional DARPA program," Orlowski said in an interview, "but it was in line with our mission to create disruptive programs for national security."

Hybrid-electric propulsion in a ground vehicle could be a benefit to special operators, although a motorcycle may not be the ideal vehicle, said James Hasik, a military vehicle expert and senior fellow at the Atlantic Council's Brent Scowcroft Center on International Security.

"In the late 1930s, everyone had a motorcycle unit, which was the reconnaissance team, similar to a cavalry on horseback," he said. But the same issues that rendered horseback cavalry obsolete — namely, that the riders were exposed to machine-gun fire and roadside bombs — also made a motorcycle infantry "not particularly survivable" in the modern era, Hasik said.

"The technology has perhaps a broader application because the forces don't have a whole lot of need for dispatch riders" in the age of radio communications, he said. "But if you're on the other side of a really nasty electronic warfare campaign, a dispatch rider on a motorcycle may make more sense," he said.
Hybrid motorcycles have been difficult to develop until recently, said Jean-Marc Henriette, co-founder and chief hardware engineer for LSA Autonomy, the Westminster, Maryland, robotics and autonomous platform company behind the NightMare.

"You're trying to create a lot of power on a compact frame so that it won't be too sluggish or too slow, and it needs to be able to support a rider," he said.

LSA Autonomy decided that the only way it could make that amount of power work on a small frame was by building a motorcycle chassis from scratch around its hybrid engine.

The NightMare is intended to be a workhorse vehicle, he said. "It has agility, it can go fast and it has some meat to it. And we've taken extra measures like using a belt instead of a chain to limit those engine noises," he said.

Logos, a diversified science and technology company based in Fairfax, Virginia, opted to work with Alta Motors, an electric motorcycle company based out of San Francisco, and placed its own hybrid engine into Alta's Redshift MX electric dirt bike.

"It has the capability of running as long as you need to, as long as you can find fuel," said Alex Dzwill, lead Logos engineer for the SilentHawk program. That fuel can be conventional fuel, diesel fuel, jet fuel, propane or even biofuel if need be, he said.

Although the motorcycles don't meet the full criteria of stealth technology — there is nothing they can do to reduce radar or infrared signatures, for example — Hasik said that the term could apply because "stealthiness is a matter of observability, and in this case we're trying to limit the noise signature," he said.

Orlowski considers them to be stealthy "in the sense that you don't have engine noise," he said. The noise level is dependent upon the type of terrain the rider is traveling, but the goal of the program was to keep the noise level to less than 55 decibels in the "quiet" electric mode, he said.

"But we didn't tie that number to any type of operational or military utility analysis," he said.
Fifty-five decibels is about the level of a normal conversation, Dzwill said. The SilentHawk can run in quiet mode for up to two hours on a single charge. Once the electric battery has been depleted, the multi-fuel generator can be turned on to travel a combined distance of 170 miles with the generator and battery, he said. "With the generator on, you're looking at the sound level of a vacuum cleaner, about 75 decibels," he said. The noise level for a typical motorcycle varies between 80 and 100 decibels, according to a study of motorcycle noise levels by Purdue University's department of chemistry.

The SilentHawk and NightMare also each feature a dual-wheel drive system, as opposed to conventional motorcycles that only feature rear-wheel drive.

"For the extreme off-road situations like this motorcycle is likely to see, if you only have rear-wheel drive it's not going to cut it," Dzwill said. "By combining front-wheel and rear-wheel drive, you can get anywhere on the planet with the right driver." The fact that they can each charge portable electronics while in use or while stationary means that special operators may not have to carry as many batteries or chargers with them on missions, he added.

Commandos have already used electric — although not hybrid — motorcycles while on missions. Zero Motorcycles' military MMX model was developed in coordination with the Navy in 2012. "We've been evolving that model and making it better every year," said Zero Motorcycles chief technology officer Abe Askenazi.

The Navy was interested in the low auditory and heat signatures that the MMX model provided, and its unique rapid charging capabilities, Askenazi said. Zero's patented battery system allows a rider to easily swipe a depleted battery out for a fully charged one in less than a minute, and then recharge the first battery on the vehicle, he said.

Zero, a Scotts Valley, California-based motorcycle company, started developing electric motorcycle technology in 2007, a year after the company was established, Askenazi said.

"We had done a lot of off-road and racing motorcycles, and for those, you want to get into the racing pit and [be able to] swipe a battery out and continue," he said. "It just so happened very coincidentally that the Navy and special operations forces approached us then." They sold eight MMX units and 32 batteries — four batteries per vehicle — to the Navy in 2013, he said.

It has also been sold to U.S. allies around the world and to several California police agencies, including the Los Angeles Police Department's off-road enforcement unit and 84 other law enforcement agencies, Askenazi said.

"There's a vast stretch of land that's undeveloped that they [the LAPD] need to patrol, and they were looking for a silent vehicle that could be used for enforcement patrolling," he said. "They don't make a racket while they're policing beach paths, city streets or college campuses, so they're not a nuisance."

The viability of electric motorcycles has been limited by their battery range, although Askenazi noted that the technology is becoming more efficient and powerful. It's easy to forget that electric cars like the Tesla or the Nissan Leaf have only been developed over the past 10 years, he added. "The energy density just wasn't there. But every year, it improves," he said.

In the meantime, the SilentHawk and NightMares' fuel tanks can serve as a gapfiller as electric battery technology progresses. Once the SilentHawk's electric battery is dead, or close to dead, the system will switch to the multi-fuel engine to allow the battery time to recharge, Dzwill said. The NightMare's system works in a similar manner, Henriette said.

As the SilentHawk and the NightMare have each completed the second phase of the development process and the companies plan to finish testing their prototypes by the end of 2016, DARPA will keep the services informed of their progress, Orlowski said.

SOCOM spokesman Navy Lt. Cmdr. Matt Allen confirmed that electric motorcycles have been purchased by some of the special operations components in the past "for increased ground mobility capabilities when the mission required them," he said.

It's not a given that the technology will find a customer at SOCOM, he suggested.

"While this technology is not something we are specifically seeking at this time, we are always interested in the advancement of technology to enhance or increase mobility for the SOF operator," he said.

The services could also find another use for the motorcycles that DARPA had not previously considered, Orlowski said.

"Anytime you put equipment into a soldier's hand, they think of new and novel ways to use it," he said.

As LSA moves out of the development phase, the NightMare's power generation feature alone could foster customer interest, even if the full prototype does not, Henriette said. "Although we would love to continue to work on the motorcycle," he said.

The broader lesson that Hasik sees here is that "the idea of a hybrid or electric motorcycle for the services has been taking root," he said. "I was hoping 10 years back it would take root, because diesel engines are loud, and that's a signature on the battlefield."

Topics: Procurement, Special Operations-Low Intensity Conflict, Land Forces