COMMENTARY DEFENSE DEPARTMENT
Defense Innovation Initiatives Out of Sync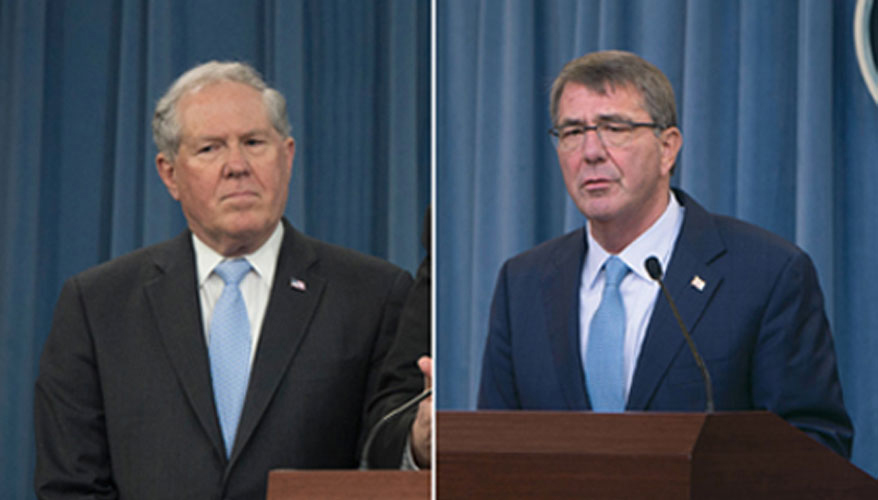 Frank Kendall, Ashton Carter
Photos: Defense Dept.
In the first of four trips to Silicon Valley over the last year to advance his innovation agenda, Defense Secretary Ashton Carter assured his Stanford audience that DoD is a strong proponent of protecting intellectual property rights. However, this statement does not reflect actual policy on intellectual property, a reality widely understood, and the disconnect suggests this innovation outreach is likely in vain.
Defense acquisition policy is defined in statute, in regulation, in published guidelines, in training and in defense media — and most if not all of it is public. DoD's competition guidelines include a large section on intellectual property strategy which instructs government contracting officers to establish an IP strategy for the "full spectrum of IP and related issues," which it deems as a "critical mechanism to remove barriers to competition." In the month following Carter's first visit to Silicon Valley, then-chief acquisition officer for the Air Force Bill LaPlante wrote: "We cannot achieve our goals of developing, procuring and fielding adaptable and agile capabilities without our government program offices 'owning the technical baseline.'"
At the Reagan National Defense Forum, defense procurement chief Frank Kendall expressed the view that "industry uses IP as a weapon to gain competitive advantage."
Carter recognized in that first Silicon Valley speech that "IP is often the most important and valuable asset a company holds." Company valuation by investment bankers, stock market analysts and venture capitalists is in large part based on the company's intellectual property portfolio, and its ability to monetize it through new products and financial returns. DoD's own guidebook on intellectual property, written in 2001 understood that "a company's interest in protecting its IP from uncompensated exploitation is as important as a farmer's interest in protecting his or her seed corn."
The 2012 National Defense Authorization Act awarded the government new rights to data generated or used in performance of a contract and data required for segregation and reintegration of items into major programs — even for commercial items — plus other new rights. These new rights already in statute have been dormant since then subject to rulemaking which was finally introduced June 16. The prospect of these powerful new government rights going into effect has been unsettling in the defense industrial base and a warning to the non-traditional defense industrial base. However, the House version of the 2017 NDAA would walk back much of the potential threat of the 2012 statute, obviating the new proposed rule if it survives the legislative process. In the meantime, the "813 government industry advisory panel" created by the 2016 NDAA, is reviewing all DoD policy on intellectual property and data rights for potential legislative action.
The government reasons that control of intellectual property provides the ability to "level" the playing field and enable competition by removing the competitive advantage of the innovator. A closely related objective is government strategy to avoid sole-source suppliers or "vendor lock." Both of these strategies require the intellectual property of the innovator to be distributed to third parties in order to create competition and alternate sources of procurement. The logic of such policy, considering these two issues, is understandable given a process confined to contracting alone. But it is a strategy that fails to understand the chilling effect such policies have on potential innovators considering a business case on where to invest and on whose problems to solve. The Defense Business Board captured the disconnect between objective and policy by concluding that "current IP rules crush industry upside potential" and that DoD process "destroys competitive advantage that should result from investment in innovation."
Other risks potential innovators must allow for in their decision making are government strategies to reverse engineer parts, components and software, and partnerships with the government that can result in their technology being classified under the International Traffic in Arms Regulation. The Air Force has promoted reverse engineering and 3D strategies at multiple "innovation centers" and touted emerging abilities to 3D print engine parts and electronics. Last year, DoD quietly implemented a rule that would by default classify any electronics developed with DoD funding as defense articles, regardless of intended application, whether military, commercial, or dual use, a problem that would severely compromise commercial potential.
Clearly, DoD must ensure it has the needed data rights to operate and perform routine servicing of equipment it buys, and it must have access to sources of more extensive repair. But this is no different from commercial buyers of any technology product such as vehicles and commercial aircraft, yet these buyers do not demand design and manufacturing specs, duplicate analytical design and manufacturing departments, or provide such specs to third parties to compete against the OEM who sold them the equipment. Nor do commercial buyers subject suppliers to 180,000 pages of defense acquisition regulations.
Certainly, some aspects of military acquisition and operation are unique, but it is not clear that such differences represent a need for the kind of legislated overreach that current IP policy represents. But what is clear is that current IP policy is increasingly isolating DoD from the raging innovation happening outside of defense. Competition guidelines warn that demanding excessive data rights "may have significant negative consequences" and Kendall speaking at Brookings last year said, "technology poses a particular challenge, because the DoD's structure does not make it attractive to many American technology companies."
Ultimately, the adequacy of DoD's intellectual policy should be judged on its effectiveness in achieving its purpose. The United States, long badly outnumbered by potential peer combatants, has instead relied on overwhelming technical dominance. The United States never wants to send its soldiers into a fair fight. But Cold War dominance is rapidly eroding and DoD has engaged a broad new strategy to counter that loss.
The current strategy assumes access to innovation is a matter of outreach or education or proximity, but it is unaccompanied by real change in policy or culture. So while the Defense Department seeks to achieve "dominant capabilities through technical excellence and innovation," the prospect for greater access to cutting-edge innovators and resurgent technical dominance seems remote.
Former defense industrial policy director Brett Lambert observed, "when it comes to acquisition, the department continues to assume it is the dog, not the tail of a market. Increasingly that is the wrong assumption." If defense technological leadership is the goal, then DoD must rebalance its policy on intellectual property and be a better customer as well as a better buyer.
Outreach to the private sector is a positive step. Compliments to Carter, Kendall and other leaders for the energy and resources they have applied to this effort. However, a more comprehensive solution is needed to regain the technical dominance our defense is based on. DoD must become a desirable customer. The military has no access to cutting-edge innovation outside the willing supplier pool. In addition to revising IP policy, it must also reform rules on the purchase of commercial items, and rethink laborious, expensive bureaucracy.
Above all, there must be a transformation not just in the acquisition community, but also in the American public — a transformation that recognizes that the Defense Department cannot succeed alone, that many weapons and services essential to deterrence and warfighting are provided by private industry, and that industry partners are patriots as well as businessmen.
The newly established Government-Industry Panel was created by Congress to review data rights statutes and regulations to ensure that they are "best structured to serve the interests of the taxpayers and the national defense." As it meets to consider changes to IP policy, it should heed the advice of DoD's guidance on IP "Intellectual Property: Navigating Through Commercial Waters."
As the government participates more and more in the commercial community and tries to act more like a commercial entity in its dealings with the civilian marketplace, the government will have to assume a more commercial mindset when acquiring IP rights.
When the panel is done, its recommendations should mean fewer pages of acquisition regulations, not more. Contracting officers should have more discretion accordingly, enabled by the increased attention to acquisition tradecraft and professionalism, key principles in DoD's Better Buying Power, and through Carter's DoD/industry exchange program. Panel recommendations should include making acquisition of commercial items for defense resemble commercial transactions in the private sector. IP should be retained by the innovator for all inventions and technology he funds except that required for operations and field repair. Mixed funding should be addressed by negotiation. Modular open systems architecture is a good idea, but it too should be used as a management tool, and not legislated.
In the more flexible acquisition environment described here, given that DoD often uses its equipment and services longer than typical of commercial users, it is fair to ask what provisions should be made for cases when the OEM moves on or becomes insolvent. This situation is rare for military equipment, more common for commercial equipment or software, which are typically under continuous improvement, and developers at some point end support of older versions. DoD's first instinct should be to upgrade selectively to remain current and take advantage of new capabilities. If that is not possible, then some negotiation with the OEM for the needed IP must be made. In unusual circumstances, the IP would be compelled from the OEM but this should be intentionally difficult to do.
John Luddy, of the Aerospace Industries Association, is concerned about the creation of "fast lanes" for non-traditional contractors while traditional companies remain bogged down complying with the burden of the full acquisition process. He asks: "If the goal is streamlining, competition and speed, why not eliminate burdensome regulations for all contractors?" While DoD courts non-traditional contractors in a quest for innovation and relieves them of much of the bureaucracy of defense acquisition — at least temporarily — one might speculate that given similar relief for traditional contractors, the Pentagon might discover that the most innovative minds and companies already work for it.
Acquisition reform has been going on for decades. Progress has been elusive.
Thomas Paine in "Common Sense" said it is true that "nothing but heaven is impregnable to vice," but it is equally true we cannot "paperwork away all risk" as Rep. Mac Thornberry, R-Texas, observed. To address the many and troubling threats today, the creative power of this country's entire private sector should be put to work. For this, government must be more than a better buyer, it must be a better customer as well.

Scott Chandler is a former Marine Corps officer and worked in the commercial and military aerospace industry for 35 years.

Topics: Procurement, Acquisition Reform, Science and Engineering Technology