Cost Makes Army Chief Wary of Adding Soldiers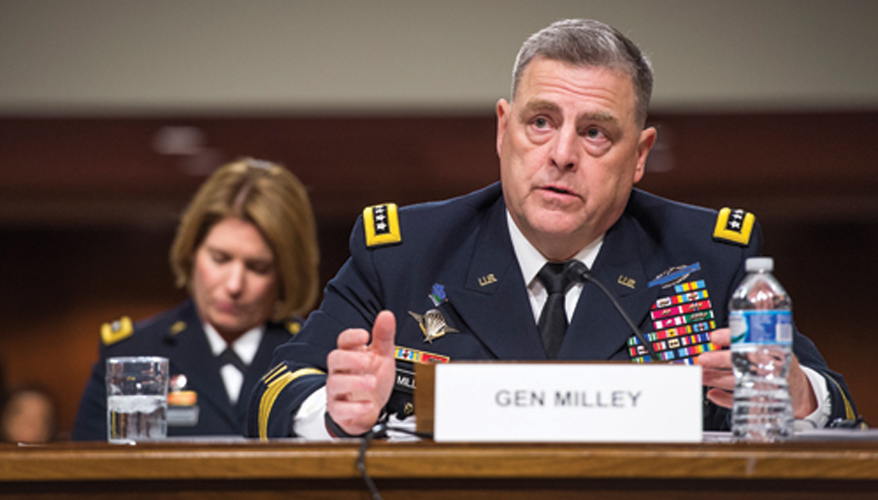 Army Chief of Staff Gen. Mark Milley
Photo: Defense Dept.
Army leaders are voicing concerns about the dwindling number of soldiers in the force. But the service's top officer and other U.S. officials are worried about congressional efforts to beef up the number of troops.
The fiscal year 2017 House defense appropriations bill calls for more than 20,000 service members above the level requested by the Pentagon, most of which would be added to the active duty Army, Guard and Reserve. Lawmakers have said more troops are needed to handle potential contingencies and meet existing requirements.

The additional end strength provided in the House bill would cost about $30 billion above the currently programmed levels once military pay and allowances, operation and maintenance support, and Defense Health Program requirements are factored in, according to the Pentagon comptroller's office.

During a recent conference, Army Chief of Staff Gen. Mark Milley said he would like to have a bigger force but he's concerned that it wouldn't be fully funded.

"I would welcome more troops," he said. "That would be a good thing if and only if there was sufficient money to maintain those troops' readiness."

Increasing the number of soldiers without providing additional money to keep them well-trained and equipped "would actually have the opposite of the desired effect," Milley said. "It would actually decrease readiness and it would begin to hollow out the force. And that is not a direction we want to go."

The Army has been shrinking due to budget constraints and the withdrawal of most ground forces from Iraq and Afghanistan. Just a few years ago, during the height of counterinsurgency fighting, the active duty Army had 570,000 soldiers. It has since declined to about 475,000 and is on a path to be reduced even further. The House legislation would reverse that trend.

The White House objected to lawmakers' efforts to boost end-strength beyond what was requested, arguing that it would divert money from other priorities.

"The bill would force the department to take additional risk in the training and readiness of the current force, as well as investment in and procurement of future capabilities," the Office of Management and Budget said in a statement.

The Obama administration has threatened to veto any legislation that included such a provision.

The Senate defense appropriations bill does not call for the larger force proposed by the House. The differences in the respective legislation are slated to be ironed out during conference in the coming months.
Topics: Defense Department, DOD Budget, DOD Leadership