Pentagon Chief Sees Role for U.S. Contractors in Rebuilding Iraq, Syria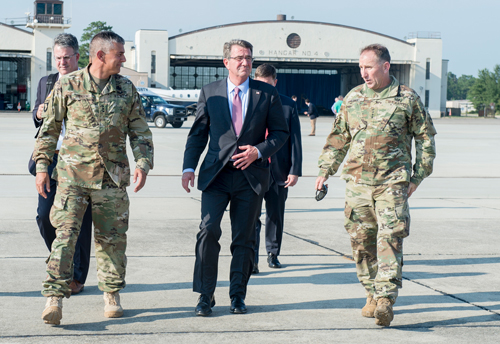 Secretary of Defense Ashton Carter meets with Army officials upon arrival July 26 at Fort Bragg.
FORT BRAGG, North Carolina – Contractors could play a major role in efforts to stabilize and rebuild cities in Iraq and Syria after they are recaptured from the Islamic State, Secretary of Defense Ashton Carter told reporters July 27 during a visit to meet with troops set to deploy to the Middle East.
The State Department, USAID and their coalition counterparts will be working with Iraqis and Syrians to provide humanitarian aid, support near-term stabilization and promote longer-term recovery, he noted during a speech to troops from the Army's XVIII Airborne Corps, some of whom will help lead the U.S. component of the counter-ISIL campaign.
There will "absolutely" be a significant role for U.S. contractors once Islamic State strongholds like the Iraqi city of Mosul fall, he said in response to a question from a reporter.
"I do think that much of the reconstruction effort will be done by civil authorities, not the Department of Defense," he said. "That's going to be a big job."
A large share of humanitarian, stabilization and reconstruction work is done through contractors, including American ones, he noted.
U.S. contractors "have a lot of experience, by the way, after 15 years of heavy involvement in Iraq, Afghanistan and the region," he said.
Last week about $2 billion was pledged by coalition members to help stabilize and rebuild areas retaken from the Islamic State, he noted.
"That's not a principally American job [but] we will play a role in it," he said. "Pledges will mostly be executed through civilian agencies and frequently they'll use contractors to do that, so absolutely" there will be opportunities for U.S. contractors.
During his remarks to troops, Carter expressed confidence that the coalition would succeed in retaking strategic locations such as Mosul and Raqqa, Syria. But he expressed concerns about what comes next.
"Even when we win this fight – and let there be no doubt that we will – there'll still be much more to be done," he said. "There will be towns to rebuild, services to reestablish and communities to restore. Every member of the global coalition to defeat ISIL should be contributing to help the Iraqi and Syrian people stabilize, rebuild and recover from the scourge and the brutalization that is ISIL," he added.
The U.S. government is pressing the Iraqi government and Kurdish officials to develop a governance plan for Mosul, Carter said in response to a soldier's question, noting the possibility of a subsequent "civil war" if militias or other non-local sectarian forces take power.
U.S. officials are also in discussions with international partners about their roles in the rebuilding effort.
"All those plans are in the works," he said.
The Pentagon chief said he is worried about a potential "lag" between the coalition's military operational successes and the stabilization and reconstruction of recaptured cities.
There is much more work to be done to prepare for follow-on activities, he noted.
"Otherwise we'll defeat ISIL and they'll come back," he said. "To keep them defeated you've got to plan for the aftermath."
Photo: Air Force
Topics: Counterinsurgency, Defense Department, DOD Leadership, International