Carter Officially Opens DIUx Boston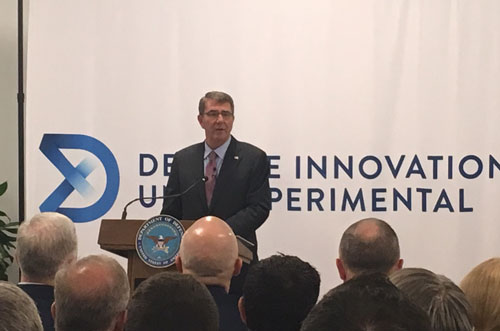 BOSTON – Secretary of Defense Ashton Carter officially opened the Defense Innovation Unit-Experimental in Boston July 26, and unveiled a slew of new efforts to enhance the Pentagon's outreach to the commercial technology sector.
DIUx Boston is the second such office in the country. The first was opened last year in Silicon Valley to help the Defense Department better tap into the knowledge and talent resident in cutting-edge companies there. But Carter said opening additional offices in other tech hubs is critical.
"DIUx has to be engaged nationwide, because no two innovation ecosystems are alike," Carter said at the Boston office. "Each has its own unique value and expertise. And wherever innovation is happening, we need to be able to tap into it."
A key focus of the Boston office will be partnering with companies, academic researchers and entrepreneurs in biotechnology and biosiences, he said.
"Boston is a beehive of activity" in this area, he said, and he anticipated "a revolution" in the biosciences field in the coming decades.
"We in DoD want to be part of that as well, because even though we don't have quite as much of a legacy there as we do in IT or aerospace, we know it can have a tremendous impact on the health and welfare and effectiveness of our troops," he said.
The union of new biosciences, engineering and data technology could yield different ways to fight infectious diseases or help develop materials capable of regenerating, responding to their environment or learning and evolving, he said.
In recent months DIUx has revamped the way it operates to deal with some of the early shortcomings of the effort. In May, Carter installed new leadership at the headquarters in Silicon Valley to create "DIUx 2.0." Since then three new teams have been created.
There is now an "engagement team" to introduce the military to entrepreneurs, as well as familiarize entrepreneurs with military problems, Carter noted.
A new "foundry team" works with technology that's still maturing or might need to be significantly adapted before the Defense Department can use it. As part of this effort, DIUx has launched a Warfighter-in-Residence program and an Entrepreneur-in-Residence program. These initiatives bring together service members detailed from across the military with top engineers contracted from outside the military for focused design sprints, rapid prototyping and field trials, Carter said.
The foundry team is exploring potential military applications of virtual and augmented reality technologies. It will also work on new applications for commercial space systems, advanced aerial robotics and autonomous vehicles, the Pentagon chief said.
The "venture team," the largest of the three, is tasked with identifying emerging commercial technologies and exploring their military applicability, Carter said. Instead of making equity investments like a venture capital firm would, the venture team awards research-and-development money.
"They are able to work with anyone — from two people in a garage or a dorm room all the way up to mature tech companies," Carter said.
"On any project that DIUx moves forward with, they aim to match funding and staffing resources with a customer organization within DoD. That way, they can ensure not only that the product meets the customer's needs, but also that they have a partner to drive post-prototype transition," he added.
DIUx developed a new mechanism for defense procurement — called "Commercial Solutions Opening" — which leverages expanded acquisition authorities for prototyping that Congress has provided.
The process entails DIUx posting on its website a particular problem that it wants to solve that could have a commercially-based solution.
"Maybe we want to find a way to patch unknown cyber vulnerabilities in our networks, or maybe we're looking for a way to quickly scale up production of a 3D-printed micro-drone that we're developing," Carter said when explaining how the process works.
Any interested company can share information on their technologies and propose solutions, he said. If DIUx is interested, the company might be invited to pitch their solutions to DIUx partners "using the same pitch deck and short concept papers they use to pitch venture capital firms or their private-sector customers," he added.
DIUx can then negotiate and execute awards, Carter said. The aim is to issue funding within 60 days of a first meeting with a company. There are mechanisms to move quickly to follow-on production if the military customer is satisfied, Carter said.
The Commercial Solutions Opening initiative has identified 15 separate prototyping projects and more are expected be finalized in the coming weeks, Carter said. The projects cover a wide range of technologies including secure network mapping and high-speed drones.
"The DIUx pipeline is brimming with possibility, and I expect this portfolio will continue to grow and even more so because of our new presence here in Boston," Carter said.
The efforts of the DIUx offices to speed up the military's adoption of cutting-edge weapons are critical as the U.S. military seeks to maintain its technological edge over advanced adversaries, he said.
"It's no longer just a matter of what we buy," he said. "Now more than ever, it also matters how we buy things, how quickly we buy them, whom we buy them from, and how quickly and creatively we can adapt and use them in different and innovative ways."
Despite some successes, challenges remain when it comes to bringing non-traditional companies into the Pentagon's orbit.
"A lot of the technology community isn't used to working with us," Carter told reporters after his speech. "We're not on their radars."
"We're not always the easiest customer to work with," he added.
Officials are trying to make DIUx a part of the Defense Department that's easy for commercial tech firms to access and secure funding from, he noted.
"If DIUx is truly successful in catalyzing broader interaction between DoD and non-traditional technology firms, as I'm confident it will be, then it will eventually put itself out of business, since the department as a whole will be doing what DIUx is doing today," he said.
Photo: Jon Harper
Topics: Business Trends, Doing Business with the Government, Defense Department