Air Force Secretary: European Reassurance Initiative Moving Forward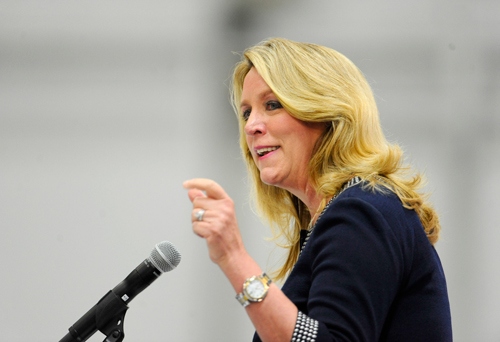 As Russia continues to intimidate its neighbors across Europe, the U.S. Air Force is remaining steady in its commitment to provide presence and reassurance in the region, said the service's secretary July 26.
"Russia is on the minds of our allies and it's a reminder that where you stand depends on where you sit, meaning location, location, location," said Deborah Lee James during remarks at a Defense One-hosted event in Washington, D.C. "Those closest to the Russian border have the greatest concerns."
In July, James visited Europe and stopped in eight countries over 10 days, including Estonia, Latvia and Lithuania. Her trip reaffirmed the United States' commitment to its allies in the region.
Since early March, the United States has taken action through NATO to reassure U.S. allies of the nation's commitment to their countries and territorial integrity through the European Reassurance Initiative. The ERI aims to increase capability, readiness and responsiveness of NATO forces to address and deter threats on allied territory, a White House press release said.
"There is no concern about U.S. abandonment in the area," James said. "Every country would like more United States involvement, more U.S. Air Force and more U.S. Army."
The United States' involvement in Ukraine will remain steady, she said. The United States has already funded approximately $600 million over the past several years toward non-lethal assistance and provision of equipment for Ukraine, James said.
Many Baltic states said they were less concerned with the "little green men" phenomenon — a term coined by Ukrainians for the appearance of soldiers in Russian-style combat uniforms with Russian weapons but without identifying insignia — and more concerned with the "snap exercises" being carried out by Russia.
"Snap exercises are unannounced exercises that Russia sometimes conducts," James said. "This is concerning because it presents an opportunity to not only exercise, but also to move into surrounding territories."
Meanwhile, the Air Force continues to hit roadblocks when it comes to readiness and modernization efforts, she said. Coupled with that is the threat of sequestration under the Budget Control Act.
"The BCA continues to loom over our heads because sequestration will come back to us in FY '18 unless Congress lifts it," James said. "We dearly prefer that they would lift it so that we could do appropriate planning in advance, but we have to see how that goes."
Resources remain stretched as Air Force operators are involved in multiple missions around the world, including efforts against the Islamic State, James said. With such small personnel numbers, the Air Force struggles with dividing up manpower and training troops to be prepared for harsher war environments. The Air Force currently has roughly 311,000 active-duty airmen and projects to increase that number to 317,000 by Sept. 30.
"Our force is small, which means our people are really engaged," James said. "There is no space to have people training for high-end fighting against a major world competitor."
About half of the Air Force's combat forces are not considered "sufficiently ready" in the eyes of commanders, she added.
"We need to grow our force, receive adequate funding and get a lucky break with having a few less operations around the world," James said.
As for the Air Force's aging fleet of aircraft, "cannibalizing" older planes is becoming more and more common.
"Some of our aircraft are so old that they simply don't sell the parts anymore," James said. "We have to continue to find ways to have a steady stream of replacements, and cannibalizing our older
fleets is the only option for some of the older models."
Photo: Air Force

Topics: Aviation, International