ROBOTICS AND AUTONOMOUS SYSTEMS
Secretive Pentagon Office Looking at Commercial Self-Driving Vehicles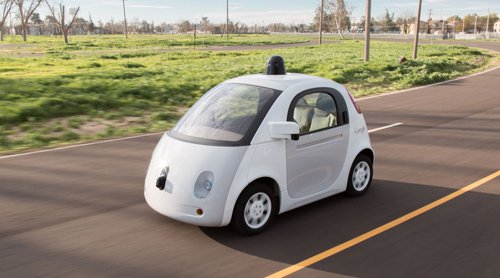 Google's self-driving car
As companies like Tesla and Google are developing self-driving cars, a secretive Pentagon office is hoping to utilize this type of commercial technology for the Army and Marine Corps.
"We've taken a very hard look with the Army on what's the mission impact if we use commercial-style unmanned ground vehicles," William Roper, director of the Defense Department's strategic capabilities office, said at a July 13 conference hosted by the Center for Strategic and International Studies.
"I have a due-back to Army leadership on what we found, and my hope is that we will find a sweet spot for saying, 'Let's go out and start working with the existing technology,'" he said.
Roper's office, also known as SCO, was created four years ago but few details about it were revealed until earlier this year when Secretary of Defense Ashton Carter mentioned it during a speech about the budget and investments in high-tech equipment. Since then, Pentagon officials have disclosed tidbits about projects that are in the works.
The office's goal is to take technologies that already exist in the commercial world or in legacy military systems and advance them or repackage them to create game-changing equipment that could enable the U.S. military to maintain its edge over advanced adversaries.
Rather than explore technologies that could take 10 years or more to come to fruition, as some Defense Department research labs do, Roper's office does prototyping work with more mature technologies that could potentially be transitioned to the services in relatively short order.
"Our big emphasis this past year was upping our work with the Army," Roper said. "If you're all reading the newspaper, what's the commercial world working on? Ground vehicles that can navigate roads" without human assistance.
The Army's Tank Automotive Research and Development Center has already carried out extensive experiments with self-driving trucks that could conduct logistics missions, and some observers have suggested that some combat vehicles could eventually be unmanned. Such systems could reduce manpower requirements and keep troops out of harm's way.
Roper sees opportunities to piggyback off of the work that the private sector is doing in this field. Driverless-vehicle technology is not as mature as the Defense Department would like, but the Pentagon should jump on the bandwagon sooner rather than later, he said.
"That's a technology push that's going to be updated many, many times by the commercial world," he said. "Wouldn't it be smart to get the Army and the Marines into that now so that aside from just having the system … they've got people who are trained to use it, that know how to analyze the impact [and] they've thought through what missions they can do?"
One shortcoming of the commercial systems available today is that they are not designed for off-road driving, Roper noted. But that hurdle will eventually be overcome, he predicted.
When "future technologies that will allow us to go off road mature, we'll already have experience in the pipeline" if the Defense Department embraces the commercial technology now, he said.
During a discussion with reporters after the conference, Roper declined to provide more details about the work his office has been doing along these lines but he did offer some insights into the path ahead.
"There are so many directions we can go, so I'm going to give [Army leaders] a menu of options," he said. "What I will say is that we are going to live within the constraints of where we see the commercial world and industry going."
The Army science and technology community could eventually do additional work to modify the technology for military use, he said.
"But I want to do our prototyping in the commercial space," Roper said. "And then once they've given guidance, if we move ahead, I'll be happy to talk about what we're going to do."
Photo: Google
Topics: Robotics, Unmanned Ground Vehicles, Land Forces