Three-D Video Game to Train LCS Sailors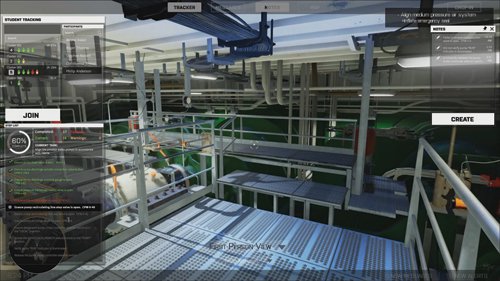 Cubic is preparing to deliver a littoral combat ship training video game to the Navy that will give sailors a 3D-view of the ship to help them learn faster, company officials said.
The system — known as the immersive virtual ship environment — includes dozens of missions and can help reduce the time it takes to train a sailor, said Bill Toti, then president of Cubic Global Defense, who recently left the company.
"This is a massive program," he said. "Most video games operate somewhere between 10 and 15 levels. You get to the 10th level and you've mastered the game. If this were a video game, it would have 200 levels."
Training with the program is more efficient than traditional coursework and it is self-paced, Toti said. "The fast learners learn quickly [and] the slow learners who need more time can take more time, and when they are done they have a substantially better level of knowledge than with the traditional methods of training."
Additionally, the training can be done on a laptop or tablet, reducing the need for brick-and-mortar schoolhouses, he said. On average, it can take sailors a year to learn everything the program teaches using traditional methods. With the immersive environment, it takes six months or less, Toti said.
"It's a no-brainer. This is the way we should be training 21st century sailors," he said.
One lesson, for example, takes sailors on a tour of all of the LCS' engineering spaces.
Cubic will be able to add new missions to the program as needed, said David Buss, the current president of Cubic Global Defense.
"We are constantly updating and changing hardware on ships," he said in May. "One of the biggest training challenges that we've had is when you make an update — you put a new pump in or you put a new electrical panel in or a new piece of equipment — how do you train to that?
"Here it's a couple lines of code and you've already updated your system," he said.
Cubic wants to take the technology developed with the immersive virtual ship environment and apply it to other military platforms, Toti said.
"We hope to penetrate the submarine community [and] the aviation community," he said.
A submarine variant of the program would likely have more levels than the LCS version because it is a larger vessel and has more systems, he said.
The company won a contract for the program in 2013 and final delivery is slated for the end of June.
Photo: Cubic Global Defense
Topics: International, Simulation Modeling Wargaming and Training, Videogames