Tactical Wheeled Vehicle Market on Downward Slide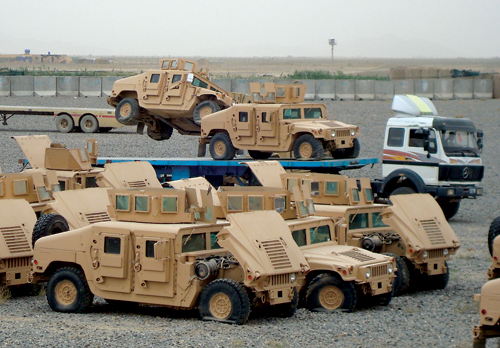 As the Army and Marine Corps prepare to take delivery of their first batches of joint light tactical vehicles this fall, the land services have few other major programs in the works, and truck manufacturers will have to content themselves with upgrade and modernization contracts, officials indicated at a recent industry conference.
"My expectation is that tactical wheeled vehicle investments will focus primarily on incremental modernization opportunities, basically to improve flexibility and maneuverability, but no fundamental change in the capabilities of those assets," James MacStravic, principal deputy assistant secretary of defense for acquisition, said at the National Defense Industrial Association's annual Tactical Wheeled Vehicles conference in Reston, Virginia.
The budget numbers tell the tale.
The services are spending about $25 billion less on tactical wheeled vehicle programs than they did at the height of the Iraq and Afghanistan wars. The only new acquisition program of note that is scheduled to go forward is the Army's ground mobility vehicle, with an anticipated buy of 250 units.
The GMV is envisioned for light infantry airborne forces and would sacrifice protection for speed and mobility and could seat five to nine soldiers. The Army is requesting $5 million to procure 10 GMVs in 2017 with an eye toward eventually buying 250 vehicles.
"The Army has a very real chance of doing something quick and effective and innovative if we are careful in both defining our requirements and not putting too many processes in the way," MacStravic said.
The Army is completing an analysis of alternatives and there is funding in the 2017 budget request if Congress allocates it. However, if there is a continuing resolution that extends into next year, the Army will not be able to proceed until the budget is sorted out.
"That program could be ready to run with no fuel in the tank," he said.
MacStravic said the ground mobility vehicle is relatively safe. "We are not actively looking for programs to cancel at this point. We are trying to make sure not to make new programs that we can't afford in the future," he said.
The Marine Corps has little funding to spend on its tactical wheeled vehicle fleets, service officials said.
"With the preponderance of the fleet in sustainment, the biggest challenge we have in a declining budget situation is maintaining the fleet that is … 14.9 years old and was projected for a 22-year lifecycle," said Steve Pinter, program manager for the Marines' medium and heavy tactical vehicles.
The 22.5-ton logistics vehicle system replacement truck fleet is about five years old, but it is already facing obsolescence issues, he said. And there is no funding projected for the medium tactical vehicle replacement program.
"The challenge becomes with the small budget we have to keep it viable until a replacement comes," he said.
Andrew Rogers, Marine Corps program manager for light tactical vehicles, said the only new program on the horizon is a utility task vehicle, which it is executing in partnership with Special Operations Command. It is a new class of vehicle for the service and envisioned as an ultra-light carrier for transporting up to four Marines, equipment or those wounded on battlefields. The Marine Corps is procuring 144 of them in fiscal year 2017 and they will be distributed to battalions.
As far as upgrades, Pinter said armor and protection, fuel and integrating command control and communications gear are "eating our lunch in terms of costs."
Those are potential areas of investment for both the government and industry sides, he said. With budgets being tight, "I need innovative ideas that give disproportionate payback," he said.
The Marine Corps and Army have a legacy truck in common, the venerated Humvee, which is slated to remain in both services' inventories until 2030, and possibly beyond. The JLTV is not intended to replace the Humvee one for one, so both services must come up with plans to maintain and modernize their fleets.
The Corps has 18,300 Humvees, but that number will steadily decline as JLTVs come online. Meanwhile, funding for new Humvees has been "zeroed out," Rogers said.
"The path forward for the Humvee fleet will be predicated on the availability of funding and anything we can do to sustain the fleet beyond 2020," he said.
Lt. Gen. Michael Williamson, principal military deputy to the assistant secretary of the Army for acquisition, logistics and technology, said "the Humvee has served us well, but with the distribution and the force structure that has changed, what is the number that we need to keep?"
That question has yet to be answered, he said.
The Army will have to decide how to reduce the average age of the Humvee fleet through modernization and upgrades, Williamson said.
"The Army has to start understanding what it wants to maintain in its force. And those are hard decisions, by the way," he said.
As far as the larger Army tactical wheeled vehicle fleet, reset and sustainment are vital. "We have to be ready for the next fight. You go to war with the Army you have, not the Army you wish you had," Williamson said.
A final decision on how many Humvees the service will retain won't be made until 2018, said Maj. Gen. Cedric Wins, director of force development at the office of the deputy chief of staff, G-8.
Meanwhile, the National Commission on the Future of the Army in its report released earlier this year singled out the service's tactical wheeled vehicles as a cause for concern and called readiness levels "alarming."
"Commissioners received numerous reports from soldiers and commanders about tactical wheeled vehicle shortages. These shortages are most pronounced in heavy equipment prime movers. The Army's tactical mobility peaked in 2007 while transitioning to the modular force. Although modular reorganization provided units with increased tactical mobility, the Army determined it could not afford to sustain and modernize the entire tactical wheeled vehicle fleet. The Army thus reduced the number of tactical wheeled vehicles in its inventory to a more affordable level. Some commanders indicated to the commission that tactical wheeled vehicle shortages in their units created significant risk," the report said.
Industry received more bad news when Army officials at the conference announced that — for the time being — there would not be a new design for its upcoming light reconnaissance vehicle program. The LRV will be an off-road platform that will carry a suite of intelligence, surveillance and reconnaissance sensors and be light enough to be carried by a CH-47 Chinook helicopter.
The light reconnaissance vehicle will be a JLTV with additional firepower and perhaps sensors, said Maj. Gen. Robert M. "Bo" Dyess Jr., deputy director of the Army Capabilities Integration Center. He called the JLTV an "interim solution."
Wins said: "There is always the possibility that the Army will begin to evaluate the performance of JLTV in that role and make a determination that a change is necessary." But the decision stands for now, he said.
The JLTV will have to be adapted to "allow scouts to perform the mission of finding and getting information — and at times — fighting to get information," Wins said.
The primary reason stated was the cost to develop a new platform in a time of austere budgets. There were several hopeful vehicle manufacturers looking forward to a competition. The service hosted a light recon vehicle platform performance demonstration at Fort Benning, Georgia, in August 2015. A number of trucks participated, including: Polaris' DAGOR; Rheinmetall's Weasel; Navistar's SOTV-A; Vyper Adamas' V4-X; and Northrop Grumman's Hellhound.
John Bryant, president of Oshkosh Defense, said the JLTV will be able to handle additional missions such as serving as a light recon vehicle.
"Oshkosh had designed the JLTV using a modular design approach so that the vehicle itself is very adaptable, very flexible and very scalable to a wide variety of mission requirements," he said in an interview.
"We have built in significant design margins to handle unknown future growth," he said. It has more engine power and electrical power than current missions require and plug-and-play capabilities for command, control communications and sensor suites. It can host a variety of weapon stations.
"More so than any other tactical vehicle that has ever been designed, Oshkosh has that scalability and flexibility built into the design," he added.
Meanwhile, the JLTV program is progressing at a rapid pace.
Oshkosh is conducting a series of baseline reviews of the JLTV configurations this summer, which will conclude with a product baseline review recently conducted with government, he said. Technical data required under the contract have been delivered to the services.
This is a time when the company finalizes supply base issues. "We engage in two-way conversations with our suppliers where we listen carefully to any good ideas they have on processes or details of particular components," Bryant said. "We review and validate the processes of our suppliers to ensure that all the material we receive meets those exacting government standards."
The first batch of JLTVs will be delivered to the Army and Marine Corps for operational tests at the end of September or early October, Bryant said.
That is 13 months after the contract was awarded, and takes into account a protest that wasn't resolved until February. Oskhosh will eventually deliver 201 JLTVs for the test-and-evaluation phase. The full-rate initial production decision is scheduled for fiscal year 2019.
The Defense Department's MacStravic praised the program. It is "so far a remarkable success."
It relied on stable requirements, mature technologies and "a laser-like focus on affordability," he said.
"The program conducted a competition all the way up to production, which is remarkable in this day and age. That is an extraordinarily expensive activity, but I think it has paid dividends." It will serve as a model for future acquisition programs, he predicted.

Photo: Army
Topics: Manufacturing, Land Forces