Navy Sees Future Combat Power in Information Networks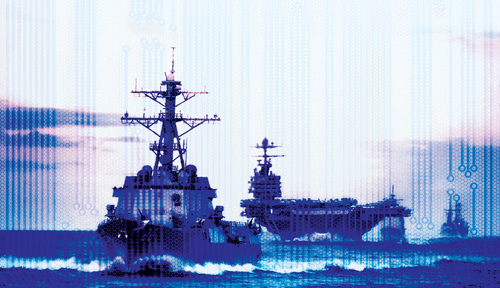 Concerned about the growing capabilities of potential adversaries, the Navy and Marine Corps see platform networking, automation and multi-mission payloads as ways to stay ahead of emerging threats. But more technology development and adoption will be required before the vision can be fully realized.
With a limited amount of platforms and dollars at their disposal, the sea services are looking to create "kill webs" — networks of sensors, data links and weapons that would give U.S. forces a more powerful punch, defense officials said at a recent industry conference hosted by the Navy League.
The Navy's aviation component is focused on the idea of "integrated warfare" to project power over and from the sea, said Secretary of Defense Ashton Carter. "At the heart of this concept are the F-35, P-8 and other air assets that are critical nodes, which capture and disseminate information in an unprecedented manner, ultimately improving lethality across the battlespace."
Hopes for greater platform linkages are not limited to air assets. The Navy wants to throw ships and submarines into the mix.
"What if I start to draw lines between the sensors, the weapons and the shooters in those different domains?" said Rear Adm. Michael Manazir, the new deputy chief of naval operations for warfare systems.
"If we can connect those nodes, now you have a resilient kill web that we can use to target different entities, ... share data across advanced networks" and improve information quality, he said.
The Marine Corps also wants in on the action. The service aims to make "every one of our platforms a sensor, a sharer and a shooter," said Lt. Gen. Jon Davis, deputy commandant for aviation.
Rear Adm. Jon Hill, program executive officer for integrated warfare systems, said the Navy is "sensor poor" right now but is looking for new capabilities in this area to foster better situational awareness across the battlespace.
The number of platforms in the inventory is less important than how well they are linked, Manazir said. "I don't as much care about, 'Buy me this many [joint strike fighters] or this many Super Hornets or this many littoral combat ships or this many DDG Flight IIs. It's what are we going to do to connect those platforms."
But networking technology components built by different manufacturers is no easy task.
"It is an engineering challenge to take a Boeing product in the front of an F-18 and align it with a Northrop Grumman product in the back of an E-2 so that we get a weapons-quality track share across the network," Manazir said.
"My challenge right now … is trying to take programs that were developed sort of proprietarily under a set of requirements and figure out how to put them together," he added.
Much of the Navy uses the Link-16 tactical data-sharing network, but it has "limitations," Manazir noted. The service needs to develop a new waveform and take greater advantage of computing technology, he said.
Industry also needs to take responsibility for ensuring that greater networking will be viable, Davis said. "Make sure that the gear that you sell us plugs and plays with everybody else's gear. It does us no good if you have a standalone system out there that's not interoperable with everything else."
Another way for the sea services to get more bang for their buck is to make individual platforms capable of performing multiple types of missions.
"Our investments reflect an emphasis on payloads over platforms," Carter said.
An example of this approach is the Marine Corps' MV-22 Osprey troop transport aircraft. The tilt-rotor asset currently has little more than a navigation system in its nose. But the service plans to add long-range communications equipment and data link compatibility, as well as a sensor package to give it an intelligence, surveillance and reconnaissance capability.
"It should be contributing from an ISR perspective and a collection perspective," Davis said.
The Marine Corps is examining different industry technologies in this area.
"I won't get into some proprietary stuff [but] we've got a little bit of a flyoff going with a nose sensor right now," he said. "Flying at medium altitude we want it to be able to look down at the landing zone."
Such technology could support the employment of weapons launched from the aircraft. "We're looking at really the same kind of systems we have on our Cobras, on our UH-1Ys," Davis said.

The Marine Corps plan to add long-range communications equipment and weapons to the MV-22.
The Marine Corps intends to weaponize the MV-22. The service has done experiments with a laser designator in the nose of the aircraft. Such a capability could potentially enable the Osprey to fire Hellfire, Griffin or Viper Strike missiles, Davis said.
The service is also considering adding an Intrepid Tiger II jamming system for electronic warfare purposes, he added.
"Really any platform we have — ground or air — we want to put more technology on it," said Lt. Gen. Robert Walsh, Marine Corps deputy commandant for combat development and integration. "We don't want just single platforms that can do one thing."
The Navy and Marine Corps will need more autonomous machines equipped with artificial intelligence if they are to fully take advantage of information flows, officials noted.
The Defense Department is working on autonomous self-driving boats that can network together to do a range of missions, from fleet defense to close-in surveillance without putting sailors at risk, Carter said.
The Marine Corps recently conducted an experiment where a ground robot was partnered with an unmanned aerial system on a simulated intelligence-gathering operation. When the robot ran into obstacles, it made the decision to launch the UAS. The service wants these types of autonomous systems to be able to search villages or other areas and look for high-value targets using biometric data. Once the target is located, the machines could pass that information on to decision-makers, Davis said.
More sophisticated big data management tools will be required for that type of mission and others, officials noted.
"The way that we analyze data now I think is kind of a 20th century mindset," said Lt. Gen. Michael Dana, Marine Corps deputy commandant for installations and logistics. "Instead of having human beings doing mountains of data crunching, you [should] create some type of algorithm or a computer that actually analyzes."
He noted the advances in computing and artificial intelligence that are emerging from tech hubs like Silicon Valley and Boston. "Some of the things that they're coming up with are truly revolutionary, and I think we benefit by kind of tapping into some of the things the private sector is doing."
The Pentagon needs "Siri on steroids," he said.
"If you took that to the next level and it could answer questions and kind of data mine … that fast, I think that would be incredible," Dana said.
Like Tom Cruise's character in "Top Gun," Navy officials feel the need for speed — in this case, for crunching and analyzing data gathered and transmitted by the multitude of sensors and information-sharing technologies that are out there.
"We know that we have to move at a faster speed," Hill said. "Big data algorithms are very interesting to me because they can take lots of different … formats and data types and put them into something that we can actually use" in combat.
J.D. McCreary, the head of disruptive technology programs at the Georgia Tech Research Institute, used "Star Wars" terminology to paint a picture of how intelligent robots could coach warfighters in the future.
"What if … R2-D2 is linked to all the other R2-D2s out there and you have instantaneous networked knowledge across the battlespace?" he said. "They are providing you feedback on where to optimize your weapons employment, how to align your systems and how to make those smart decisions."
"AI is what's driving Google's search algorithms these days," he added. "That is where industry is going."
Some observers see buying from the commercial sector as an opportunity for the Defense Department to save funding on research and development.
"So much of the advances that are taking place in the information age are taking place in the commercial world," said retired Marine Corps Lt. Gen. George Flynn, who now works as a defense analyst and consultant.
"Why not leverage the fact that they're doing the R&D?" he said. "You can save money there and … take what's already out there and apply it" to military systems.
Lt. Gen. Ronald Bailey, Marine Corps deputy commandant for plans, policies and operations, expects further investments in big data management technologies as the demand for information increases along with computing power.
"This is something that we're working towards and will continue to work towards because we're not there yet," he said. "When we start talking about industry, this is where I think we can work together and work towards a solution set that helps us analyze large amounts of data."
But Flynn sounded a note of caution about becoming overly reliant on networked warfighting in an age of cyber attacks, electronic warfare and unanticipated technical glitches.
"What happens when … the network goes down?" he said. "Are you going to have the capabilities on the individual ships or platforms or units to be able to defend themselves and to be able to continue to operate? That's the larger debate in this because you can field a lot of expensive capabilities but you're not going to have capacity."
Photo: iStock/Navy